A busy week, no question about it! Since we are leaving for a few days away and up in Sedona, I had a long list of things that needed to be finished before we left. I'm happy to say I got it ALL done….as well as start the list for next weekend! Cannot stay idle – too many projects to do!
First up is part of an order we really can't say too much about, but we sent off a load of marbled ribbons to Manhattan for a magazine shoot coming up. When we can say more, we will….it's pretty cool…..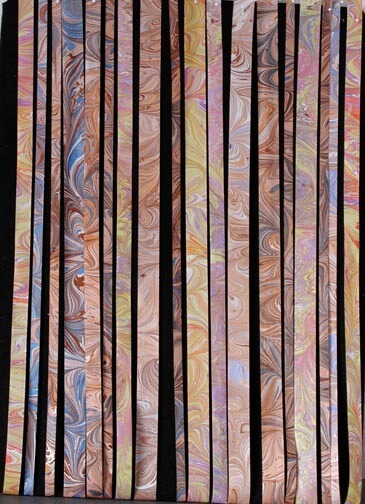 And…as part of the ongoing table runner project for my second mom, I finished the last of the 5 table runners and delivered it in time for set-up for Thanksgiving. I am finished with old white polyester, but the runners did work out beautifully. This last one was really hard on the eyes, so I only did three motifs, rather than the five. I extended the size by making the connecting pieces wider, and then I went to town on feathers. Love doing feathers, especially since I never figured I'd ever be able to do them. This was the one delivered in June.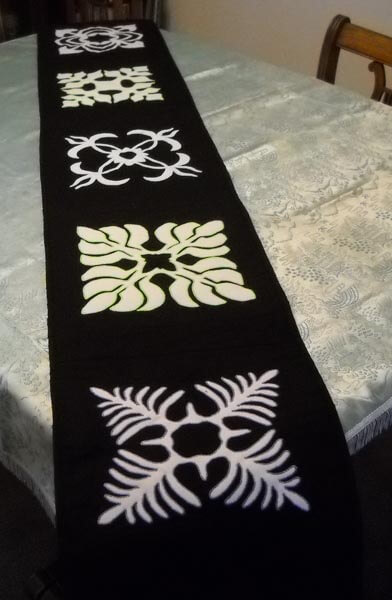 This is the last of the five.

And…I finished the makeover of my Christmas quilt.  I learned a great deal. I still have to work at the trapunto, but my goal with this makeover was to get the star blocks to be the prominent feature of the quilt. I did three kinds of stippling, from micro to very large. And I did bobbin work for the first time, using the Razzle Dazzle thread from Superior. I picked up a small Christmas tree stencil, traced it on the back (and learned I need some new markers), and then quilted with the front facing down on the machine. It worked really well and I love the effect. I am planning to add a few beads as tree ornaments when I get a chance. I did a lot of machine quilting on the marbled centers of the stars, on the nonpareil pattern. I can tell I have definitely done a lot of machine quilting this year, because it was far easier to follow the pattern than it has been in the past. I now understand what quilters mean when they say "pedal to the metal," as I was  very speedy with the tiny and medium stippling. I also tried a new pattern in the border and it was moderately successful. Again, fast speed, and from a distance you really can't tell that a lot of it is uneven. I liked the pattern. Here she be: