Posts Tagged 'Brenda Abdullah'

The Textile and Fiber Art List is nearly 500 members! Three years as an organization this past January, thanks to our founder Rachel Biel, who is just an amazing motivator! Check out a few more profiles of very talented folks.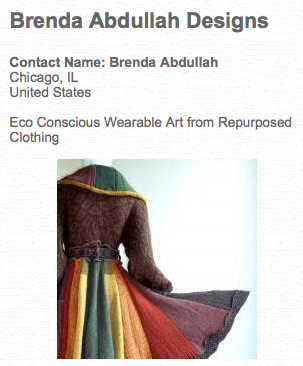 "I create one-of-a-kind wearable art by re-imagining gently used clothing and re-purposing them into new creations. Driven by my passion for textiles, I choose garments based on their color, texture, and quality. After cleaning and processing my finds, an organic design process occurs while exploring color and textural relationships. Gradually a new garment emerges as I cut and fit pieces together. It's almost like playing with paints or crayons while anxiously waiting to see the finished result. My former life as a custom dressmaker and my life long love affair with arts and crafts has brought me to this new creative place of free-style sewing. I look forward to making more accessories and perhaps children's garments." Brenda Abdullah Designs.

"Caryl Bryer Fallert is internationally recognized for her award winning art quilts. She is best known for her organic, curved seam designs, her scintillating use of color, and her multilevel illusions of light and motion. Her attention to detail has earned her a reputation for fine craftsmanship as well as stunning designs. In 2000 Caryl was selected as one of the 30 most influential quilt makers in the world, and her quilt Corona #2: Solar Eclipse was voted one of the 100 Most Important Quilts of the Twentieth Century. She was chosen for the Bernina Leadership Award in 2003 and in 2004 the readers of American Quilter Magazine voted her "All American Quilter." She is the 2006 recipient of the International Quilt Festival Silver Star (lifetime achievement) Award. Since 1983, Caryl's work has been exhibited extensively throughout North America, Europe, Japan, and the Pacific Rim. She has had ninteen solo exhibitions, including a 1992 exhibition in Tokyo, Japan, and a 2000 exhibition in Burlington, Ontario, Canada. Caryl is the only three-time winner of the coveted American Quilters Society Best of Show, Purchase Award. She was the 2009 International Quilt Festival Best of Show winner, and her quilts have also been awarded Best of Show in more a dozen other national and international exhibitions. In 1986, Caryl received the Masterpiece Quilt Award from the National Quilting Association. She has received the Master Awards for both Contemporary Artistry (2002 & 2006) and Machine Artistry (1997) from the International Quilt Association and Best Machine Workmanship from the American Quilters Society (2004 & 2009) and the Quilting the Quilt national exhibition (2003). Caryl has authored two books, and numerous workshops on CD-ROM. Her quilts have appeared in hundreds of national and international publications, including the covers of the 1987 and 1991 Quilt National Catalogs. Caryl's work can be found in public, museum, corporate, and private collections in twenty-two states and seven foreign countries. Collections include: The Museum of Art & Design (NY,NY), Illinois State Museum, National Quilt Museum, International Quilt Study Center, Wilmette (IL) Public Library, Bradley University Library, Glendale (CA) Civic Center, Fidelity Investments Inc., Sprint, and Fritz Gegauf A.G. (Switzerland). In addition to her commission work, Caryl reserves time to create a body of very personal, experimental quilts." Bryerpatch Studio.

"I started weaving free form sculptural basketry back in the 80's and 90's. Along the way I learned paper making, wet felting and explored one of a kind teddy bears, dolls and rabbits.
I learned how to embroider and quilt from my Grandmother and have had the pleasure of taking quilting classes with Jane Sassaman, Carol Doak and Lyric Kinard.
I am currently dyeing fabric with fiber reactive dyes as well as using India Flint's Eco Dyeing techniques with silk and wool.
I learned to spin art yarn 4 years ago and have studied under Jacey Boggs and Lexi Boeger and have washed, dyed, batted and spun so much yarn that I finally had to learn to knit!
Add all of this up and you have a very eclectic, diverse and multi faceted fiber artist! I hope you will check out my links and share in my current adventures as I use my hand dyed and recycled fabrics to create gorgeous playclothes that make you look and feel creative yourself!" Calamity Kim.

"I am an artist and a tailor. I make eclectic quilted clothing and wall hangings for office/home decor. I have been sewing and quilting for many years and hope to keep the tradition of quilting long into the future. I hope to keep heirloom quilted clothing alive into the future of wearables and hope to maintain quilting techniques for generations to come." Calico and Old Lace

"Cameron Taylor-Brown has immersed herself in the worlds of fiber, education and commerce since the 1970s. She studied fiber art at the University of California, Berkeley with artist Ed Rossbach and textile design at the Philadelphia College of Textiles and Science. She worked in New York City as a stylist of upholstery and home furnishing fabrics, taught textile design at the Philadelphia College of Textiles and Science and worked as an exhibition curator. Since 1985, Taylor-Brown has lived in Los Angeles where she maintains a studio and is active in several arts organizations. She was a founding board member of the Textile Group of Los Angeles and a past President of California Fibers and Designing Weavers. She recently founded ARTSgarage, a new textile resource center in Los Angeles." Cameron Taylor-Brown
Membership is open and is a DEAL for what you receive and for the future potential of this organization. Here is the link for membership.