Posts Tagged 'Boucherouite Rag Rugs'

The Textile and Fiber Art List is rapidly becoming the "go to" place online for glorious handmade textiles and fibers – from around the world! Feast you eyes on these members:

"I believe a work of art bears the stamp of individuality and the national bearing of its creator when it springs from inner self and is devoid of any pretensions. Being from India, a country with an extremely rich heritage of Art and Culture, I have always had a deep-rooted attachment to traditional art forms of India and owe some of my stylization to the captivating traditional patterns and the rich array of colors. Adapting to Western Styles and techniques, combining them with my lifelong fascination for ethnic arts around the world, have all been a melting pot for me to create a multicultural 'canvas'. I got my BFA from the International University, Visva-Bharati at Shantiniketan in India founded by the poet, writer, painter, musician, educationist, philosopher, Nobel Laureate (Literature) Rabindranath Tagore. The education at this unique university, during my formative years as an artist, have had a profound influence on my life, mind and my creative abilities. In my everyday life, my escape, my retreat, is my creative power of Art. My work is indigenous to my inner self, and is a place of solitude, passion and contemplation for me. The final offering is the culmination of a series of wordless conversations between me and my artwork. The subject matter of my work is drawn from my own life experiences, trips, thoughts and surroundings. My art is like a journey for me through the passage of time honored techniques, traditions and influences in an endeavor to produce art for everyone to appreciate. I feel like my journey has just begun and I have a long way to go…" Boisali Biswas

"Botanical Colors is the online site for selling high quality, vibrant natural dyes and supplies. Natural dyes are the ancient textile colorants that were used by cultures all over the world before synthetic and petrochemical dyestuffs were developed in the mid-1800s. The colors are beautiful, rich and glowing and each color can be linked to a fascinating tale of discovery, ritual and use by different peoples throughout history. Every color in the natural dye palette has a story. Botanical Colors strives to offer the finest environmentally sound natural dyes for textiles, paper, wood and other natural materials. We have personally dyed thousands of pounds of fibers with natural dyes and continue to be excited and thrilled by the amazing beauty of these colorants. Every purchase of our natural dyes benefits a small producer or community and helps maintain a traditional way of life. Botanical Colors

"I am french, living in Marrakech since 2004 and I became an important wholesaler of carpets and rugs from Morocco ; I am specialized in the vintage berber rugs called boucherouite ( www.boucherouite.net) and the white carpets and wedding blankets ( BENI OUARAIN, AZILAL, HANDIRA ) ; I export all over the world to the trade and art galleries but also to private people." Boucherouite Rag Rugs

"I'm an art quilter. My quilts are small to medium in size, perfect for interior decoration. I'm always interested in selling and exhibiting my works. I also have a few collections of bags, ornaments and textile jewelery. Yes, I'm open for commissions too." Bozena Wojtaszek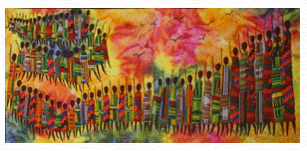 Braid and Stitch
"Back in the 70′s, sewing was not really a lucrative venture then, and dress makers in Ghana really never made that much money which led me to focus more on schooling to become a Journalist. After moving to America I discovered that Art and creativity paid a lot here if you had the right market audience, but it actually took me a lot more years to follow my childhood dream. The current works on this website depict a lot of Africa. I love the vibrant colors of African fabrics and how they pop to the eye, most of my quilts tell a story, and a lot of my story's represent my African heritage which I carry with me every where I go, I feel when a quilt does not tell a story no matter how simple it might be it really does not have value, since quilts of old were sentimental pieces. My quilts sing and dance a lot to the viewer, and have lots of character and dimension as well as a very unique look which are the differences my choices of fabric make. Beading and painting really accentuate my work. At Braid and Stitch we are open to make commissioned art quilts, specifically to fit a buyers description, dimensions and taste, no works are ever made the same in order to promote uniqueness in our work. In the near future there will be a wearable art line which will be in Ethnic vein." Braid and Stitch
ENJOY!!