Posts Tagged 'AllThingsPretty'

There is a really wonderful online gathering of artists involved in fiber – worldwide. It's The Textile and Fiber Arts List – TAFA, for short. I am trying to get to know more of our 400-plus members, and I thought I would share what I'm learning with you, on a more regularly basis. There is such an amazing wealth of talent on this list, and I'm pleased to be a member. Please enjoy these profiles, and don't hesitate to visit their websites and immerse yourselves in wonderful textile art. You can view the first installment of our tour here.

"I've been weaving since I was eight years old and studied weaving at high school, gaining an "A" and "O" Level in Weaving.
Most of my life I've woven for myself, friends and family, but after attending Bradford College, in the UK, to study Hand Woven Textile Design, I set up Alison Yule Textiles and have been designing and hand weaving bespoke fabrics for interiors and fashion.
Since 1983 I've been teaching an evening class in weaving spinning and dyeing and running workshops across the UK for large and small groups as well as one to one Masterclass sessions.
My work has won awards with Bradford Textile Society, and I've won awards from the Arts Council and Design Factory. I've been selected to exhibit at galleries across the UK and in Paris and have been selected to exhibit at 100% Design in London for 4 consecutive years, as well as at Maison et Objet in Paris.
I 2006 I co-authored Creative Spinning with Jane Deane which was published by Gaia in October 2007. Alison Yule Textiles

"There is an inherent ethereal quality working on paper, especially rice paper. It's unpredictable nature; fragile yet resilient lends an intuitive nature to my work. Examining our natural world, I look at the fractals in a leaf's structure to the branching of a tree in the dead of winter. Other influences in my work come from the ethnographic textiles of Asia. Their simple geometric shapes are often a meditation on nature. Having spent many years in Asia working with remote tribes as an ethnographic art dealer, I am forever inspired by the artisan's traditions. For example, I worked with ikat weavers in Sumba for several years; much of their imagery such as the fertility symbol, the mamuli is derived directly from nature. The rhythm, symmetry and repetition of the patterns in nature and ethnographic images illustrate the lifecycle renewing itself. Finding these patterns and closely examining them inspires my work." Allison Svoboda

"I have always enjoyed all things pretty but not just pretty, interestingly different, edgy and eye-catching too. I am grateful to have a life-long love affair with colour. I am also an Afro/European hairdresser and had a salon back in ol' Blighty. I used to work alot with glass, (fusing in my old kiln and stained glass). I have a strong passion for interiors and styling which rubs off into my fashion work, intentional or not.
I like to work with different textures and materials including glass, crystal, fabrics, wire, clay, paints, metal, paper and many other beautifying embellishments.
I am currently working mainly with textiles – lace, fabric and leather, alongside metals, beads and paper. I make clothes, bags and jewellery. I also make homewares, including unusual cushion covers, tablecloths and tea towels. I paint and work with decoupage for cards, boxes and ceramics. Wirework is another favourite art of mine – wire crosses, signage and wall art.
My goals are still being built and for now, I happily grow through a constant stream of the blissful unknown….I appreciate handmade items and enjoy collecting or recycling them….the story continues       🙂 " AllThingsPretty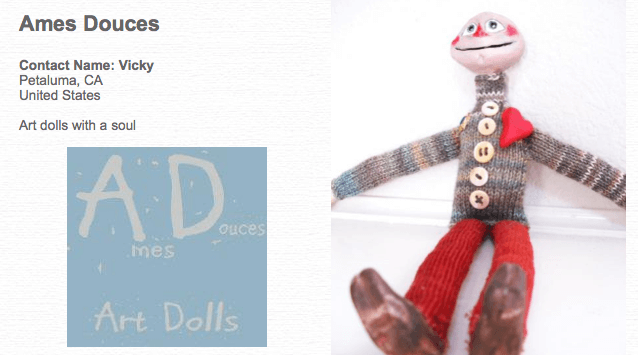 "Ames Douces (Ah-meh Doos) is French for gentle souls. It is the name I've chosen for the art dolls I create.
These dolls are not dolls you would typically find in a toy store. Rather, they quietly accompany adults and children alike on their journeys through life. These gentle souls are worry dolls. They are talismans or mascots of sorts to help you wade through the difficulties you might encounter as you go about your daily lives.
Simon et Cie (french for Simon & Company) is named after my grandfather. He was an artist in his own right. I distinctly remember sitting in his attic studio with him while he worked on his assemblage art projects. Said studio was chock-full of little bits and pieces, trinkets, baubles and rusty objects. These things would keep my attention for hours on end. This is where my imagination blossomed and when I started to create.
My shop is dedicated to my grandfather's spirit that lives on in my endless obsession with collecting these little objects of old. I have also expanded my collection to include all kinds of vintage sewing and fiber art related items that I sometimes use in my own art. My love for those definitely came from my mother who is an artist herself.
Simon et Cie is dedicated to making these same little treasures available to you. I hope they inspire your own heart and imagination." Ames Douces

"Ananse Village operates both a retail brick and mortar business in California and a website with a shopping cart for those who live elsewhere. We work with artisans in several countries, primarily in Africa and its diaspora.
Interested in quilting and sewing? Our fabric department features an entire wall stacked high with unique hand batiked and tye dyed cloth from Africa. We have a nice selection on our website, but feel free to call if you are looking for a specific design or colors.
Our diverse selection of fair trade produced gifts are the perfect solution for a thoughtful present." Ananse Village
THere's your eye candy and exploration for this week – have some fun!