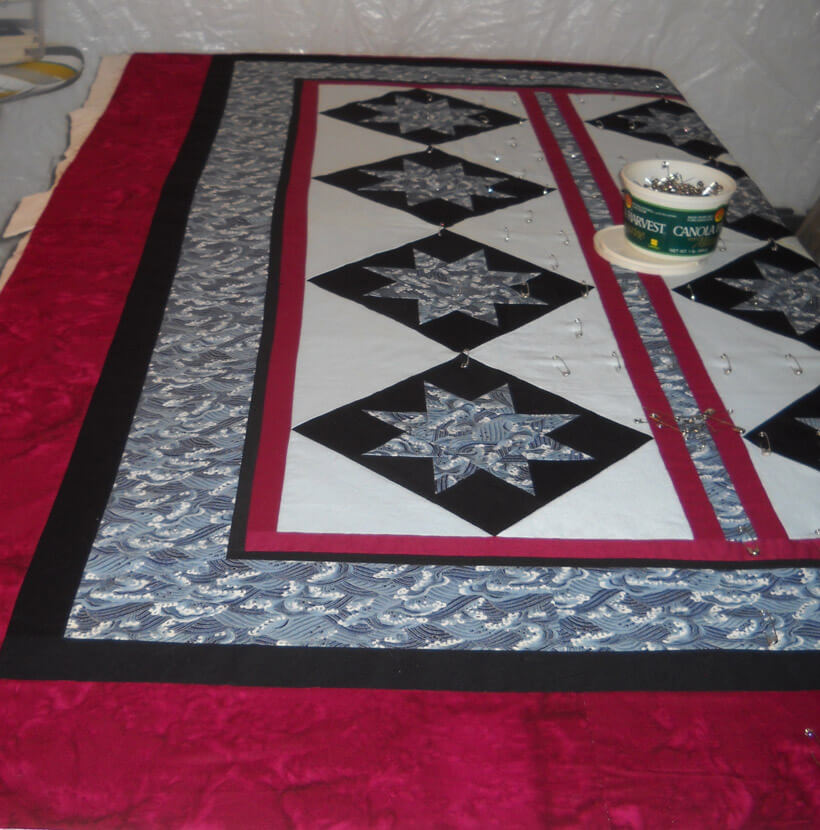 See that bottom left light blue triangle? Eight hours later, I have learned a couple of new lessons. One, there is something to be said for trying out a motif on  scrap fabric and batting. Two ripping out teeny tiny threads can actually be meditative…..
That said, those bottom triangles were going to have a different pattern along the top and bottom. I was thinking a type of lotus blossom (a variation for me on a feather) with smaller feathers inside each petal. Because at this point I wanted a little relief from all the blue. I thought it needed some more color…..I was wrong, at least with the color I chose. I should have stopped after the first petal, rather than completing the triangle…..a lot of my decisions look way better after they are finished. But I was still wrong….maybe if I had left it all in the shiny blue….but it was still wrong. So I knew I had to take it out.
Were the quilt for me, I would have just put it aside until I felt like dealing with it. But no, it's for my yoga instructor, and I want to get it finished before we have to dismantle the studio for the move. So I started with the seam ripper….three hours Wednesday night, music in the background….the petals were easy in the Magnifico thread – just slid out. NOT SO the feathers…..teeny tiny……three hours Thursday, three hours Friday (yes, a lot of tiny stitches, many on top of each other), and today after 20 minutes I was finished, with two very sore fingers for my efforts.
The fabric looks kind of like a war zone – it's 16 years old after all, and nothing like that left in my stash – or I could have ironed on a replacement triangle and then quilted that. But the bubble stitching will hold it together, as long as the cats done find a few loose threads of the fabric. And the whole bottom looks much much better. Now for the triangles along the top, and then into the borders……I have to remind myself to plan ahead and if I want to do something fancy, try it ahead of time……..even if rippit is fairly meditative…….