As I mentioned yesterday, I sent in a request in response to an offer of a free web critique, as a way of jump-startng more marbling and marketing efforts. I still have a huge business map taped to the back of the studio door, with lots of ideas on it, some of which will never happen, and some of which just need a push. We need to prepare for a demo we are giving in September, and this time we will not make the mistake of not bringing product with us to sell. And we will take pictures, have sign-up sheets, and all the other marketing pieces that need to be there to increase sales.
Part of each of the next three marbling sessions is to get materials ready to take to the demo – like scarves in preparation for holiday buying. But once again, we don't want to just be making fabric – tough on us and lacks the creativity. When we were doing all those fat quarters for the fabric rep and the kaleidoscope guy, it was the same old routine and patterns, and we did not enjoy that. I have several pieces already backed and waiting for quilting that would make great art pieces. Just have to get to it.
And the whole idea behind the Photoshop classes is to get to a point where I am ready to create t-shirt designs. I did go online yesterday to search about creating a CD portfolio – and the site with the most amount of helpful info was the Apple site on a tutorial for iLife – which I have on my laptop. So I just need to sketch out what needs to be done and get it created. At least I know how to do a slideshow, as that seems to be the main feature. I updated the website, so all our credits and shows are current.
I have also been reading some stuff about publicizing blogs – since the two comments I have gotten on here have been spam. Have to find out about RSS feeds, and how to get other people to read this blog. Minor details…..at least I have a record of my work this year.
The other thing I was thinking about was my sketching – but more on that later.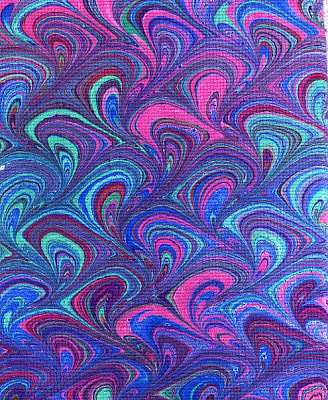 Just so you know – we can marble on cross-stitch Aida cloth – didn't want too many entries going by without pictures. This was for a special order over a year ago.