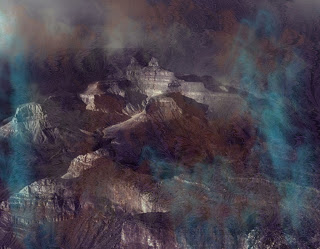 I will preface this by saying I have never done this – either contest or gallery show, so it's all new! But as you can see from a previous post, I m in need of a title to unite all our work. There are three (and possibly a fourth, who is a photographer) of us putting this together. The only restriction from the park gallery is that the focus has to be Southwestern, which is not a problem at all. And – I want something more exciting than "Southwestern Art."
That said, we have fiber art from marbled fabrics, digital manipulation of images, both with and without marbling, and some great stand-along photography of the Southwest. You can see some examples here, and you can scroll through older posts. Plus, The Art of Fabric, our website, has examples of fiber art. The image at the top of this post is an example – and the drama is lost on this size! The show isn't just about marbling, which would simplify our title tremendously, but in the directions some of the marbling is taking us, as well as digital experimentation with Photoshop. We are trying to be unique in the marbling niche, and the digital work seems to be providing that.
But – we also don't want the show to be exclusively digital marbling. Consequently, we want suggestions. And to the winning suggestion, you will get a four-pack of note cards with original digital marbling images. You get to see some of our new work before too many others do.
So comment away – if there are several title suggestions that are the same, the one submitted first will be judged the winner. I'll keep an ongoing commentary as we develop the show, piece by piece – even if it is 4 years away. We will be ready!
Additional examples of art work – scroll through the past posts – there is usually some art work that is included in each posting.