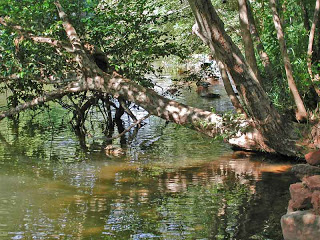 This shot from Oak Creek Canyon in Sedona is now my screen saver. Every time I look at this I feel my blood pressure go down. This is just amazing country, with rock the best red-orange you can find. One thing about this summer is recognizing "me" as a work in progress. I am learning to stop and smell the roses – and look at the red rock – a lot more often. I'm realizing I have nothing to prove to anyone, I'm happy that I'm a teacher and have a great job – and believe me, it took a while to get to that point! The start of school is approaching, and while I am looking forward to it – I love all the planning leading up to the kids arriving – it does mean an abrupt end to a summer of art and marketing. My goal is going to be to maintain the momentum started last April. I have lots of things coming up art-wise to prepare for, and I do work well with deadlines – all those years of student theater got me to work under pressure very well.
I started out last week wanting to do some sewing to keep me occupied so I wouldn't want to snack. Took the doctor very seriously after the scare this summer about losing weight – just finished trying on some "old" tops in the closet…you know the ones – for when we "lose" weight and they will fit again….and I have several new ones for the start of school. Yay me! I went through my stash, starting with two dyed fabrics I did. They're the ones on the lower left and middle right. I pulled lots of batiks and the pile kept getting warmer and warmer – hey, it's summer in the desert!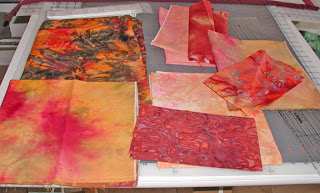 So I sewed half-square triangles for a day. Sunday hubby and I started playing around with a potential pattern. The more triangles I put up on the wall, the hotter the piece got – and it gave itself a name – "Desert Heat." Coincidentally it was 108 that day. Here's a shot of the design center.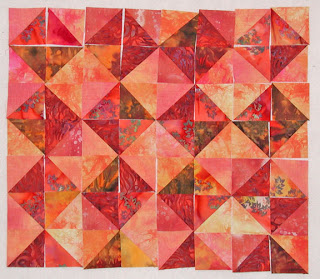 I have done some more, but no pics yet. I also have out my "bamboo" strips to continue working on a marbled piece that will be three-dimensional.
As I was looking for fabrics, I happened across a "finished" piece of marbled fabric I call "Sunrise." I love the fabric, but when I was done, it didn't do a thing for me on the wall. So I want some ideas – I am more than willing to take the cloth framing off and the quilting out to improve it. The piece just has me stumped. It's not a great pic – I'll try and do better. Any and all ideas welcome!!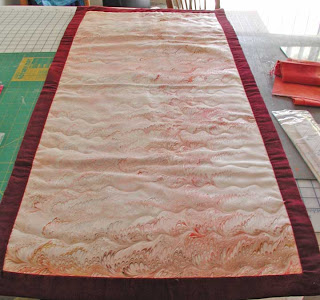 Our art group will have its first meeting next Monday – I am excited about that. And my friend Suzan hopefully is coming down from Sedona so we can play before and after the meeting – nice way to ease into the start of school.
Stay tuned to the blog – Darya from Summer Tomato is working on a post for us on food and creativity. More to come…
One Response to "Work-In-Progress Wednesday – Moi!"