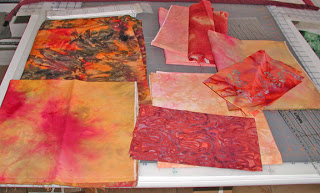 This is where I started about 6 weeks ago, with the desire to just do half-square triangles and then see what developed. The sewing was mindless at first, just following the lines on the paper, which is what I wanted – mindless – and I wanted to use my first hand-dyes. I lay out a beginning design on the wall, and it really started reading "heat." Once the half-squares were together (and the lesson learned there is the press open, not to one side….) I decided to add a totally different batik to tone down the heat.
This weekend I got the last of the borders on, and now it is ready for quilting – and I have some ideas for some gold threads…once I get it sandwiched and basic line quilting done – just to see what a problem it's going to be getting through a lot of the fabric corners. Here it is: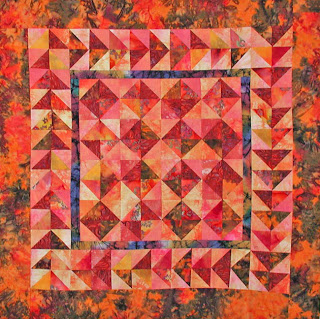 I am quite pleased, for something that was just a way to cure some boredom – looks great and learned a lot! I'm hoping to get more done this week on the new strips – ready for a lay-out, and a new bowl to wrap while watching TV. Have to do school work tonight, but then I should be ready for the week….for some fun!