Archive for the 'selling art' Category

You would think, based on a hubby in retail for so many years, that I would have given packaging more of a priority. Well, no…seems like I'm always rushing to get items ready for shows, and I neglect the packaging. That's not to say I don't give a lot of thought to the overall set-up of the art space…just not the packaging.
I had a bit of an epiphany with this upcoming show. I'm sitting in the meeting about the show, listening to explanations of selling, how good a show it is, and the great location. When suddenly I hear "People are gift-buying. They'll splurge for folks back home with gifts for the holidays."
Okay, seems obvious. Then hubby says, "Well, they're not going to buy pieces of fabric, so I'm not sure just what we'll bring." That made me fairly depressed. Fabric is what we do: fabric for quilts, wearables, framing – we've spent a lot of time brainstorming how folks could use our marbled fabric.
Then it hit. Buy fabric as gifts for the folks in your life who do fiber-related arts. Just package it so it looks like a gift from the heart, not just a piece of fabric in a plastic bag.
Duh. Why did this take so long? We have done so many small shows over the years, including demonstrations, and not once have we packaged ourselves for gift sales. This was definitely something to think about. How could we take a gorgeous piece of fabric that to a non-fiber person just looks like extra pieces of cloth on the table? I started thinking about how I buy small pieces of art, as well as how my local quilt shop packages your purchases. I love having the "back story" or a piece of artwork. In my hutch sits a container of all the small papers of stories collected over the years.
Okay, put together the story of the fabric, the care of the fabric, and ways to contact us (hard to believe we haven't done all of that in the past).  Wrap the fabric piece with a bow so that it looks special, with the "story" tucked into a fold of the fabric. When purchased, wrap in tissue paper before bagging it.
I played on the computer to come up with something that would have contact information as well as a story about the creation and care of the fabric. With aiming at non-fiber purchasers, I need to provide as many reasons as possible while a piece of "art cloth" would be a great gift. Here's the "story:"
"This art cloth is a blue silk crepe georgette  fabric, hand-marbled in a contemporary wave pattern, 19 inches by 21 inches. Edges are serged solely to prevent fraying of the fabric. This material has been pre-treated and heat-set, so it is ready to go for your project. If you need to clean this fabric, use warm water and a gentle soap – no Woolite or harsh cleaners, no dry cleaning. Use a dry iron and some Magic Sizing to eliminate wrinkles. Try this as a table-topper, just the way it is, quilt it, or use it in an art quilt for nature elements– lots of imaginative possibilities! This is a great pattern to quilt by itself with lots of decorative threads."
Along with this is every contact piece – Twitter, Facebook fan page, blog, email and website. Save everything to your computer, and then all you need do is add the new story for each of your pieces.
Here's the fabric and its packaging: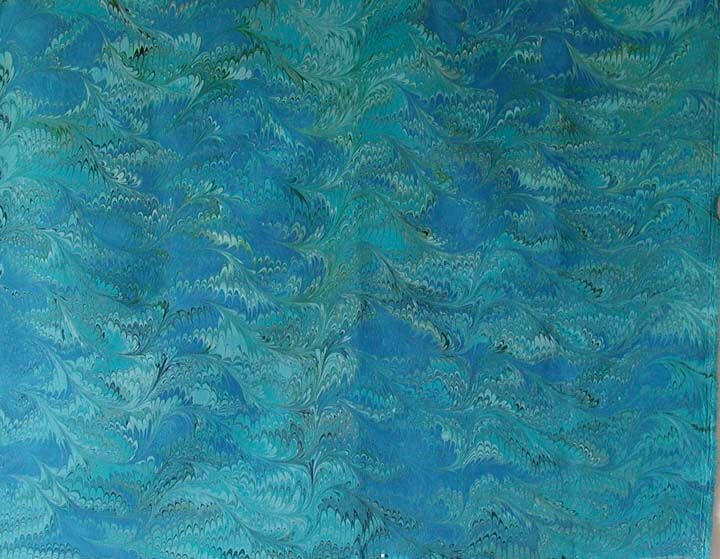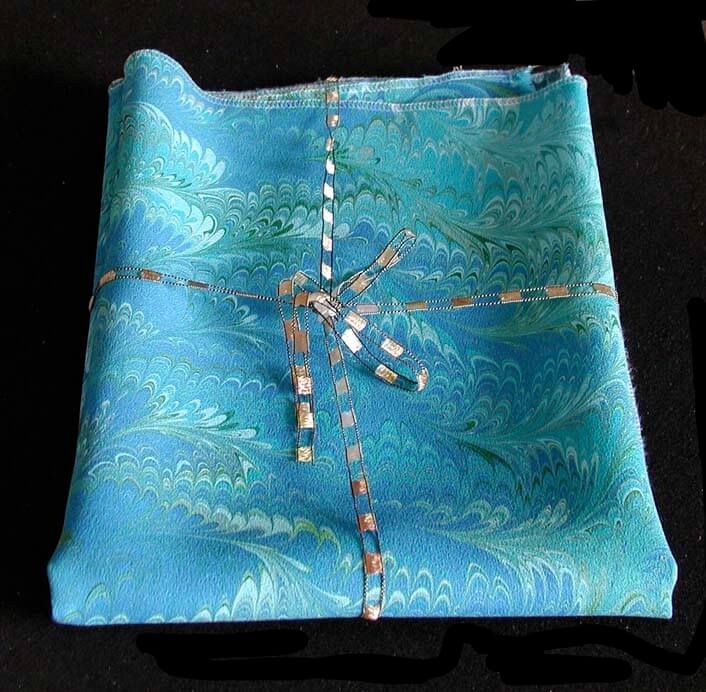 I will say the piece was up on Etsy for less than an hour before it sold, and all the new pieces of fabric packaged this way have had more views than previously in the shop.
The proof will be the show on November 20; how will people react, and will they buy? Thoughts? What have you done to package your items? Have you noticed a difference in sales?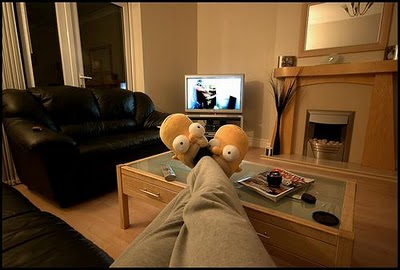 Ya gotta admit, that's a catchy picture….the slippers on first glance look like little aliens checking things out. But this indicates it's something cool from Dumb Little Man, which readers of the Tuesday posts will know always has something cool. This one is 30 Ways to Make TV Watching More Productive. There are some really great ideas here…for you sewing folk I would add "seam ripping stitches" – productive and therapeutic!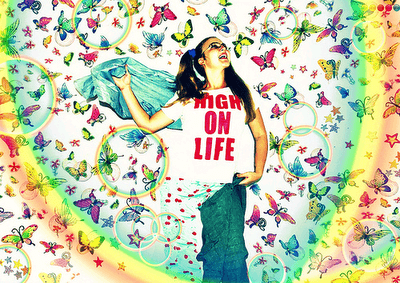 Also from Dumb Little Man, 61 Ways to find Inspiration When You're Stuck and Feeling Down. We can always use a little practical inspiration. Number 13 suggests browsing through Flickr photos, which I have just started to do – serious eye candy. If you want marbled goodies, here's our Flickr site:

From Maria Brophy comes How to Create Anything Even When You're Scared, Inexperienced, and Don't Believe in Yourself. It's a mouthful, but it's all about baby steps….

From PlugIn ID comes a great article on the butterfly effect, quoting Gandhi saying "Be the change you want to see in the world."
Problogger is a great source of ideas for writing a blog. Here's some info on making it easier for customers to buy from you. Great ideas here.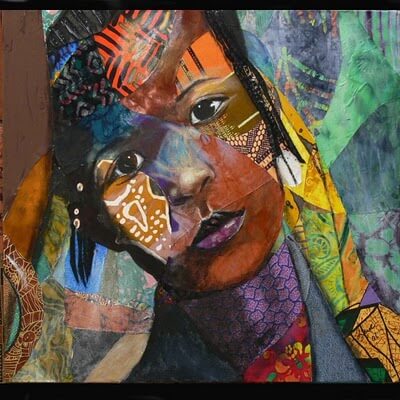 Here's some fabulous fiber art to look at – the fabric collages of Wycliffe Lincoln.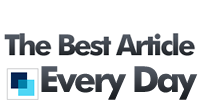 These guys always have great stuff – I've posted from them before. This is 60 Creative Examples of Infographics. If you like data presented in a very visual manner, check this out.

Now who among us hasn't given some thought to making art from Post-Its? I create little cubes when I'm bored, but this kind of goes waaayyy beyond that! Check out Georgia O'Keefe…..
From Selfgrowth.com comes a really helpful article on pricing digital painting, something I'm becoming very interested in.
And finally, treating yourself like a Ferrari – something we should all do!

What have you found as you've been surfing?? Pass it along – I love looking at new stuff!
While on vacation, hubby and I had plenty of time to talk about our marbling business and how we wanted to proceed. Readers of this blog know we went through some very difficult times as we had problems with marbling: nothing worked – water, paints, fabric finishes – nothing. Prior to this time we had an active business, with a mailing list of about 300 people, and a list of products that sold each month fairly well. Once the art problems hit, at the same time I changed jobs, and time became a real premium.
Fast forward to now, and I am spending lots of time reading and researching how to build our business. About two weeks ago, on the road in Tennessee, I had one of those "2 by 4 on the head" moments, when I realized that everything the internet marketers tell us we have to do to build an online business we had been doing years ago. So I have been spending time updating, revising, incorporating social media (which wasn't around when we went online in 1998…). I have learned a HUGE amount, I have loads more to do, and most importantly, I am having fun, as well as meeting lots of new and interesting people. I am glad that I am on summer vacation right now, and I don't need to take classes or teach any remediation, because building this business is taking a lot of time.
So what does an art business need? We have a website that has gone through several versions since 1998 when the learning curve was EXTREMELY steep.  It has again been updated by our amazing web designer Suzan at Saltwater Systems to reflect new fiber work, some of our digital work, and some new products to be released within the next two weeks. It is now easier to sign on to follow our work through our newsletter.
We did a lot of work off the website way before blogs, but blogging makes it a lot easier to update and refine offerings. Plus, I like being able to write about and reflect on new work, especially as our digital marbling (TN) increases. Now on our blog, Marbled Musings, you can follow updates to the blog, as well as sign up for our newsletter.
Social media has mushroomed. I've been on Facebook for about two years, and I have loved getting back in touch with former colleagues and students, as well as meeting and reconnecting with other artists. I am learning about Fan Pages and am just beginning to experiment with one. If you are interested, sign on to follow Marble-T Design on Facebook. Pretty soon we will have a button you can just click.
Now Twitter….this is really interesting. My students make fun of me for being on Twitter, but I tell them I am way ahead of them in this piece of technology, especially when it comes to business.  I am not always logging on with information about what I am doing, but I do enjoy the resources that are posted. Following the NY Times arts columns has led to some great artists. If you're in to Twitter, you can follow me @ArtsyLindaMoran. (And there wil soon be a button….)
Have I made any art lately? No, and that is by far the downside to building a business and doing the necessary marketing. I worked on a few pieces before I left for vacation, and there is time next week built in for working on art. My goal is to have the business running smoothly within the next four weeks, and then I will carve out the art time throughout the school year – a tough task as any artist knows who has to share creativity time with the job that pays the bills.
I am very interested in what all of you do. Comment about how you're building your business, what you have found that works, and anything in particular you know HAS to be done. Love to read your comments.
AND….giveaway this weekend with Blog Post 400 – I promise you it'll be a good one!
PS – a popular post about Martha Stewart and her "marbling" – this ran a year ago as we were just coming out of our hard times marbling, and I was incensed at how she tried to put her spin on this ancient art!

I am spending time this week really analyzing what I want to do with this blog and with my art – and the art of those of us in our Mixed Media Arts Tucson group. I am working through BlogMasters Club with David Risley and learning a huge amount of information. Part of me is getting discouraged, but another part of me is extremely excited. For those of you interested in building your art business, let me show you what I'm learning.
There is so much information available on line if you are interested in marketing yourself. Knowing what to look for – and the whole issue of key words – has really confused me. So I am taking this step by step. I went looking on Amazon in the categories of buying art and selling art. No magazines in the buying art, becoming an educated art buyer, but there were a couple if interesting books that could be used as resources to round out my own knowledge. The magazines under "art" tend to be "make it yourself" kind – quilting, scrapbooking, sewing – many of the same magazines I tend to buy. But nothing on how to know what and how to buy art. One magazine, Flaunt – $60.00, 10 issues – is supposedly a trendsetter (their words), but had lousy reviews – magazine was just taking money and not delivering. I keep telling myself not to be discouraged, I really do think this will be a potential market – I will need to tweak things.
The two books I found that look really interesting are "The Art of Buying Art" by Paige West and "The Art of Buying Art" by Alan Bamberger (you can click through to Amazon to purchase). The interiors looked helpful.
From here I went to Google to check out what kinds of forums are available to follow buying and selling art. No question there is traffic here on line, as opposed to strictly magazines. There are about 132,000,000 forums available, I found several within the top fifteen that had potential. They all seem to be focused on artists getting their work out for others to buy. Foundmyself.com is on the honor system for selling, with a first glance of some nice-looking work. I especially like the opening graphic – "artsy" and eye-catching. Emptyeasel.com had a great article on helping buyers find your work. About three years ago my digital partner and I were talking about an online site to sell art. I think this is going to remorph itself into something within the blog. Given the number of forums, I do think there is market potential. But – I want more than just places to list your art. What about the actual selling – and driving buyers to want to purchase the art? Those are the big questions. Off now to start looking at the keywords.
Now to make some art this weekend! Need to marble some paper, follow up on a wholesale order, get a few fiber pieces ready for a show in March, start planning our new blog Mixed Media Arts Tucson. mark papers, finish the geometry quilt, and get some good walking in. Should be in the 60's!