Archive for the 'Point Loma' Category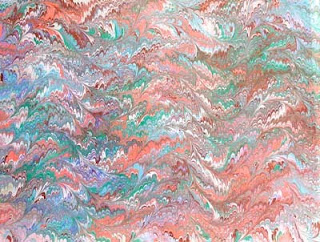 Lots going on it seems, and there are times when my head just feels so full and I don't know where to begin. I do have some upcoming deadlines, but there are so many things to do….it seems that making lists isn't even helping. So I have to go step by step, until I get a handle on everything happening.
First up is this fat quarter of silk, up on ebay this week. We aren't doing a lot of marbling in our large tray, as we have just been enjoying the small work, but we are trying to set up the big stuff at least once a month, as we have some steady customers on ebay who buy regularly. You can check out this piece here.
I think I am getting hooked on marbling paper. I set up a small tray this morning and did half a dozen papers. I finally was able to improve on a traditional moire pattern, which turned out great. I am trying to do more with flowers, as some of the traditional Turkish marblers do, and I had medium luck. But the piece did turn out pretty cool, with some adaptation on my part. That said, take a look –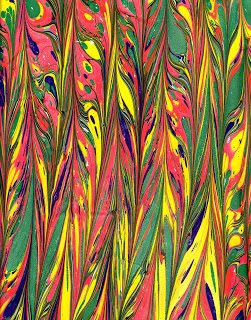 These are available for sale. Paper 9 x 12 inches. Four sheets $10.00. Email me for more information.
Licensing is moving along. I realized today I need to start a list of what I have done so far so I know exactly what to follow up on. I am thinking that Zazzle will give me a chance to play around with images and items to prepare a portfolio for presentation. I am going to try and attend the licensing conference in June in Vegas, so I need to be prepared.
I'll close with a couple more of the photos from our San Diego trip. I love this one – like a sentinel of Bird of Paradise – which was the main flower in my wedding photo.
We spent a morning at Point Loma, taking in the views and visiting the light house. What a gorgeous spot – and it was a perfect blue sky, although a tad brisk first thing in the morning! This is looking at North Island Naval Station on Coronado, with the skyline of San Diego in the background.
This is taken from the light house, with the Cabrillo Monument in the center. The lone person standing there is hubby – the light house is considerably higher – in fact, it didn't really work well as a light house, because it was higher than the fog, so ships weren't able to see it.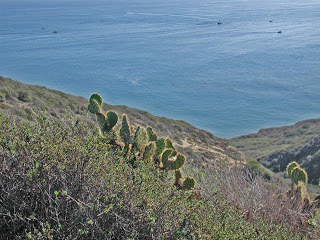 What is like about this one is the cactus on the edge of the cliff. We usually assocaite cactus with desert, and it just seemed very strange.
More on the Mingei Museum next time.