Archive for the 'Mary Fisher' Category

As promised, here's a look at Mary Fisher's studio in Sedona. From her website:
Mary Fisher is celebrated as an artist, activist, poet, and author. With bold techniques, intricate movements and splashing colors, Mary brings all the influences of her extraordinary life experiences into a seemingly single stroke. Her award winning fine art quilts, paintings, sculptures, and photographs are internationally collected by presidents, critics and corporations, galleries and museums, as well as commissioned for permanent installations in U.S. embassies and in the UN's Geneva headquarters. Her quilt fabric and jewelry lines are embraced by wide audiences as being elegant, easy to live with and timeless. "Designed by Mary Fisher" signals an exuberant style that is instantly recognizable, the cause of conversation and joy.
Mary draws from her early studies at Cranbrook, her life in Paris, her continuous work with the village women in Africa, global travels, and the red rock mountains of her home studio in America's primitive Southwest. Her work combines her passion for the textures of indigenous craft, the finesse of the classics, the spontaneity of primitives, the vibrancy of cultural art with the serenity of minimalist ancients. The result is "Collection Origins", a timeless look that is both sophisticated and comfortably contemporary.
Because of  the open studios, we got to see up close and personal what this amazing woman does. My mouth was hanging open the whole time, and it suddenly dawned on me to ask if I could take photos. I would never even be able to explain the amount of "stuff" to make art. It's EVERYWHERE. And she does EVERYTHING. Paper, block printing, painting….you name it. So sit back, enjoy, and drool…..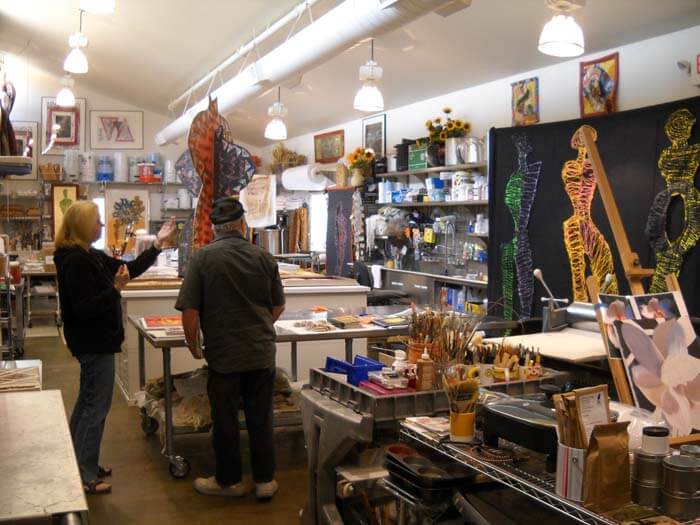 The "wet" side of the studio….paints, papers, dye stuffs – you name it!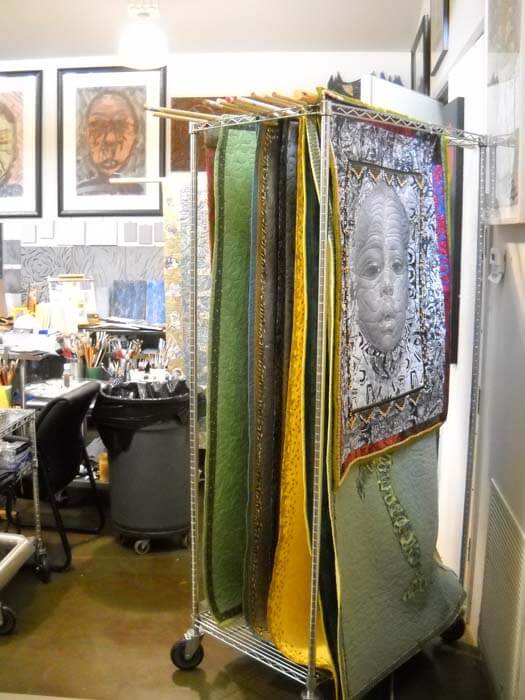 Transitioning between spaces – a quilt hanging system.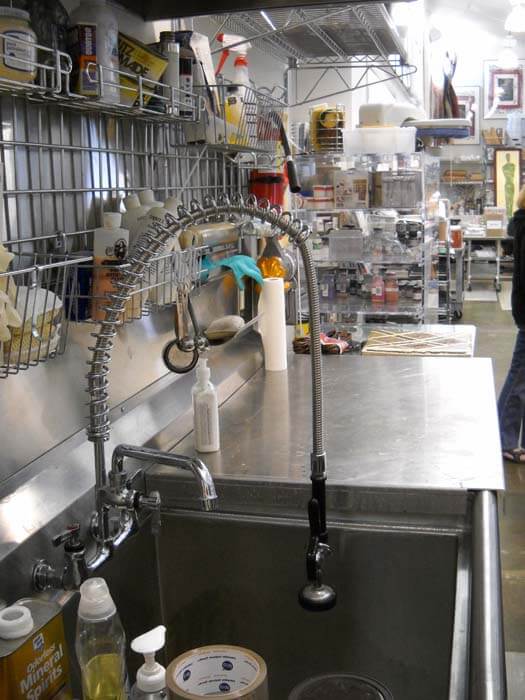 Huge wet area.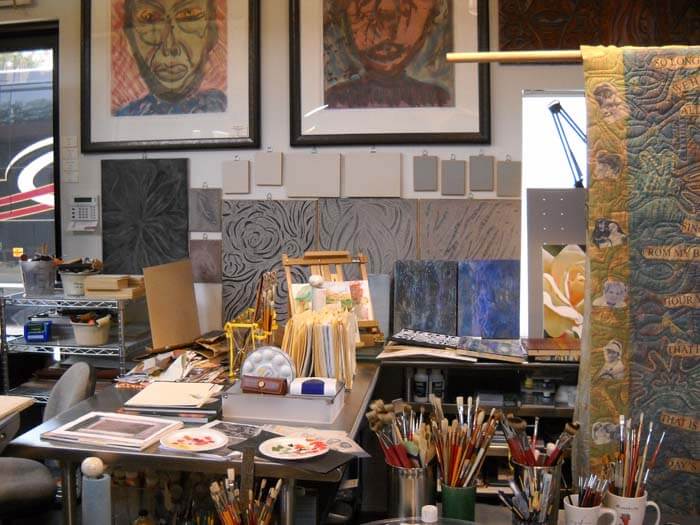 Block printing, brushes, paint…at this point I so want to try everything!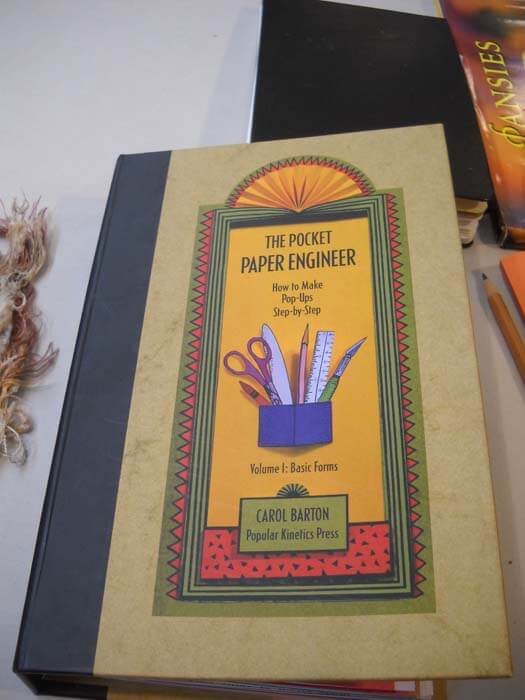 I snapped some pictures just to see her journals and what she was reading.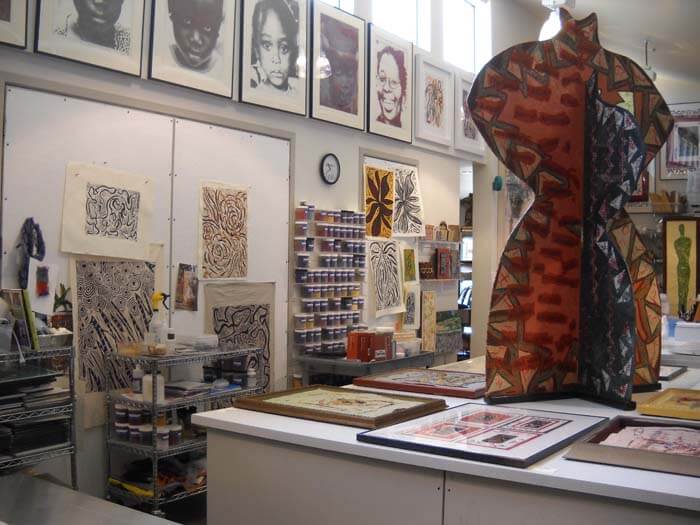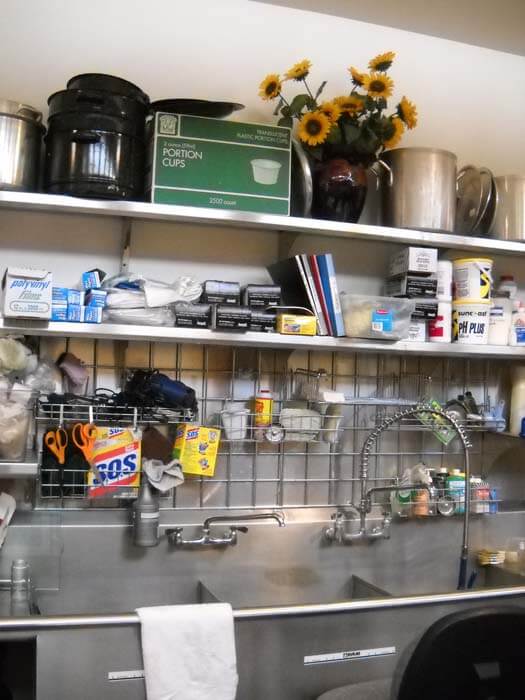 Large sinks…and a huge in-the-floor drainage area.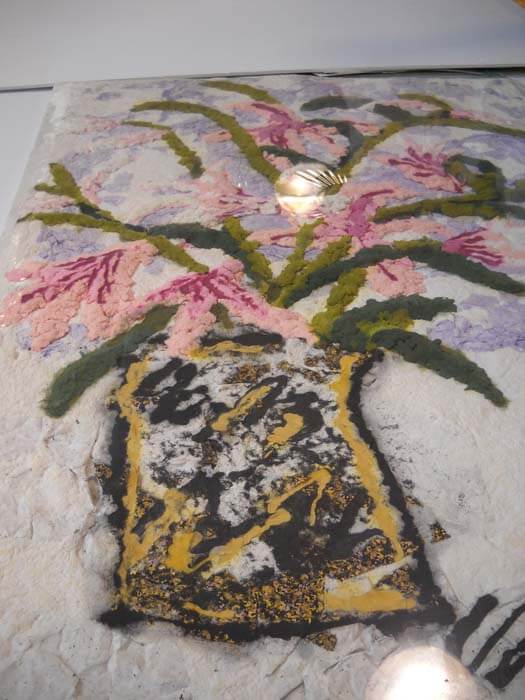 Artwork abounds – this was paper.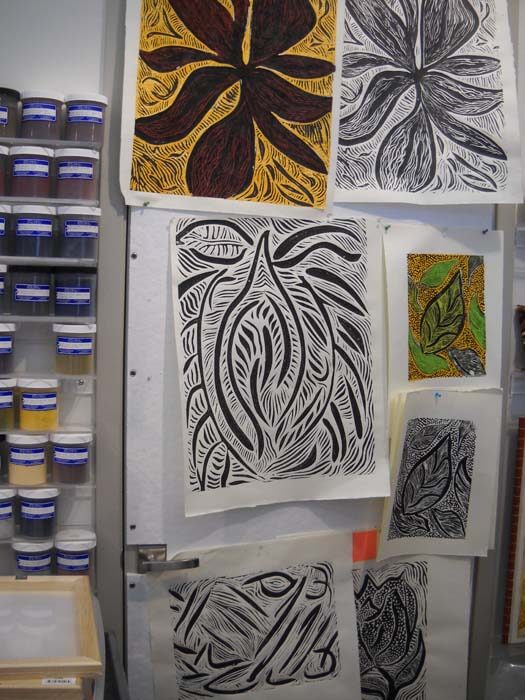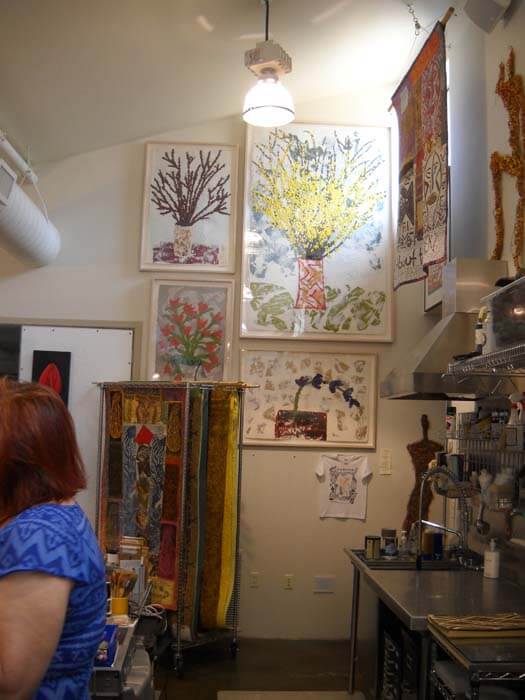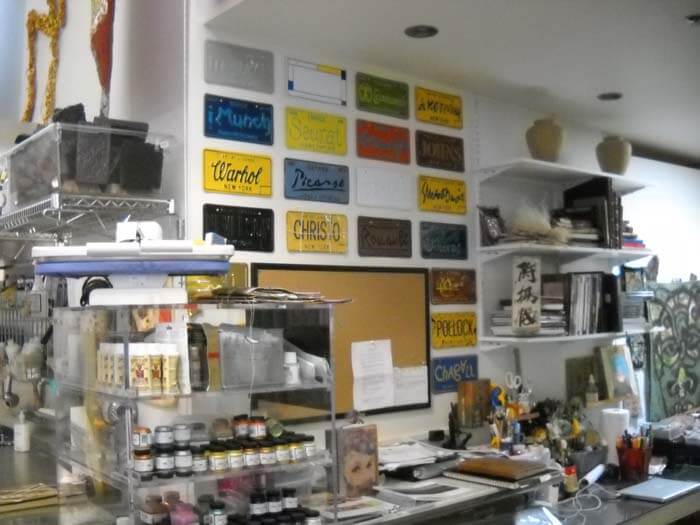 I loved all the different artist license plates.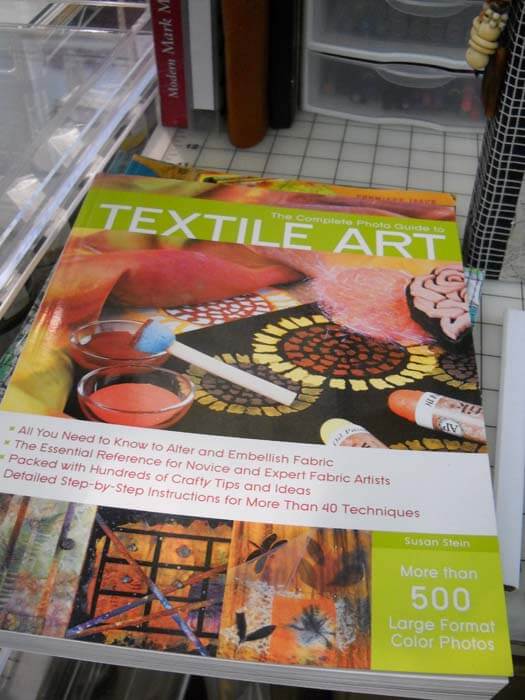 More  books.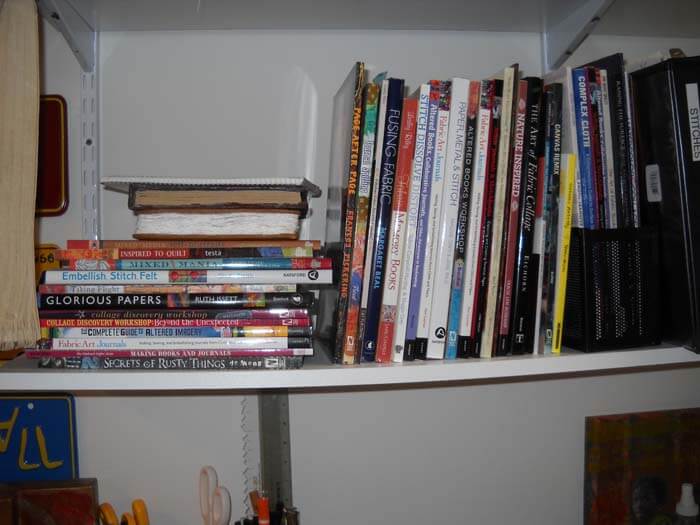 Aren't you just curious as to all the titles? And there were MANY more books.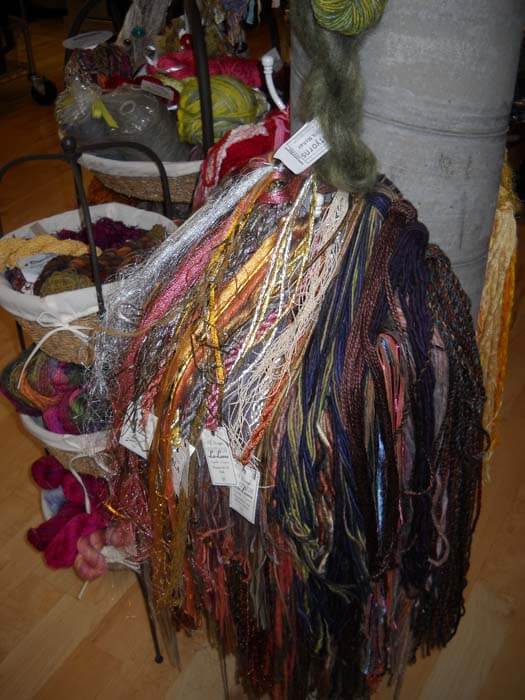 Luscious yarns and embellishments all over!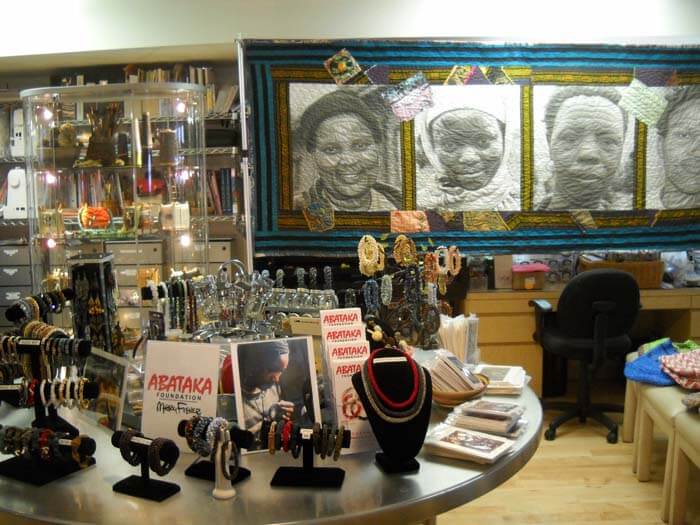 Part of the retail end of the studio. All proceeds go back to Africa.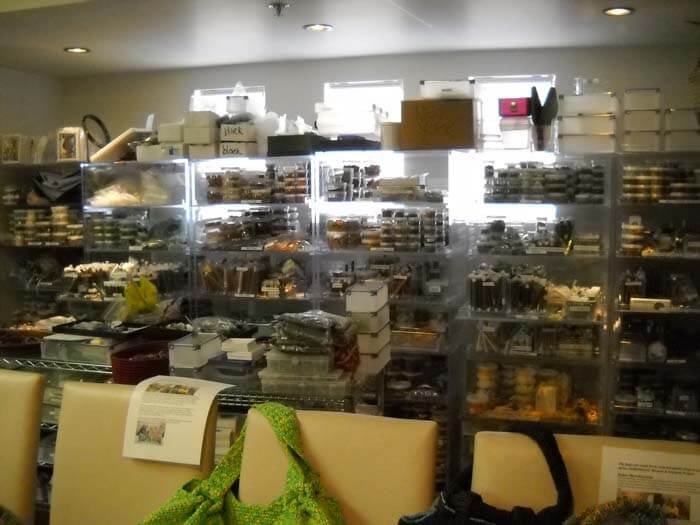 Beads and findings and more.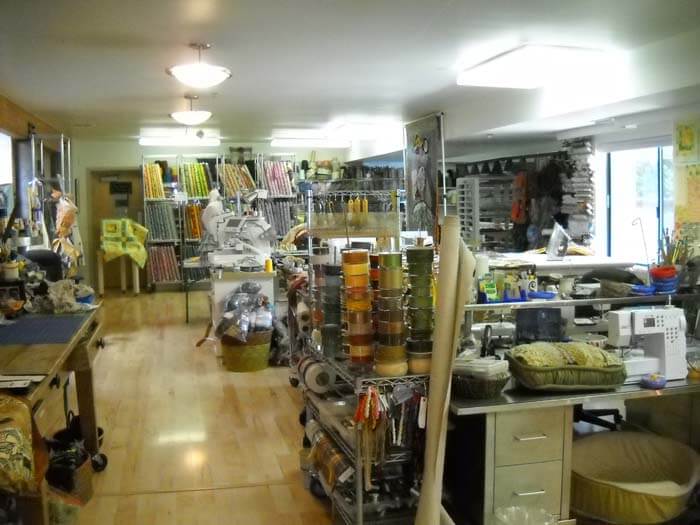 Looking toward the back, with her fabric lines,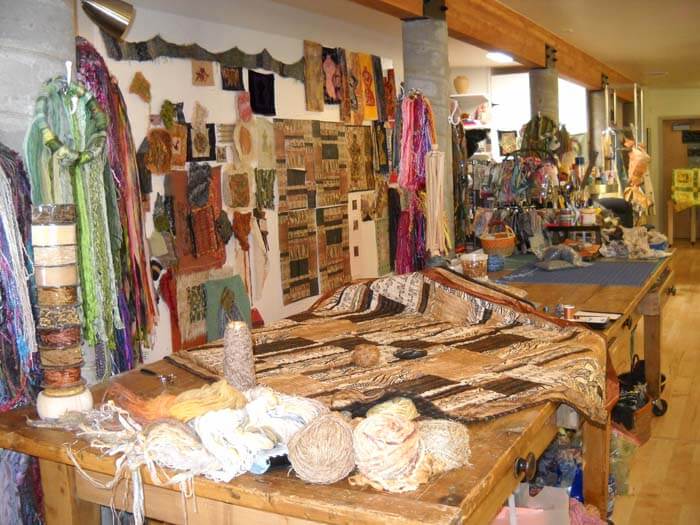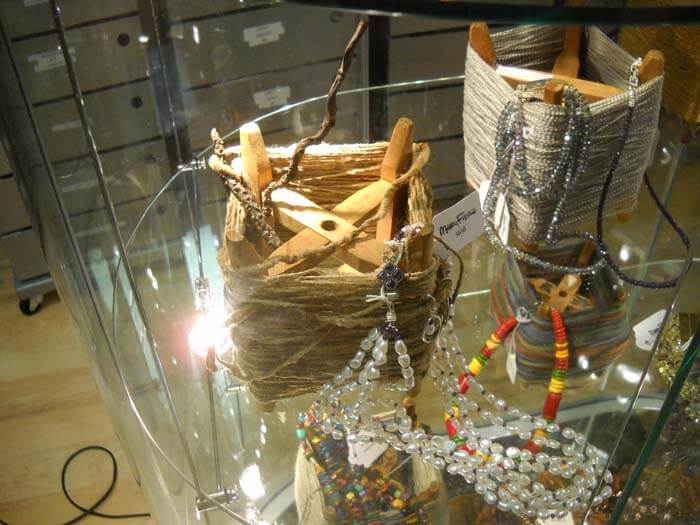 I thought the way to display the jewelry was extremely clever.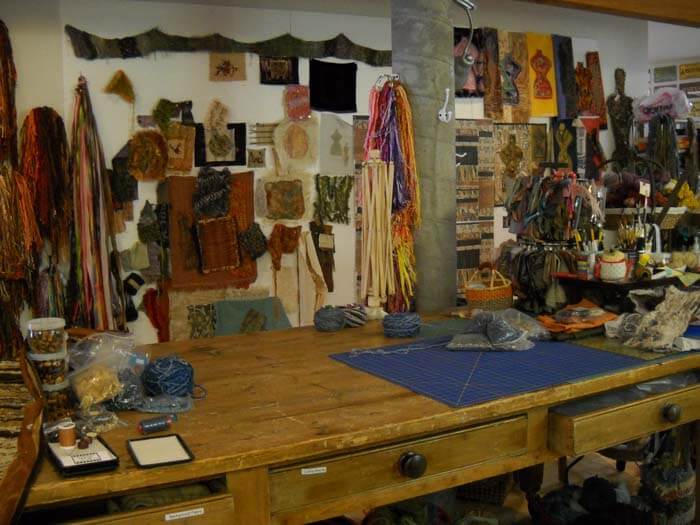 One of several very large work spaces.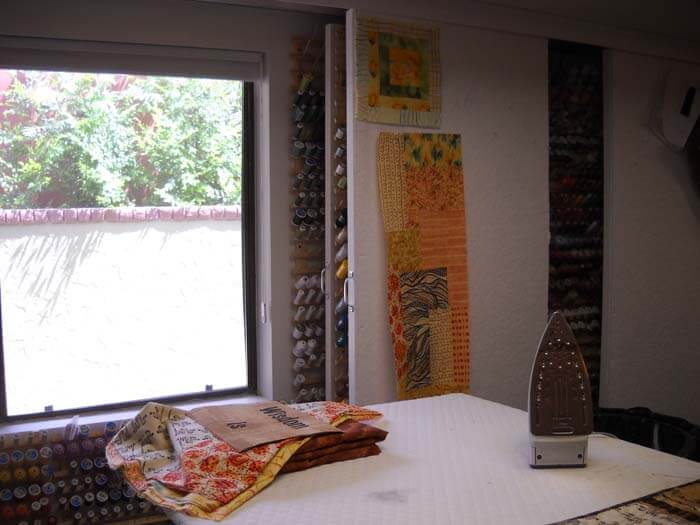 WALLS of thread….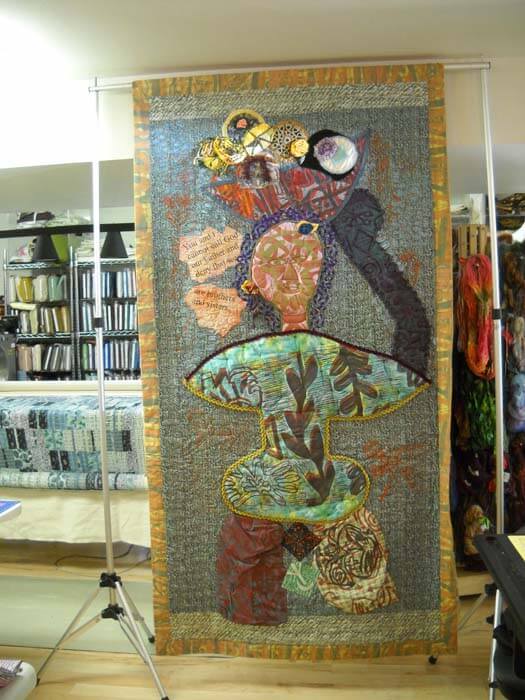 And a long arm….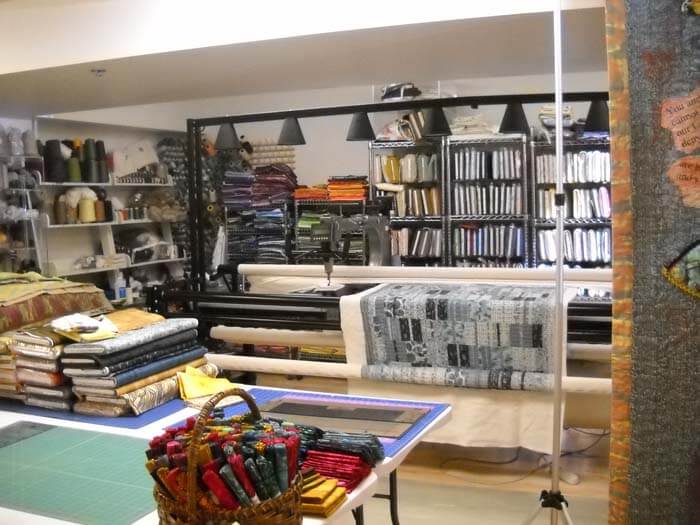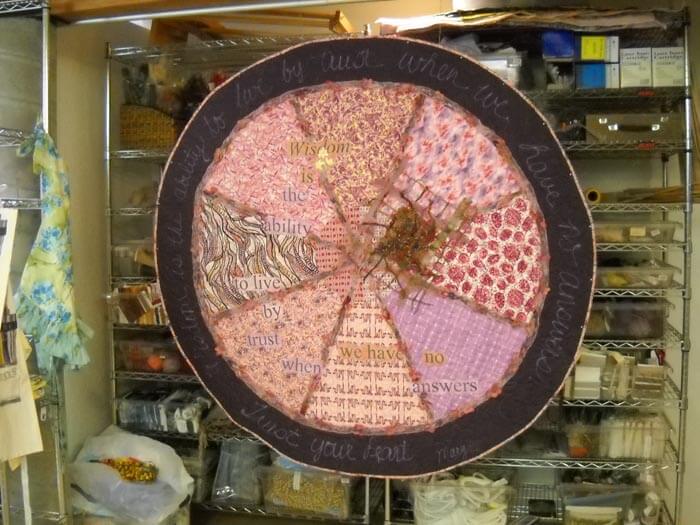 More wonderful artwork. The hanging system was ingenious.
Somehow I missed the three shelves of sewing machines……my parting comment to hubby was to NEVER complain again about how much stuff I have.
Truly inspirational. In fact, a small piece I am working on today for the SAQA auction had me digging through the yarns and ribbons I have to see about an unusual binding. MOre on that later. For now, just enjoy.