Archive for the 'marketing' Category


I'm working on week 2 of being sick…it's the usual viral thing that settles in my chest and makes me miserable. DH has already had it, and I'm hoping it doesn't go on beyond this week, as the record for this bug has been two months. So for 4 days no blog entries – and did I ever miss recording my thoughts and progress. There wasn't much except for the commission, which was due yesterday for the 80th birthday party, and it was half done – lost four whole days, and it would have been completely finished. I'm quilting as I go, and then piecing the quilted sections together. It's really looking wonderful, but I'll save photos until more is done.
Marketing Monday – Two weeks ago I posted marketing plans, and now it's time to check and see how I did. The main one was to set a calendar for the blog and continue postings….which I did – sort of….
Marketing Monday – this is my second posting, and I think it's going to keep me on track.
Top Ten Tuesday – did two posts – should be interesting, staying on topic.

Work-In-Progress Wednesday – two posts, this week I should have pics of the commissioned quilt.
Thoughts for Thursday – missed last week – too sick to move…
Photo Friday – made one of the posts, should have new pics this week.
Saturday Special – nothing yet, but I have plans…

Sunday Sampler – again, nothing yet, but there are plans….
Another accomplishment – get entry ready to mail to Alaska – went in the mail last week. And – last Friday I heard that one of the two pieces submitted made it into Ft. Collins Fabric of Legacies show, so that will go in the mail beginning of next week – and I think we will be able to make it to the artist' reception.
Nothing on the tutorials, as I've been sewing so much – nice to know I can get as much done in a short period of time – bodes well for new pieces this summer.
Haven't ordered anything from Vista Print, but that's on the agenda for this week.
In terms of Etsy and Cafe Press, nothing yet, but Kimberly Baxter Packwood had a lot of suggestions on her blog and Facebook about successful Etsy stores, so I am pondering that. I think I can have my Cafe Press up for this week's Saturday Special, with some of the digital work.
So – goals for this week:
* entries each day on the blog
* Cafe Press set up and ready to go
* Low Tide mailed to Colorado
* commission just about finished
* check for some new shows to enter for Fall
First time visiting the blog? Check out this overview.


Two more days of school, and then summer vacation starts, which isn't always as productive as I would like. I usually get really ambitious right before school starts again. But this spring and summer look to be a "new leaf." Since I started in March, and then took the blogging course in April, I have been extremely productive. Let's go back to March….and then this post.
Website has been mostly updated – still need to get the new pages up and the links checked (which I've done on my school page…)
CafePress and Etsy? Way more thinking than doing, but I am getting a lot closer….
Shutterfly and iBook – not there yet.
Art shows – entered (and was accepted) at one, awaiting the results on another.
Garden Fantasy work is coming along nicely, as is general digital marbling – at least three new good pieces.
Trade name finally done and OURS!
And…we took a marbling class and have improved our production techniques. So overall these two months have been excellent. Now for my goals for next week:
Get Etsy shop operating.
Set a calendar of blog topics.
Order tote bag from Vista Print to see what it's like.
Watch at least three tutorials from Photoshop (NAPP) on blending and masking – a really weak area.
Get entry ready to be mailed to Alaska.


I signed up for 31 Days to a Better Blog, since I am really focusing on marketing and being "out there" for opportunities. Problogger is sponsoring this, and already I am finding it helpful. An "elevator pitch" is essentially a "grabber." I remember Bill asking us constantly with the Learning Center to "have one sentence that will describe what you do." That's what I'm doing now.
What most people do not realize about marbling is that it is a centuries'-old art form, and practitioners who shared information and tricks of the trade outside of their guild could be put to death. When I first started marbling, Dean and I had a really difficult time finding information, especially about how to make particular tools. Now, thanks in large part to the folks on the marbling digest, everyone world-wide is sharing information and trying to reclaim some of the ancient methods. That in itself should make for a good hook:
"A Centuries-Old Art Made Modern"
That should make a good tagline, and in the "About Me" section I can elaborate on this.
We have used for the last 10 years "Hand-marbled Fine Art Fabrics," which had a great ring to it. THe problem with that now is that we don't do much custom work anymore – we just don't enjoy it as much as we did. So that's going to go by the wayside.
One of the things about marbling that is so addictive is watching the paints swirl, and then the patterns appear. There is a wonderful connection to ancient practices, a sense of history (being a history major) that I really love. Being self-taught, this blog is a way for me to experiment and record the process – something I have found very handy over the last two years, especially since I can look at it and know I really did do some art work!


The time has come to seriously work at marketing. I already have a few events set up for these next 12 months, which is more than I have ever done. Now I need to find a way to balance marketing and blogging with actually creating art – so far blogging is winning….
I also need to think deeply about the relationship between the blog and creativity, with marketing the website and actually selling some art. While we are slowly solving our marbling problems, in reality I have plenty of large fabrics left for probably 15 new art pieces – as well as 1 or 2 just needing a few "extra" touches.
Part of the last few days has been exploring Google Analytics and Delicious, as well as a few others. I do read some blogs, but evidently I will need to do more commenting in order to build up my own following. So lots of thinking ahead in a totally different kind of creativity. Speaking of which, time to mark some papers….
I would love to hear from others as to how they balance marketing, thinking about marketing, 9-5 job, and making art….and why isn't AdSense working???


As I mentioned yesterday, I sent in a request in response to an offer of a free web critique, as a way of jump-startng more marbling and marketing efforts. I still have a huge business map taped to the back of the studio door, with lots of ideas on it, some of which will never happen, and some of which just need a push. We need to prepare for a demo we are giving in September, and this time we will not make the mistake of not bringing product with us to sell. And we will take pictures, have sign-up sheets, and all the other marketing pieces that need to be there to increase sales.
Part of each of the next three marbling sessions is to get materials ready to take to the demo – like scarves in preparation for holiday buying. But once again, we don't want to just be making fabric – tough on us and lacks the creativity. When we were doing all those fat quarters for the fabric rep and the kaleidoscope guy, it was the same old routine and patterns, and we did not enjoy that. I have several pieces already backed and waiting for quilting that would make great art pieces. Just have to get to it.
And the whole idea behind the Photoshop classes is to get to a point where I am ready to create t-shirt designs. I did go online yesterday to search about creating a CD portfolio – and the site with the most amount of helpful info was the Apple site on a tutorial for iLife – which I have on my laptop. So I just need to sketch out what needs to be done and get it created. At least I know how to do a slideshow, as that seems to be the main feature. I updated the website, so all our credits and shows are current.
I have also been reading some stuff about publicizing blogs – since the two comments I have gotten on here have been spam. Have to find out about RSS feeds, and how to get other people to read this blog. Minor details…..at least I have a record of my work this year.
The other thing I was thinking about was my sketching – but more on that later.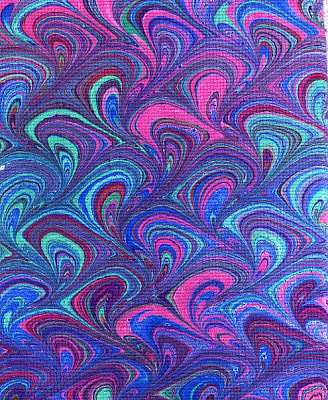 Just so you know – we can marble on cross-stitch Aida cloth – didn't want too many entries going by without pictures. This was for a special order over a year ago.