Archive for the 'giveaways' Category

Okay, so on Wednesday I cleaned the studio in preparation for new work, got rid of lots of lint and threads….nice and clean. I cross off thee of the eight table runners and looked at my list of projects. Well, says I, why don't I finish one UFO before starting on these two new ones? I figure, let's go with the deer quilt, which has been hanging around unfinished for about 13 years. How bad could it be?
Well…………….bad. Nothing seemed straight, I still had a lot of free motion to do, and the quilt was fighting me. I got one side row of free motion done, but I wasn't happy. We decided to measure the bedroom space to make sure the quilt would fit…and it would, but barely. I noticed as we held it up that it was so wavy…..much like a beginner's quilt, which this kind of was……So I figured I would try a basting stitch to see if I could bring some kind of straightness to that one side.
Nope. Nada. Nothing. No way.
Now, hubby has always loved this quilt. Me, not so much anymore, especially since my skills have improved dramatically.
What to do?
I grabbed the scissors.
Now, I've read about people cutting up quilts, and every time I read that, I would be horrified. What would cause someone, after all that time, to cut up a quilt?
Now I understand…..something had to give if I was going to finish this, and it had to be the tree borders. So I cut them off.
Amazing. The quilt is now pretty straight, and I sewed on the binding.
Now, keep in mind that given the large table runners I just finished, that's over 16 yards of binding I've sewn this week (and no, I didn't hand stitch the back down….I didn't want another 3 years to go by before I delivered them….). And…it's a good thing I cut off the borders, because I just had enough binding – which I put together some 13 years ago…………
I also sewed this down front and back. And it's done, ready to be hung on the wall, and I don't need a third hangar….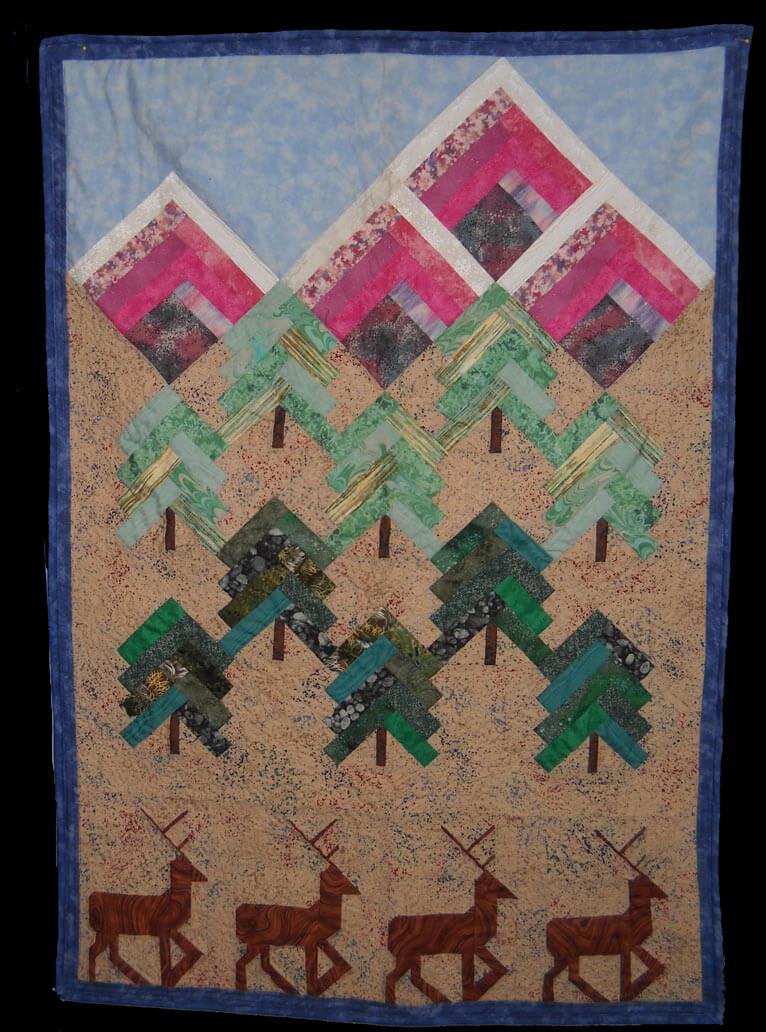 I am reminded of Ami Simms's Ugly Quilt Contest, where the winner had a brown paper bag over her head…….This is from the time period where I was doing lots of rotary cutting and piecing – this is probably from Pam Bono's Rotary Cut Quilts book.
Hubby's happy, I keep thinking "what was I doing?" at various stages, like choosing the mountain fabrics…….
Now, there is a good point to all this – I am giving away the tree borders. I know a lot of quilters recycle pieces from quilts. I just don't think I'll do that. Here's a snippet: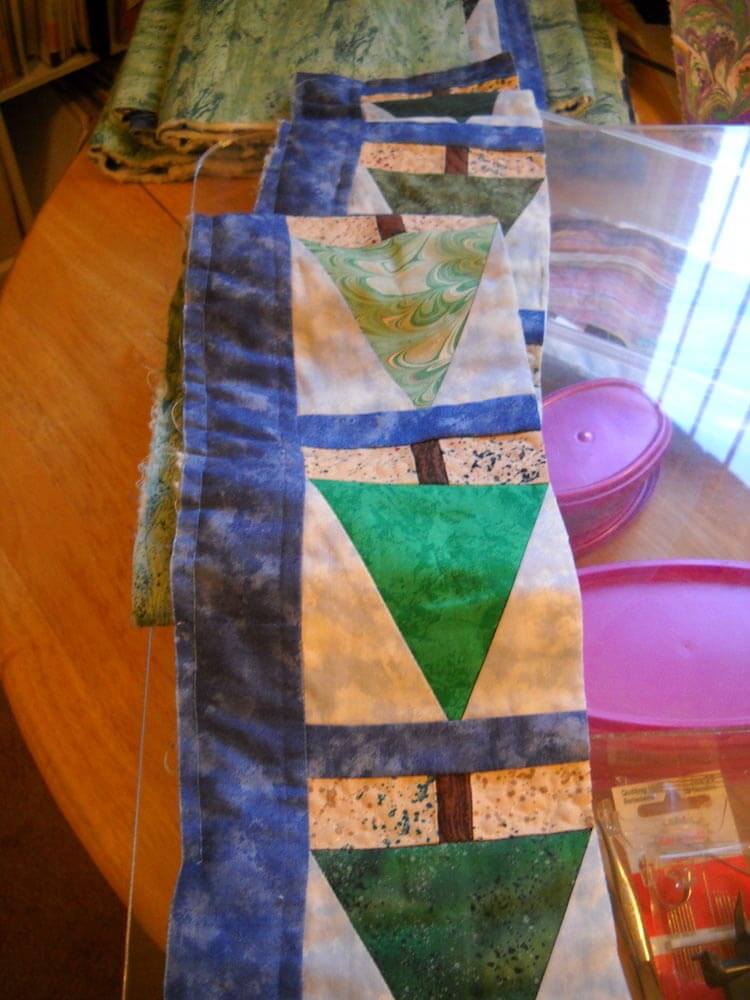 There are four rows, and the blue fabric varies from side to side and top to bottom. Some have no quilting, some quilting only in the "ground" areas. Leave me a comment, tell me what you'd do with them, and I'll draw a winner on Monday, November 21. Each row has a marbled fabric tree, if that is any appeal……
Have fun!

Interesting post today from Social Media Examiner, and I think I need to share this, if only so that I can better understand what's what with giveaways.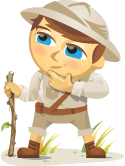 Evidently it's not as easy to do giveaways and promotions on Facebook, and in general there are a lot of guidelines to follow – which I think most of us small businesses do, just as a matter of ethics. Requiring people to "like" a page or become "fans" or do anything changes the rules and makes this a contest, as opposed to a give-away. If you read the comments in the article on Social Media, you'll find a lot of confusion, especially as regards to doing this on Facebook.
When you read the "Promotions" guidelines on Facebook, (and we've all done that, right???), you'll notice that what many of us have been doing doesn't seem to fit those guidelines. I think most of us with some sort of fiber giveaway to celebrate milestones – a certain number of fans, reaching a major number of blogs – do so with pure intent – like this and you could win something. We just need to be aware of what we're doing and make sure everything that we need to do according to federal guidelines, we are.
It's similar to the FTC guidelines about bloggers promoting an item where they receive a commission – we need full disclosure that we get paid to do this. If you start looking at your spam, you'll notice a lot of it doesn't have actual names and addresses at the end of emails to tell you exactly where all this is coming from. More and more sites (mine included) let you know that there are products we promote for which we may receive a commission. That's how affiliate marketing works, and that's a great source of passive income for many of us.
So here's what I'm going to do. When I hit a milestone that I've set, I'll do a giveaway of goodies.  I'll mention on Facebook that it's happening, but you won't need to do anything except head over to read the blog – which hopefully you're doing anyway.  Any giveaway will run solely through my blog – after I continue to read up on the in's and out's of this. I'm interested in your thoughts on this topic.
Boring, huh?  Here's some eye candy to make up for it (although ya gotta admit this is important information). Enjoy the marbled papers.