Archive for the 'art show' Category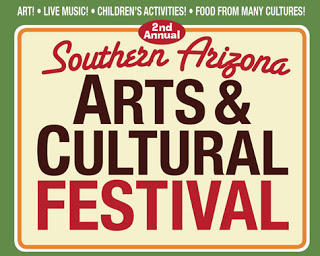 Next weekend is the arts and craft show for Arts and Cultural Alliance down here. It used to be the Greater Oro Valley Arts Council, but that kept out everyone south of River Road; with their successes over the past few years, they changed their name to include all of Southern Arizona. So our small group is participating next weekend.
This weekend was all kinds of loose ends: bagging fabrics, labeling, pricing, writing up inventory, checking to be sure we hadn't forgotten anything, and getting school work done ahead of time, since by the end of the week there won't be any spare time left. Plus I am getting ready for tomorrow night's meeting, to be sure all of us are ready, and we can answer any last minute questions from the group.
I still need to create the agenda for tomorrow night, make up the sign-up sheets for the weekend, and maybe finish up beading just one more piece to take. Everything arrived on time – here's our banner: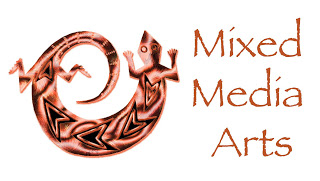 This is so different from the one other show we did, way back about 14 years ago. We didn't have a clue – just put out art pieces and wondered why no one bought anything. Much more thought went into next weekend: types of items (lots of little, impulse buys), some small fabric pieces, stationery, larger fiber pieces, digital art, clay pots, water colors, semi-precious jewelry, and books. Really do have something for everyone. We've got change worked out, schedules worked out, displays worked out…I do think we are ready.
Pima Cimmunity College Northwest (7600 North Shannon, Tucson), Saturday and Sunday if you can make it!
And from the email this past week, a few tips on marketing….
• Set aside a specific day and time each week for marketing.
• Create a quiet office space for your business.
• Start collecting names for your mailing list.
• Call five to 10 art world professionals each week.
• Spend one day visiting local galleries.
• Subscribe to an art publication for one year and read it.
• Enter a competition.
• Sponsor a community event.
• Host a studio party.
• Donate time to some charity. Let people know you are an artist.
• Barter your art for services.
• Support your statewide arts organization by buying an art license plate with your art-business name on it.
• Try to get an interview on your local radio station.
• What interior designer could you take to lunch?
• To what local business could you lease your artwork?
• In what cafe could you hang your paintings?
• Give out coupons with a Valentine's Day e-mail blast.
• What special offer could you make on a postcard to your clients?
• What storyline can you create for the local art writer?
• What previous client would be able to give you a useful referral?

• What sign could you put on your car to advertise your work?
• What bumper sticker could you create to give to your clients?

• Create an e-mail newsletter to send to clients.
• How much would it cost to put up a billboard at the entrance to town?

• Create an unusual, catchy name for your new group of paintings.

• Apply to the next local art fair.
• Start saying, "I am an artist."

• Provide a specialized service that no other artist provides.
• Get a phone number that spells out something (or figure out what your current one spells).
.
• Be friendly with a competitor.
• Place your artwork in model home displays.

• Work with a local chapter of American Society of Interior Designers—give a talk at one of their meetings.
• Contact your local International Furnishings and Design Association chapter affiliation.

• Place a display of your work at the local library, associated with a talk you will give.
• Find a Realtor's office that will let you exhibit. Offer agents a commission on sales.
• Create a gift certificate form.
• Check out your local doctor, veterinarian, optometrist, emergency room, hospital, medical facilities office. These venues often do have a budget for "decoration." If they are not in the position to buy, offer a lease option.
• Smile at everyone today.
This is from artmarketing.com, with their book Art Marketing 101. I need to review this list on a regular basis, as I try to build my business. But at the same time, I have to remind myself that I already have a full-time jub teaching, so I have to be judicious in my time. I'm interested in hearing from you – which ones have you tried that really work?


For your viewing pleasure – and my memory of a year teaching art – and learning how to teach it – the spring art show – over 180 pieces of art – the silent auction is still going on.
The hallway in the electives wing seemed the best place for this – I wasn't able to get more panels, since the ones I had were for the museum. Plus, I was thinking of ordering 15 panels – 5 more than the fall – and about 4 times the art.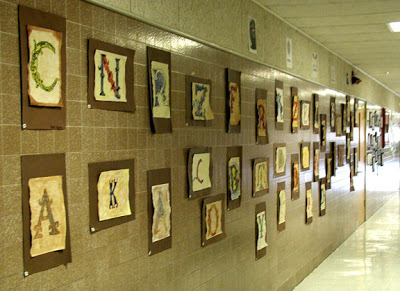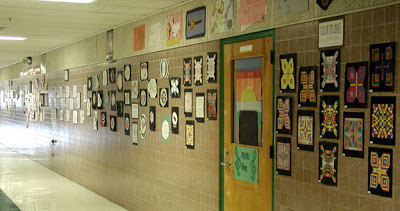 The hallway probably isn't the most optimal one, but we were able to have decent security, since the teachers were out in the hallway between classes. We have only had one piece written on, and the show has been up about 8 school days. Not as many adults see the show, but the kids are always stopping – biggest problem? "Don't touch the art!"
The illuminated letters have been the hit of the show. Almost every student chose theirs to be on display. I just wasn't able to get artist statements done from every student – which would have been a great addition, but I just didn't have the time.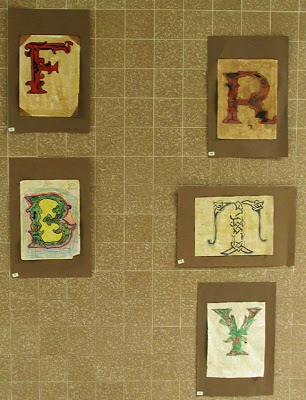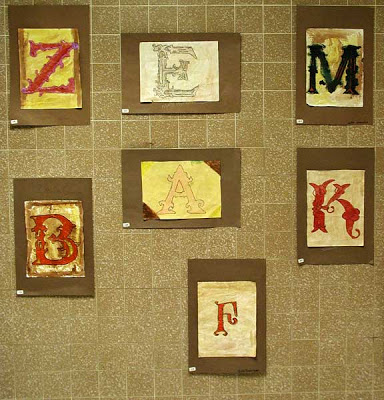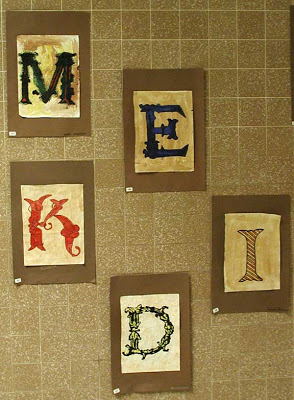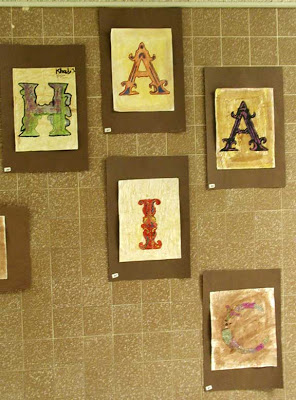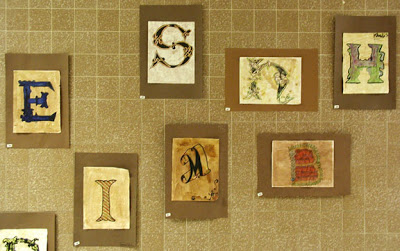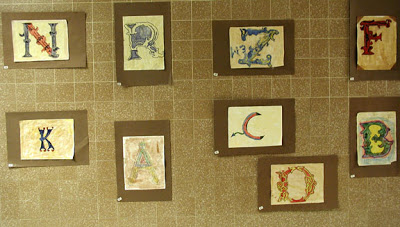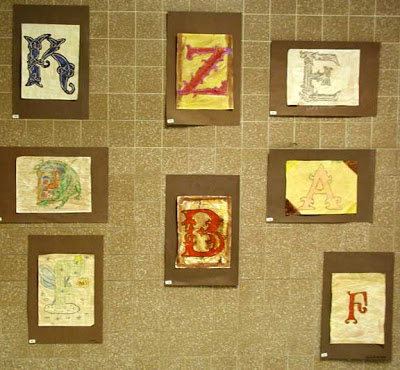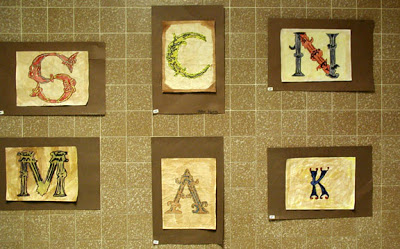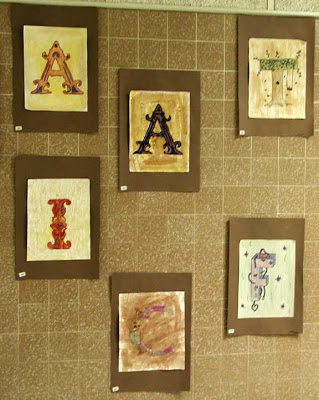 One of my seventh graders did a solo show – kids and teachers had trouble realizing he is not an adult artist – still a student. He did a great job, used a variety of media from class, and sould be absolutely amazing as an artist.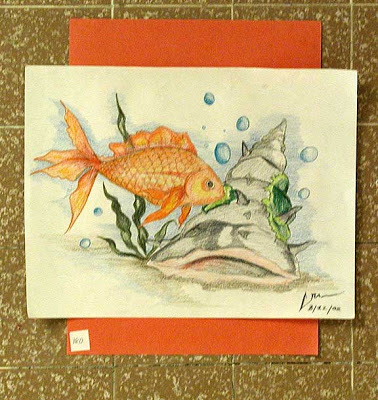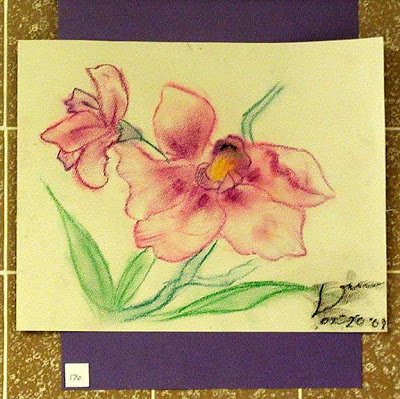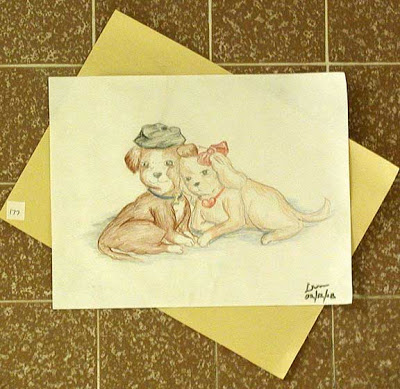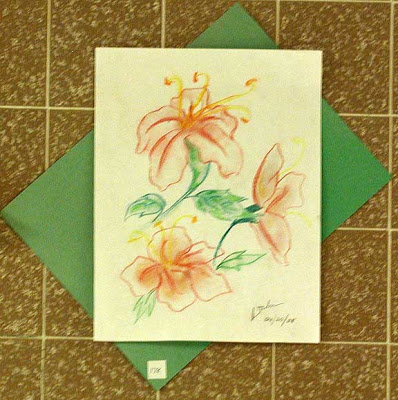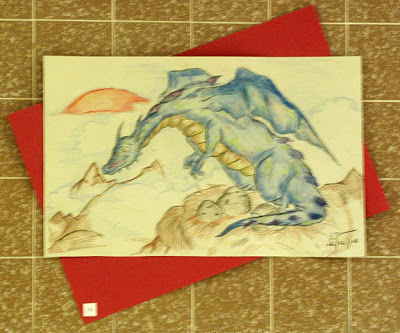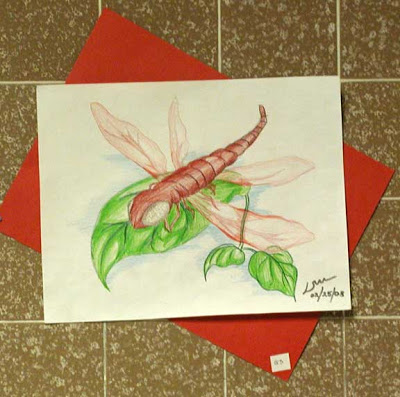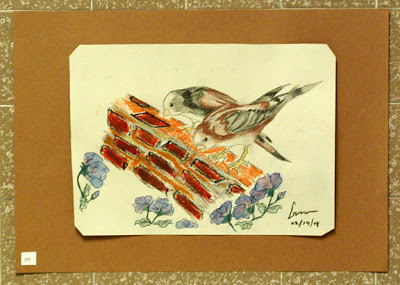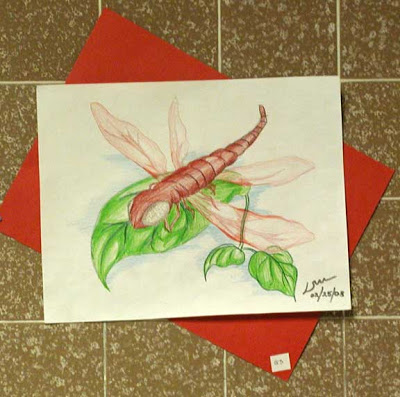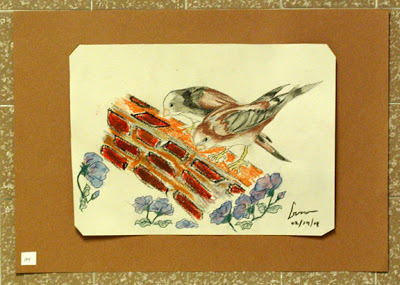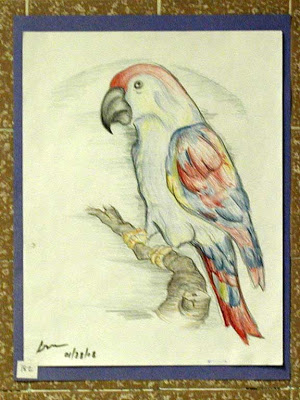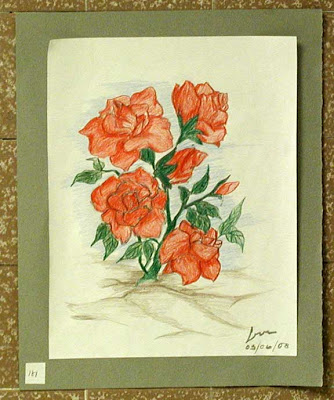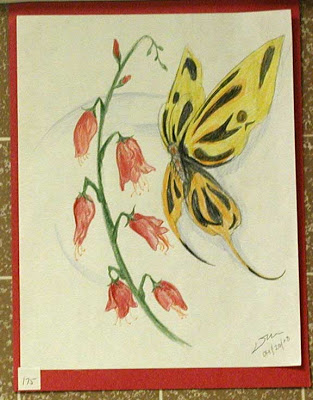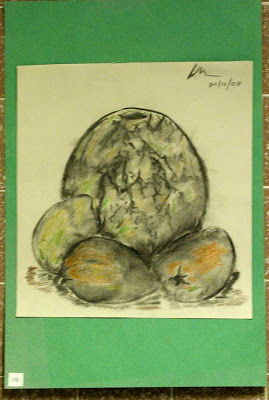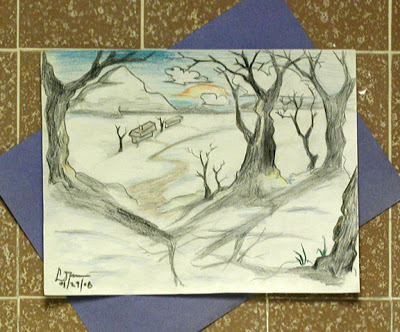 Then there were the color studies we did at the beginning of the semester – the kids voted on the ones they wanted that met the qualifications of the assignment.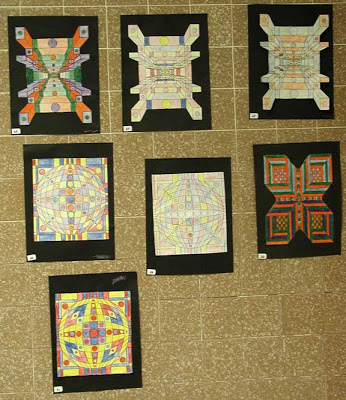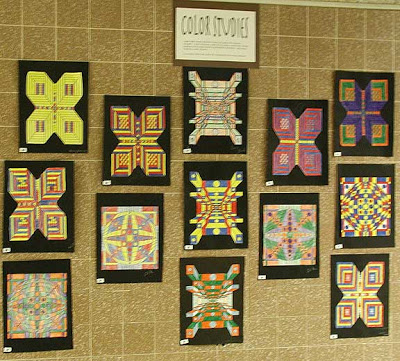 The dream rooms – learning how to use perspective – was an extremely successful assignment – for some students it was the only assignment they completed.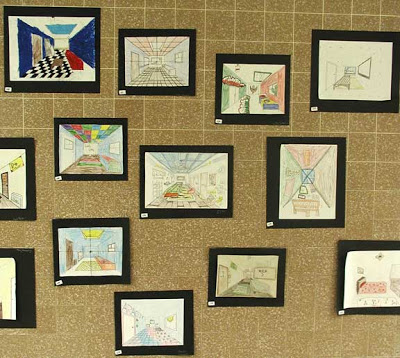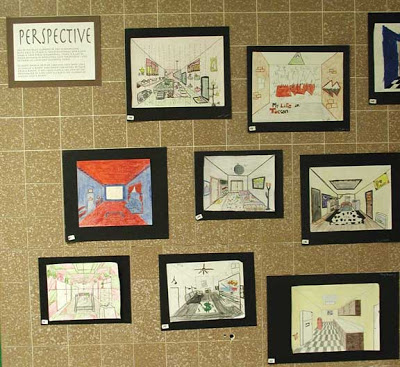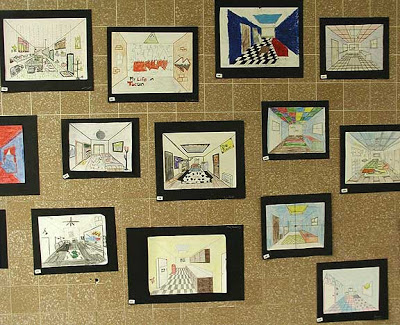 The doodles were the very first assignment, and again the kids voted on the ones they wanted displayed.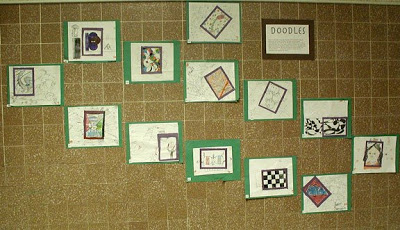 We did a type of contour drawing that held the kids' attention, except for those who couldn't handle finishing all the details. Each piece started with two letters, two numbers, two shapes, and some object.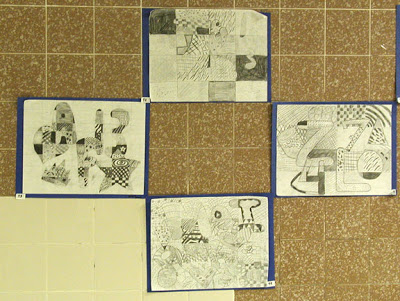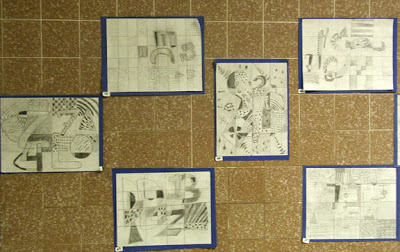 I'm really pleased with the mandalas, although there is less of a "personal" feel to these, as opposed to last semester. The kids really got into working with lines, so the work is just as good, just different.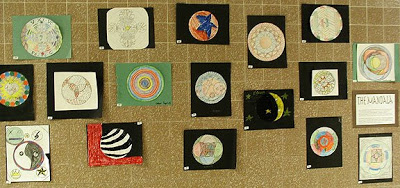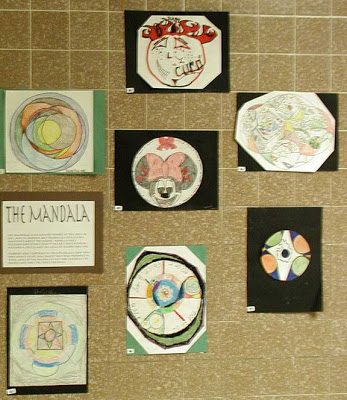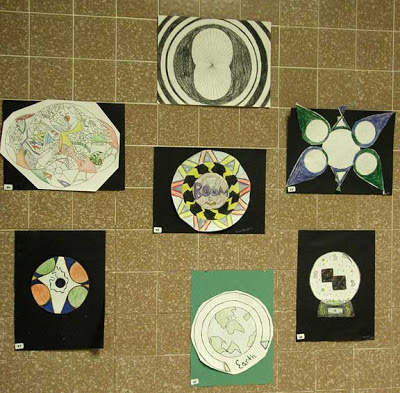 The work on perspective and shading really paid off – in their final exam last week, the amount of drawings with shading and texture increased ten-fold.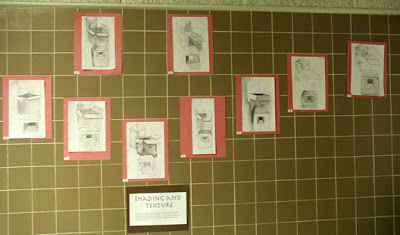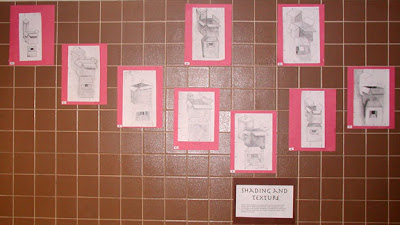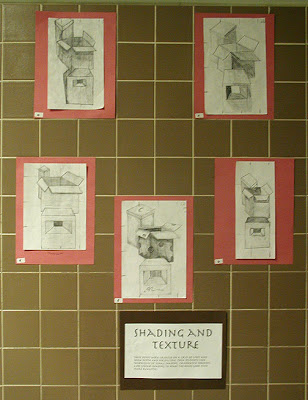 And finally – additional pieces the kids wanted in….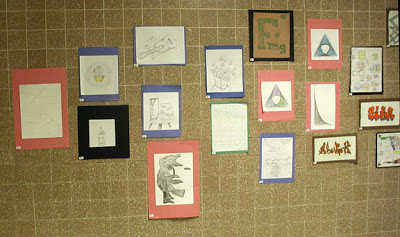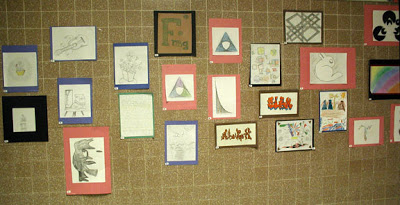 I have an incredibly talented student in art class this semester, and I want to do right by him. Most of the types of assignments I am doing are for students who have had no exposure to art. I offered him a solo show at the art show in May – he would need to create 20 pieces of art. I wanted him to think about it.
He asked me on Friday if the pieces all needed to be pencil drawings, and I said no. It never occurred to me they would all be pencil, but evidently it did to him. So I am thinking now about some ways to expand his range – like getting him markers for a different medium, having him study an artist and try and create a work in that style, getting out paints, India ink and pens, oils – maybe even clay and other three-dimensional tools. I want him to experiment and really grow in what he does.
The other piece of news – we may have our first major teaching gig – in Hawaii! It would be so cool to get back there, and have our expenses paid! The logistics would be amazing, and we would have to start planning now, but I would love the opportunity. I have also offered to do a presentation on marbling – historical, as well as the new digital direction we are going. I wouldn't be surprised if we know something by the end of January, in which case we start making fabric! Yee-hah!


I had said to the kids in art class that they could put their work up for sale, which they thought was kinda cool. But today three of the girls sold pieces, and now it has become a craze among the students to – not so much sell a piece – as for students to buy art. Yay! We are creating a culture where students are interested in buying another piece of art – so they value it, and the art program is growing by leaps and bounds. We have already extended the show a week – and now I have to figure out a way to manage sales. I think I have a plan – but there are grades to do, and a room to clean, and plans to do for the new semester…plus a reward party for the kids tomorrow. Nothing like a busy last day!


Two days of some hard physical labor and the art show is up! All the activity really makes me wonder how I used to do all the musicals – 'course that was 16 years ago. Sheesh, I'm getting old. Yesterday my eighth graders helped with all the nuts and bolts (literally) of putting the panels together. Today with my seventh grade I did a quick design lesson about measuring, making sure things are straight, looking for balance, a good color mix – and then they took the artwork, chose a panel, and started to mount the work.
Two of my girls helped me during seventh period (thanks Arreana and Zayra!) and they rearranged a few panels so the work was more balanced. Turns out they discovered they have a very good eye for this sort of thing! So here they are – five out of the 10 panels – notice what I mean about the great stone wall?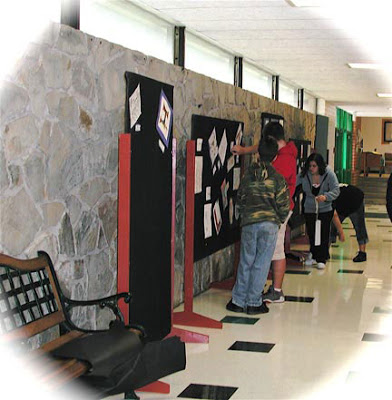 You can see some of the digital work the kids did, plus some of the stained glass letters.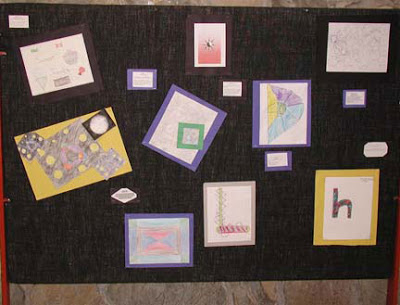 The circle piece is really fun – Brianna did a bunch of overlapping circles and didn't know where to go from there. I suggested she vary the colors from light to dark and she ended up with incredible depth to the piece.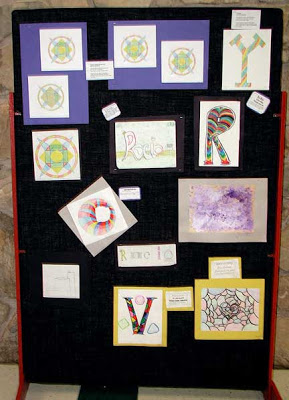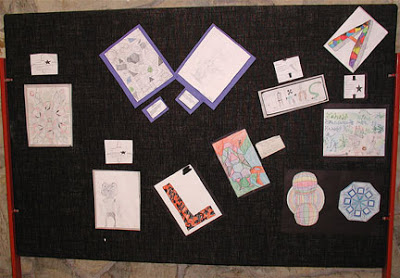 Some of the geometrics, once color was added, really improved their impact. The bottom piece started out as a perspective lesson, and when Jullian framed it off-center, it led to him adding the flames around the NYC skyline in memory of September 11.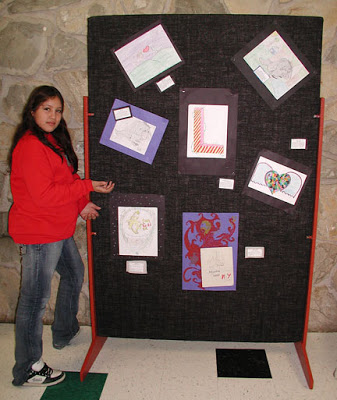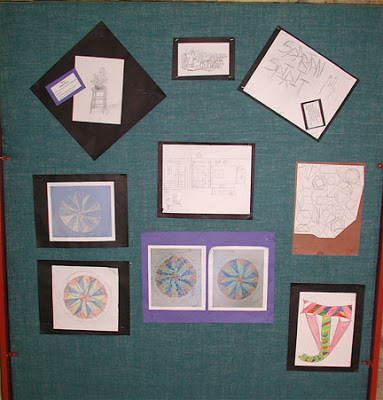 This has been a very long week – and it's still only Thursday. On Tuesday I was thinking it was Friday because I was doing so much cleaning during 7th period. The days have been packed, and I am trying to stay ahead on planning, as well as get caught up on all the papers. I don't want to end the marking period behind like last time. And speaking of the end of the marking period, as of December 21, I will only need to do 26 more sets of grades before I can retire…not that I'm counting…..
The holiday wreaths are a big hit. The eighth graders realized if they stayed with it, they made good progress and could see just how great they looked. I am just hoping that nothing happens to all the ones stored in the extra room. Just one more reason why I am looking forward to the art room – more storage!
I have arranged for help during the set-up next Thursday and Friday – hopefully nothing will get in the way of the Atlas teacher being there for extra coverage. My art students really don't know what to expect – most have NEVER had any kind of gallery experience, and above all I am determined to give them a good experience so they can see just how special art can be. I just need to stay sane……


After a lot of angst in trying to figure out how to get the art show hung, I called the Educational Materials Center for the district – problems solved! They will be shipping ten 4 x 6 feet panels to the school next week, so we will be able to hang all the work in the front and have it look great. I need to get the invitations set for the kids to color and deliver to those they would like to attend the show.
Also, I had good luck in starting to print out the digital doodles, as well as the t-shirt transfers. It's going to be very cool to see the kids walking around wearing their art. This will probably become extremely popular, so if they didn't sign up by the deadline, if they want to pay a dollar, I can buy new transfers – I already bought the first set, and Sam has donated some.
Overall, I am extremely pleased with how things are going. Most of the kids got additional grammar lessons from me as they were writing their artist statements. One of my students, very quiet and unassuming, got into using a variety of blues in his digital doodle, along with the liquify brush and other filters to create some interesting footprints hidden among other shapes. It will be very cool. And – I will be taking photos next week to post.
I showed the kids the deal I got from Michael's crafts – five bucks for a 130-piece set of art supplies, pastels, crayons, markers. A great deal, and we looked up all the addresses for the local Michael's. One of the kids gave me a smaller set of supplies at the start of the year, and the kids love using the oil pastels. Also, several of the kids really got into the markers and were drawing chocolate covered cherries. Looked pretty yummy!


I decided to have an art show for my two art classes, as they need to have exposure for their art and receive comments from "their public." So they have had to choose a minimum of two pieces from their portfolios, including one of the sketches they have done. What I hadn't anticipated was the desire to redo some of their work.
I have been showing them Photoshop, using the Promethean board – now I see why people like the drawing tablets – I can draw much easier on the board than using a mouse. Definitely something to consider for the future. The kids have been doing digital doodles, so they can just play around with the brushes and shapes. One of the students wanted to take his mandala and manipulate it – which turned out very cool. I will need to bring this stuff over to this computer so you can view – or add tomorrow when I have the laptop on line. Others have done some graffiti drawing, which we have taken a picture of in PhotoBooth, and they have started to manipulate it. Overall, some very nice exposure for the kids, and I have had a chance to flesh out having the kids display their work.
Artsonia – an online student art gallery, available to any student with a computer – they can set up a digital portfolio. The kids have been really enjoying looking at other kids' artwork. I plan to do more of this next semester, as I will have regular internet access.
We had a mat cutter donated, and one of the local businesses will be giving us left-over mat board, plus a demonstration of mat cutting. I am asking one of my eighth graders (who is a closet artist – not cool to let his peers know what he can do) to be my aide next semester so he can learn the mat cutting and pursue his own art.
A lot of my seventh graders want to take the art class again, but I don't need another prep. One will be my aide for the seventh grade class. I think there have been some very nice gains in exposing the kids to the visual arts – now if we can figure out how to hang on the stone wall at the school, we should have a great show.