Archive for the 'art quilt' Category


I started doing a lot of the quilting last night. I wasn't totally happy with one of the threads, so today I went to Joanne's and bought the multi-blue Sulky I had pulled – I just didn't have enough left from another project. This thread worked much better – I changed the tension a little and lengthened the stitch length. Everything started to smooth out, and the piece began to take on a lot of depth. Here's a small section.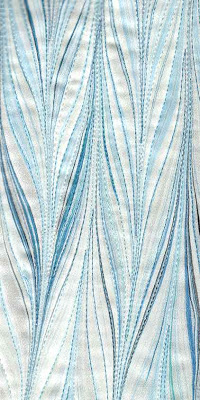 This will take a lot longer than I had originally thought, as I am quilting most of the lines. But I like how the piece is looking, with that amount of quilting. I don't normally use the walking foot; in the past it really hasn't seemed to help, but with the gentle curves in this piece, it has been a great help. I can handle the fabric more easily through the machine. It will be interesting to see how the various stones will work as we progress.