"I pledge to talk more about my processes, even when I can't quite put them in the in words or be sure I'm being totally clear.   I'm going to put my thinking and my gut feelings out there." Check the Process box on the right side of the blog – this is a great idea – while I talk about process a lot, this should really help to keep me focused in the blog.
My Photoshop Fridays are always about process – how I came to what I'm doing with a particular picture. I haven't talked that much about the process in my quilts, except occasionally on Work-in-Progress Wednesdays. I spent time today on a couple of projects, so I expect to be able to do some show and tell in the next few days. I am particularly happy with my Desert Heat quilt, done now except for the last 12 inches of free-motion quilting and the binding. I am very pleased with how this worked out. You can see its beginnings: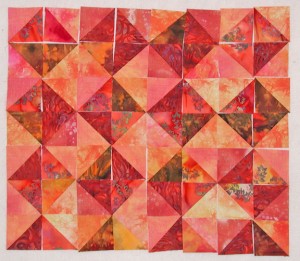 This is where I started last summer when I did my first hand-dyes. Then I started just pulling some stash fabrics to try and create a "hot" quilt to represent the desert. I am pleased to say it is certainly a hot quilt – the quilting lines remind you of the waves of heat off the cement and tarmac.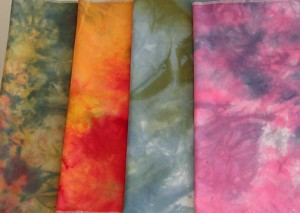 My first attempt at dyeing – in Desert Heat I used the orange-red fat quarter.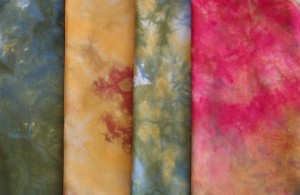 These are a little more pale than in actuality. I used the yellow and reddish one. In fact, I'm going to cut this short and go finish the machine quilting and cut the bias so I can show it tomorrow.
Then I have my lava quilt to finish – I gotta tell ya, sewing on little pieces of lava is tedious and tough! And then I want to get the straps on my purse, becasue after that it is back to the bamboo quilt – I want to enter that into a show whose deadline in September 3. I should have plenty of time…before schools tarts again….and marketing….Linda – go quilt!