Posts Tagged 'free motion quilting'
About two years ago I asked for some volunteers to make traditional blocks using marbled fabrics, as I wanted to show what can be done with traditional quilts besides the art quilts I do. Now that I am improving my machine quilting skills, I turned one of the blocks into a new teaching sample for both quilting marbled fabrics as well as using marbled fabric in traditional quilts. First up is the back of the block – a list of all the threads and needle sizes used, as well as any (and all) tension issues, so they could be discussed (and I wouldn't forget what I used where).
I quartered the block, and one section was left completely unquilted – because that is also an option. Here's the front of the block:
Far left – unquilted. The yellow pieces have three different designs. I'm partial to the one with pebbles quilted throughout the piece. I used Bottom Line in the bottom, size 80 Superior needle, and Bottom line in the top.
Each marbled piece is done in a different free-form design. Lower center uses a Superior Thread Brytes, heavier, so I used a #90 Superior needle. Upper right used Bottom Line on the top and followed most of the curves in the pattern. Right marbled fabric used a variegated Superior Rainbows thread and only did a few of the wide curves. Different looks in all three. One of my favorite stitches is just following basic curves, and you can see that in this quilt:
For the white – BIG lesson was don't use a distinct variegated thread unless your fmq stitches are VERY even. Spent three hours taking it all out. The white was patterned with circles and small crosses. For the bottom right I used yellow Bottom Line in the top for a hint of color and gridded the triangle,  using the fabric pattern as a guide. Upper left, also with white Bottom Line, I followed the circles in the white fabric pattern.  Right triangle I followed both patterns, also white Bottom Line, and found it too busy.
After the New Year, I want to experiment with more like this. Let me know if you have done something like this to determine different quilting ideas.
My last finished project before packing the studio for the big move to Vermont. I made a modern quilt – it didn't start out that way. I was going to do a log cabin, but then I decided I just wanted to sew half-square triangles using the paper triangles. After about 150 triangles, I realized there was no way I wanted to sew three times as many more for the whole quilt. So I made the center panel. (Needless to say, I have lots left over for another project….)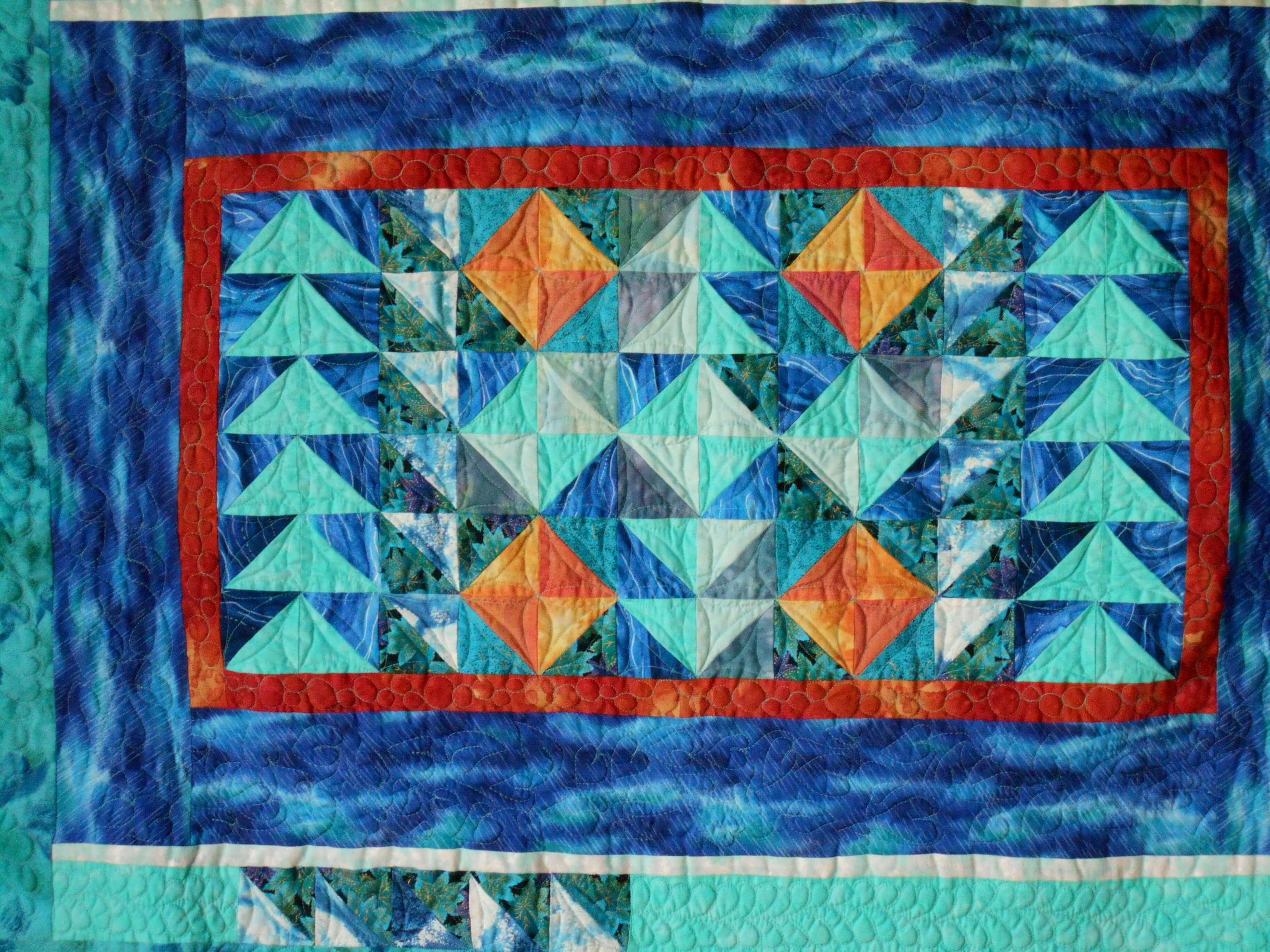 All of the colors were chosen as to whether they would play nice with the blue fleece I'd bought in November for the backing – this color is my great-niece's favorite – forgetting the fact that I've never used fleece for a backing…..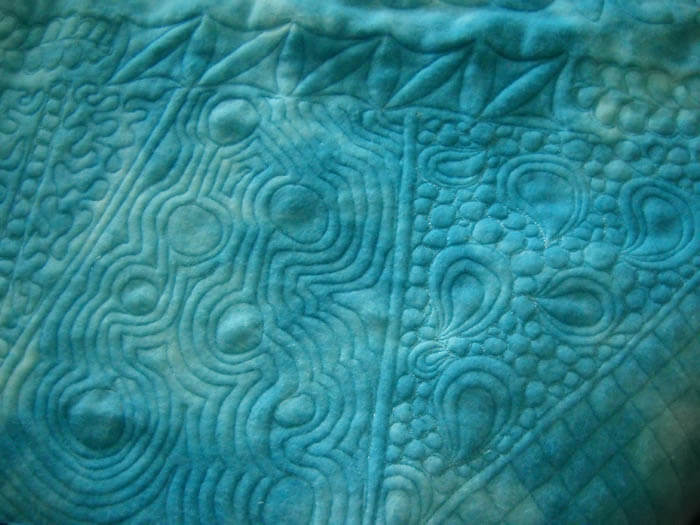 Then I started playing around with borders to the center design, trying to get it into lap-quilt size. I had plenty of triangles left, so did borders with just a few on each end – I've seen something like that in a lot of the modern quilts I've looked at. At this point things became pretty freeing – I knew I wanted lots of space for free-motion quilting, and Maria from Quilter's Market helped me pick out another fabric – she has an amazing eye.
The worst part of the whole quilt was sewing together all those triangles, lumpy intersections, and trying to quilt over them. But I LOVED how it came out. I was having serious rippling problems because of the stretch of the fleece, and Maria suggested using 505 to spray and corral it into place for the rest of the quilting – wonderful, with only a few ripples and they are not really noticeable. I ran out of my Silk Kimono blue I was using, which I loved….and if I hadn't had several rippit sessions, I might have had enough to finish the quilt. But I had to go to the Big Local Fabric Store and once again I realized HOW MUCH I LOVE Superior Threads – the stuff I bought kept shredding constantly. I used Magnifico in the bobbin and LOVED it.
So here are some shots of the free-motion on the front: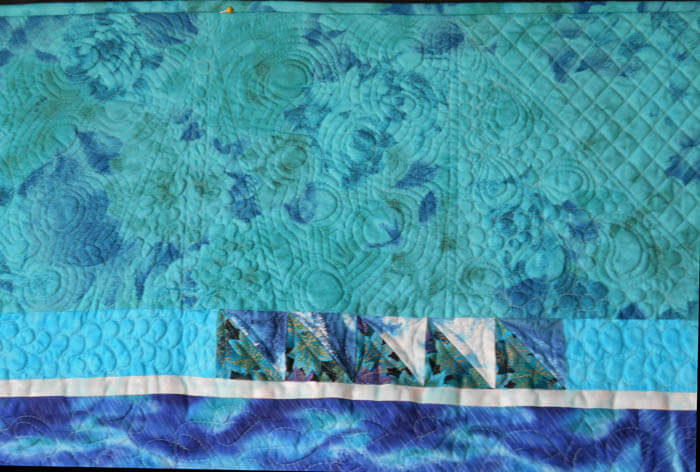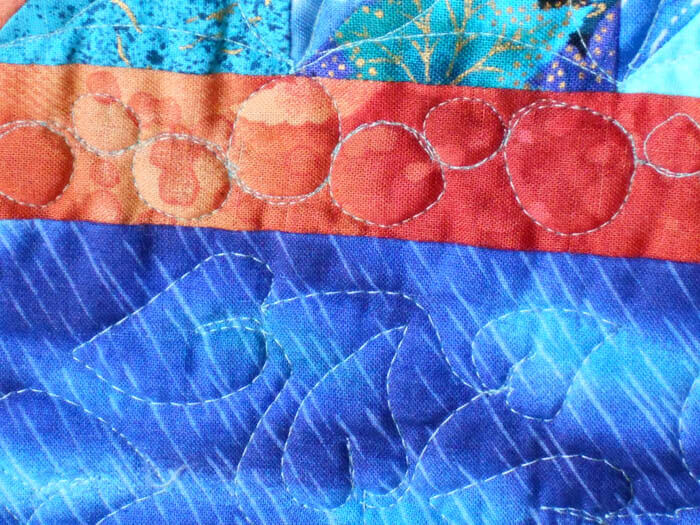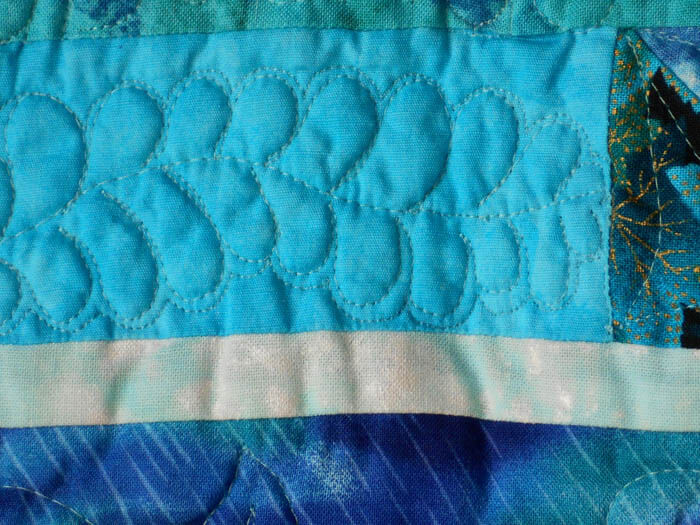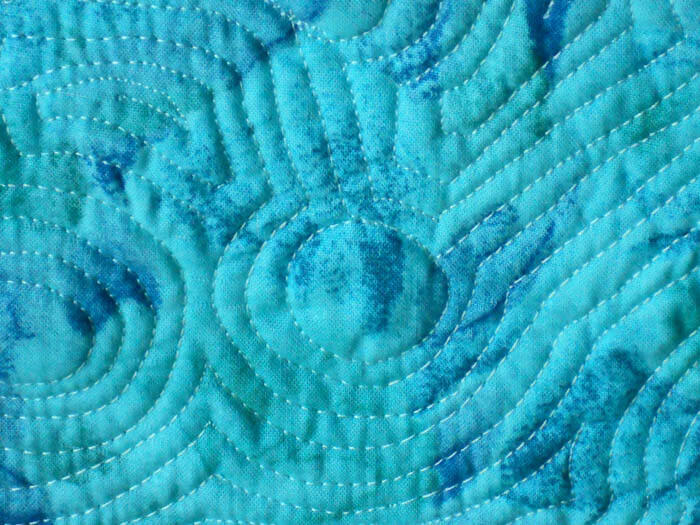 And finally, the completed lap quilt for my great-niece Gracie-Mae on turning 13. (Seven more lap quilts for the other great-nieces and nephews over the next 10 years as they turn 13…….)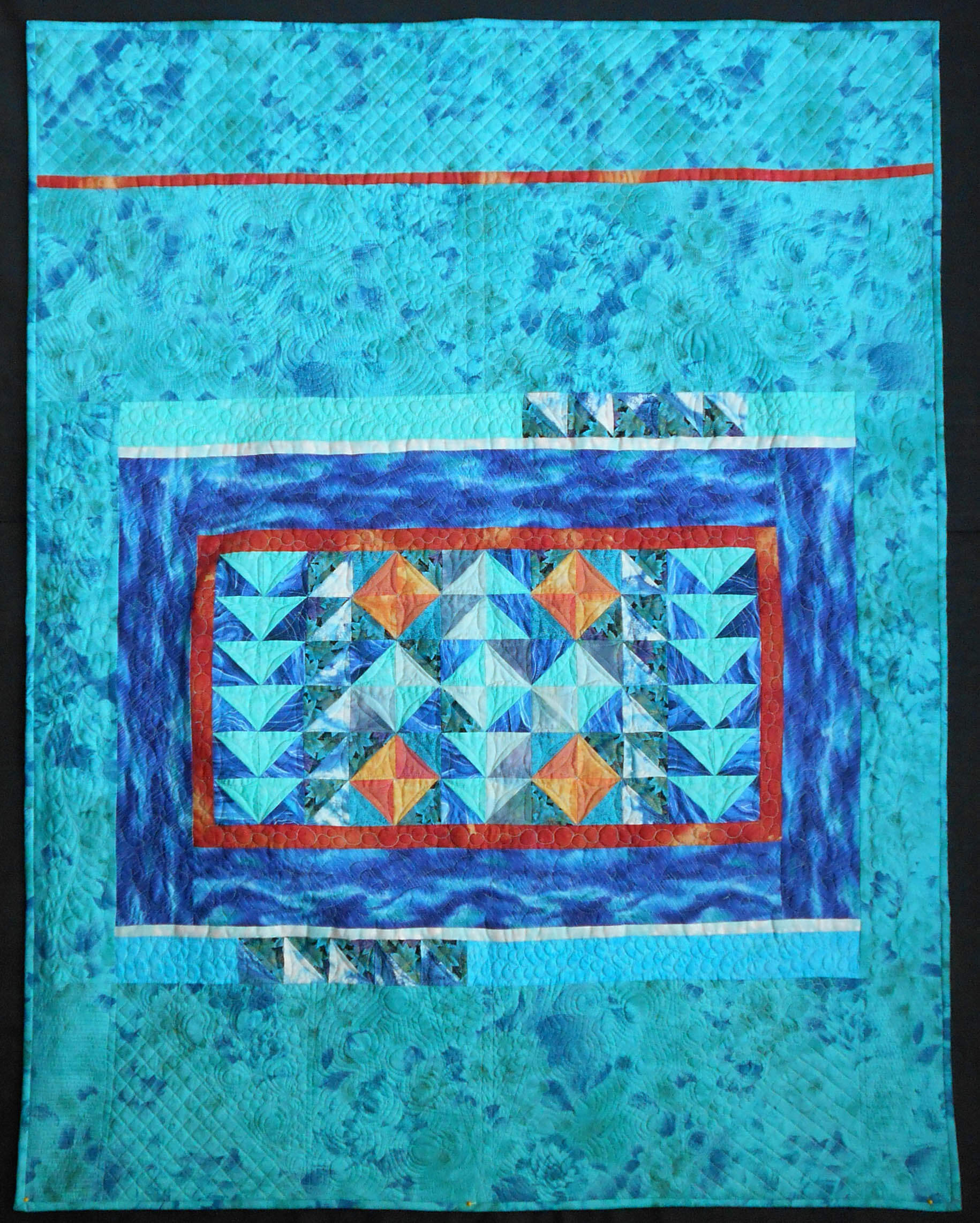 Or if you prefer this orientation….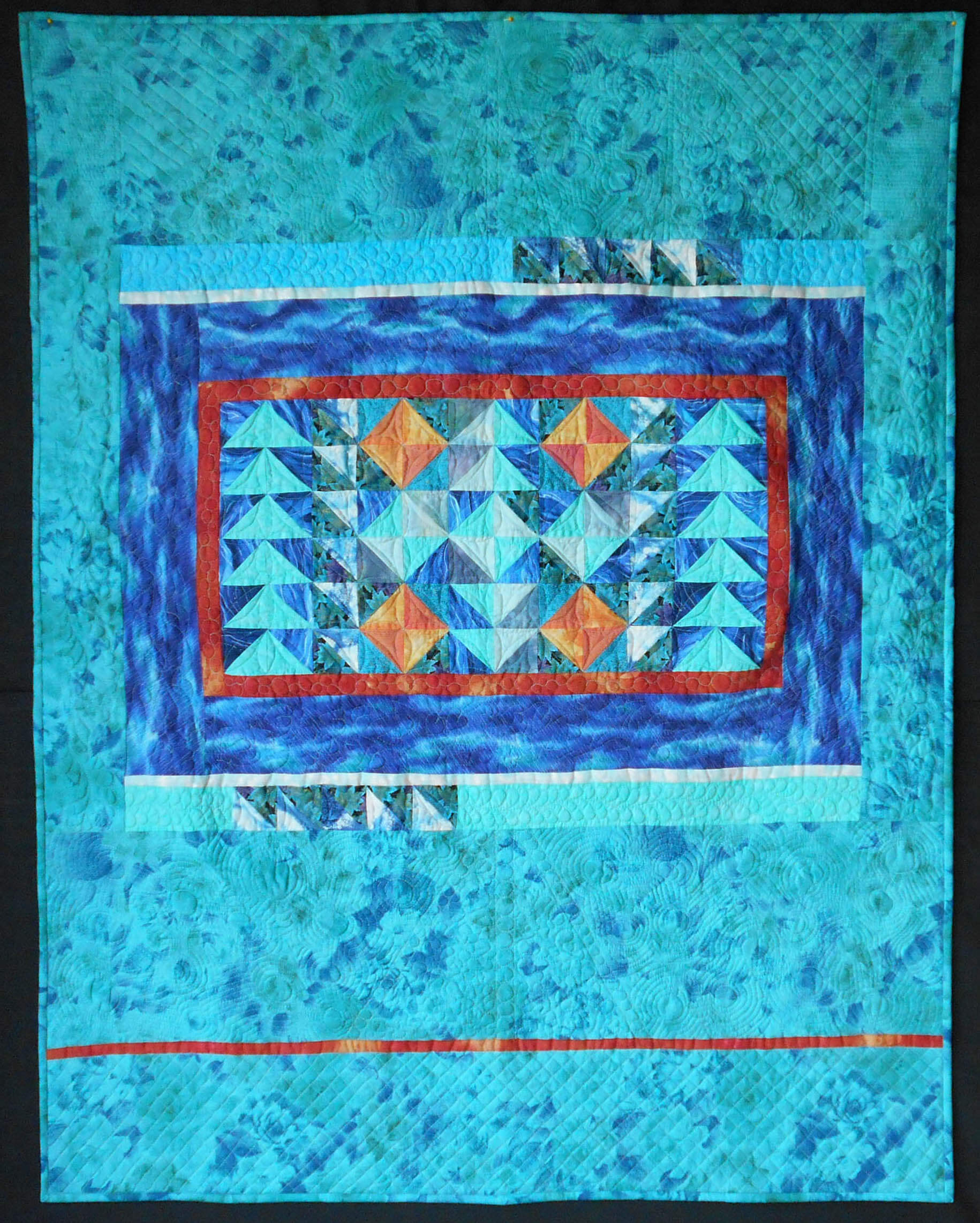 I can now understand the freedom of modern quilts. I have a lot more ideas on how to use the marbled fabrics in some new smaller wall hangings, but that will need to wait until I set up my new studio in Vermont – maybe by July!
While I haven't been posting, I have been moderately busy in the midst of still dealing with illness. I quilted a small wall hanging for my yoga instructor (whose house is now FILLED with art I have made for her). Here are some pics – she made the top and I finished it off.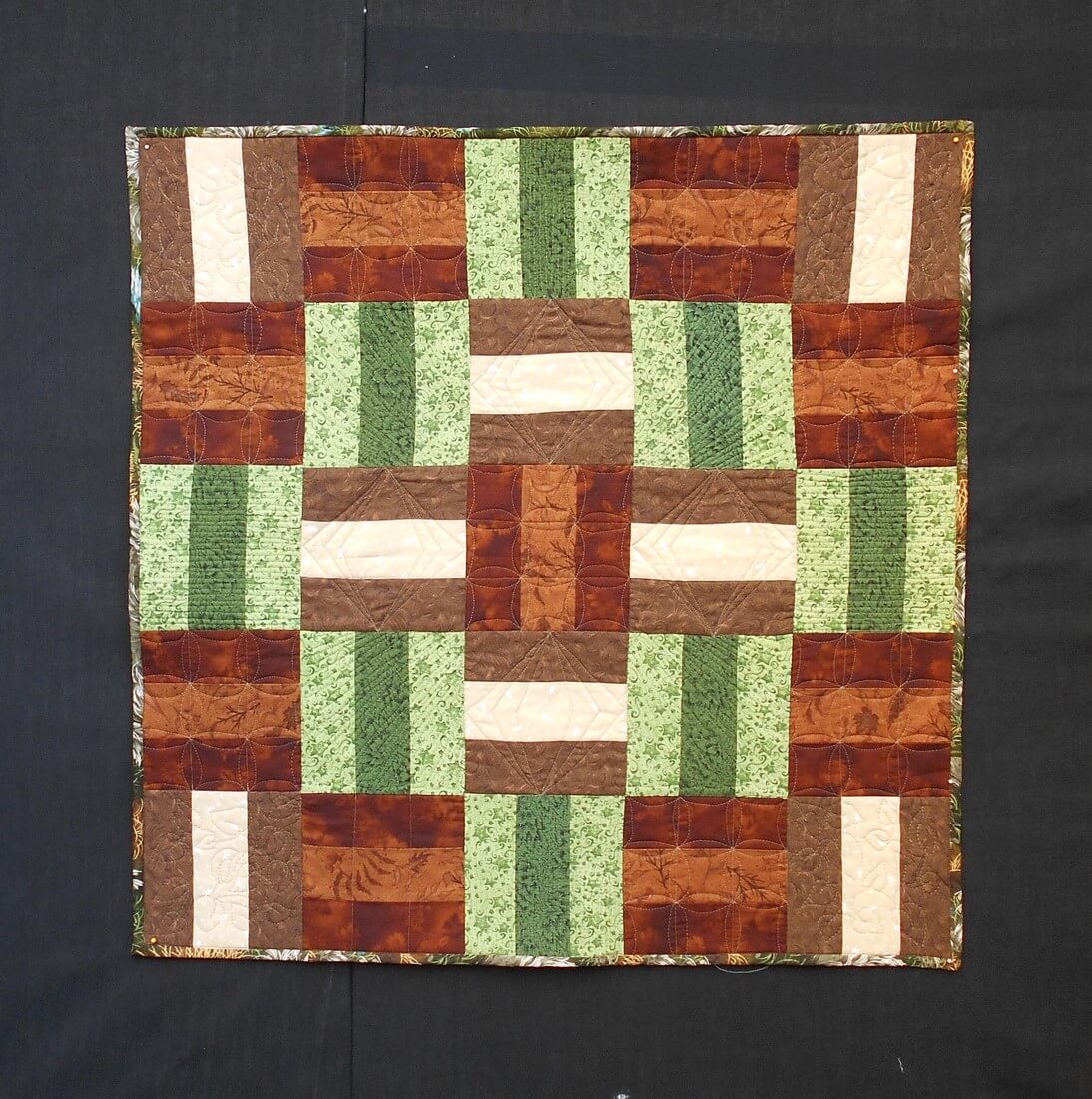 The brown blocks have a cathedral square pattern, the center brown and beige have a diamond pattern, the four corner blocks are a leaf pattern, and the green blocks are just a plain stripe.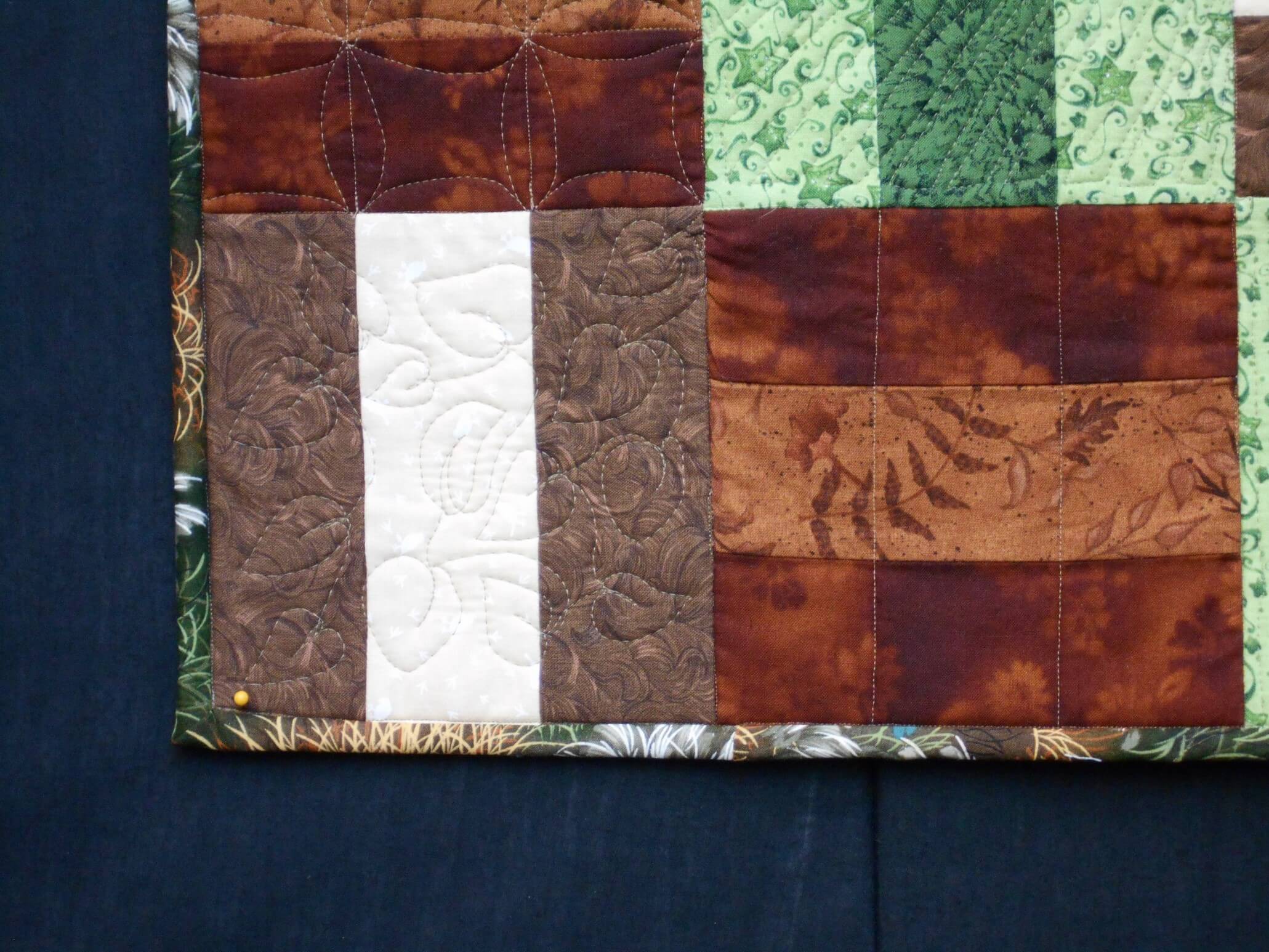 PS – this was the picture that made me realize I had forgotten to do one of the patterns……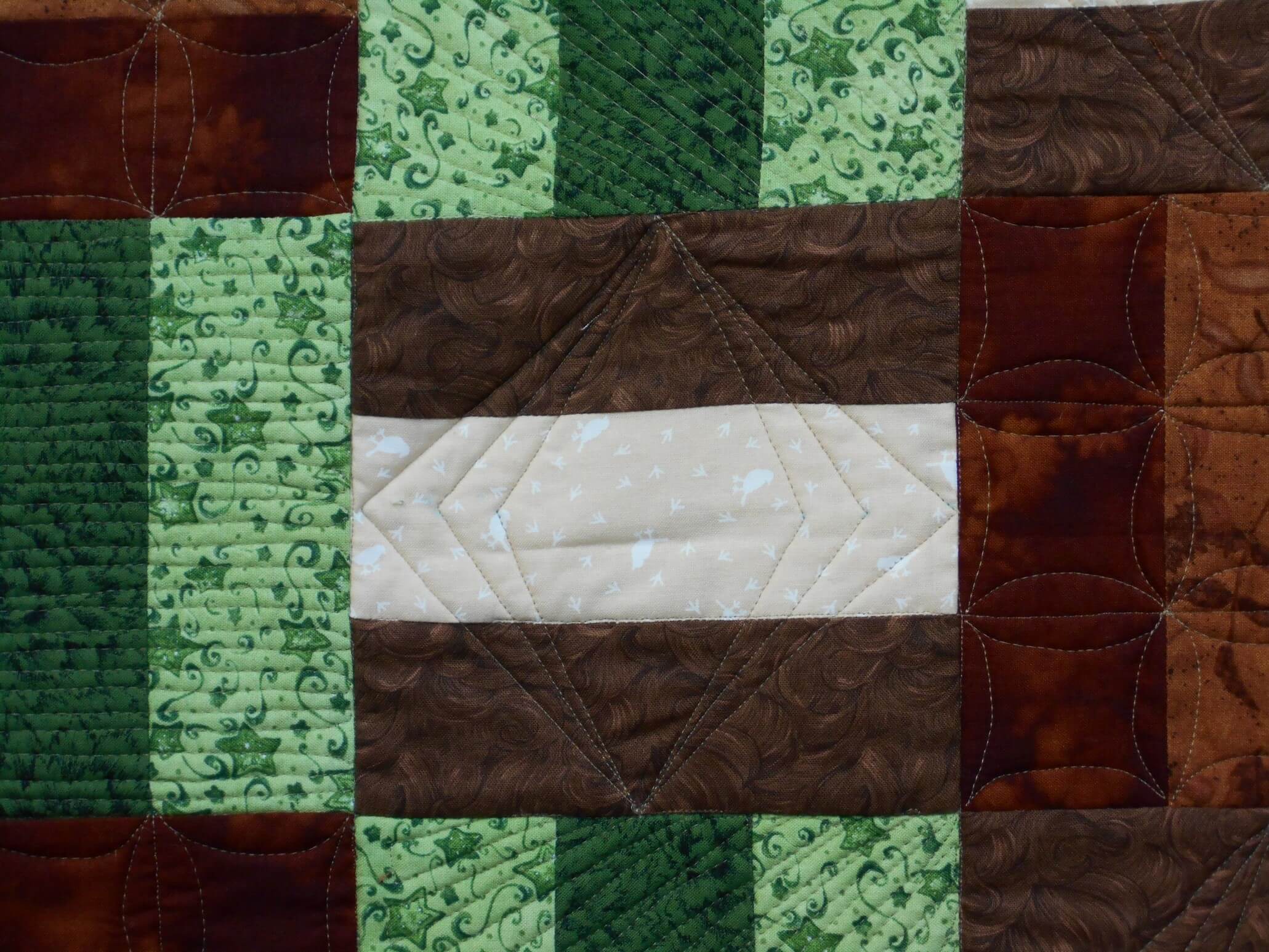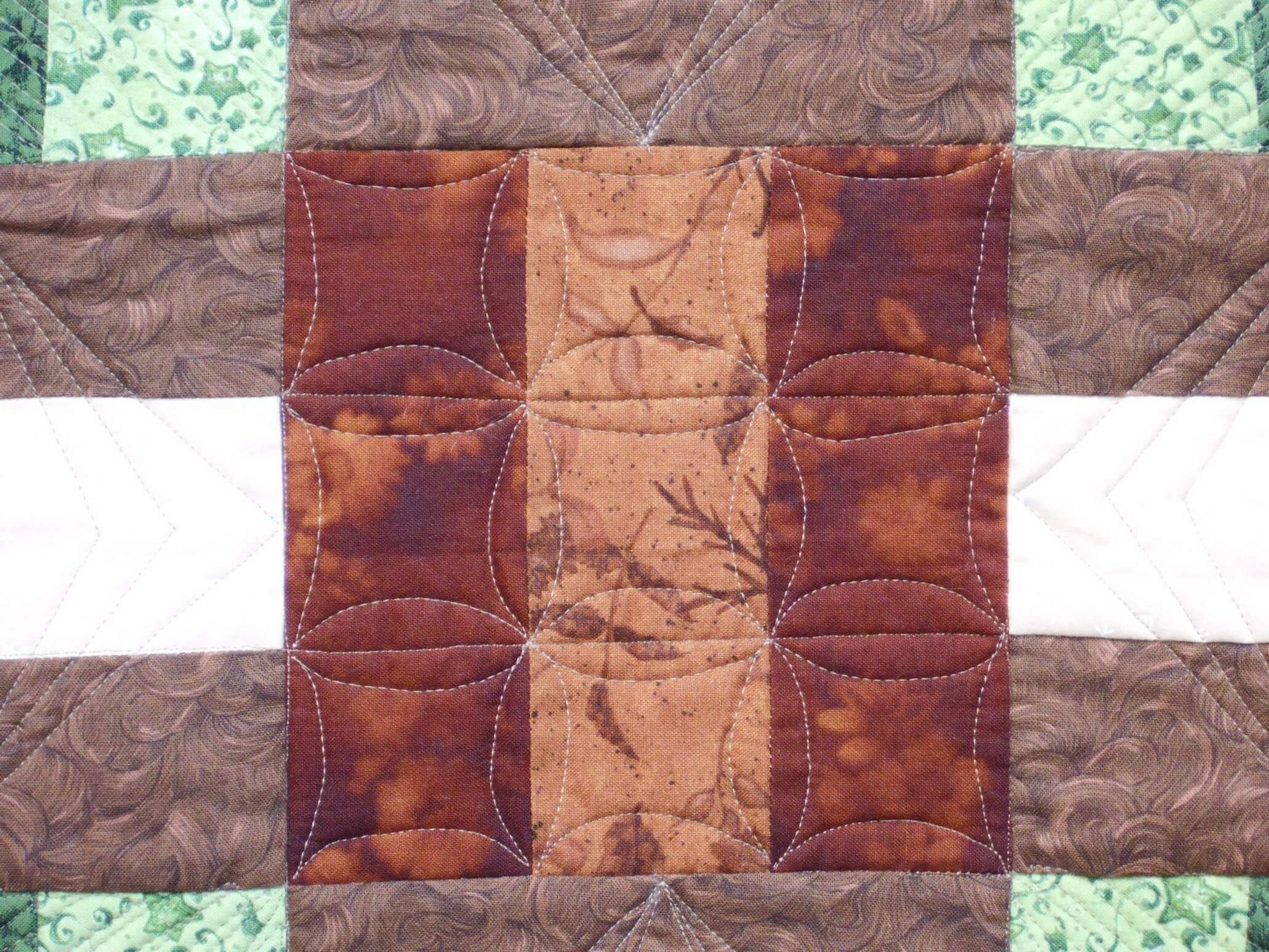 And….the back – one of my favorite pieces of fabric…..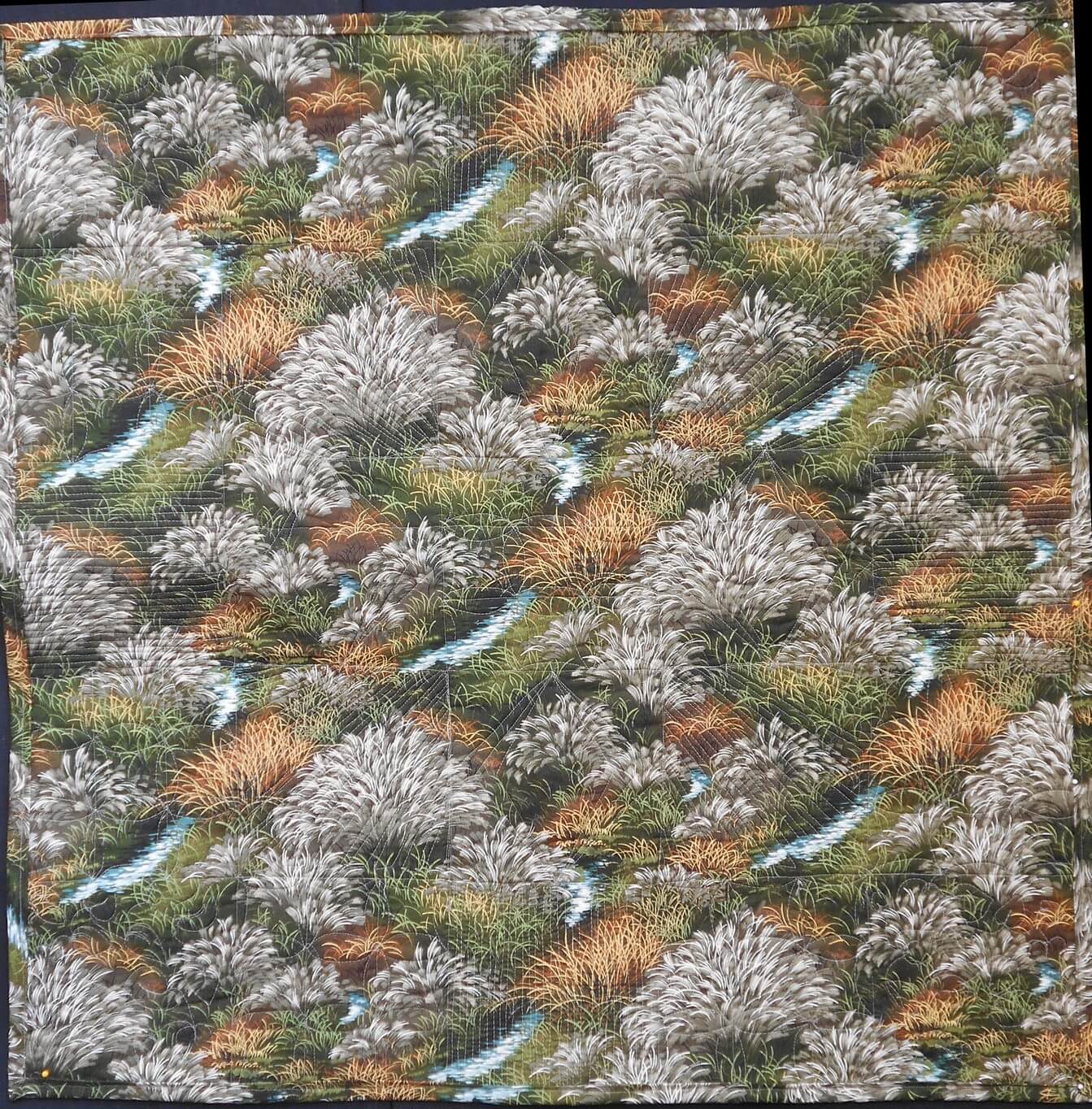 I'm still plugging away……

I am behind, part of what's making me so nuts lately. But I do so want to stay up with some of my projects for this year. So far I'm really not doing badly, and I know I need to give myself a break and stop being so hard on myself. So….Week 6: When You're On Top of the World….
I feel giddy, I giggle, I smile, I talk a lot, and my mind goes crazy with ideas. I've often commented "It doesn't take much to make me happy." I don't know if that's a good thing or not! I'm thinking it's a good thing – I like the feeling, and I want it to happen more often.
I often get this feeling when I complete a project. I just finished a commission as part of a house-warming, and about half-way through I started grinning from ear to ear. I LOVED the piece!! And then, yesterday, I bought a new sewing machine – with 90 decorative stitches…..I'm still grinning, and I can't wait till Thursday when life is a little simpler to play with it and make my stitch  sampler. I'm still giggling at the prospect.
Nature also makes me feel on top of the world, and not necessarily when I'm on a mountaintop. A favorite spot just south of the Seven Pools on Maui, the lakefront on Champlain, the Pali on Oahu, cactus in bloom during a wet spring in Saguaro National Park……get me outside and I can feel on top of the world.
So here's my free motion quilting piece for my friend Ali. There are SO many things I love about this piece – the colors worked even better than I thought, and I love how the blues kind of shine. The tension on the back for the most part worked really well. I used Bottom Line in the bobbin, Silk Kimono for the ribbon, Art Studio for some of the blue background, and King Tut for the overall design. The thread colors were great. The ribbon around the center celtic piece was the new FMQ challenge for this first part of the year from SewCalGal, and brought to us by Libby Lehman. I love how the ribbon is created. I'm not happy with how mine turned out – it needed to be larger, and I discovered that I really didn't need a pattern – next time I will freehand the ribbon and not make the stitching as dense. I was even thrilled with the blocking, squaring off, and binding. Overall – on top of the world……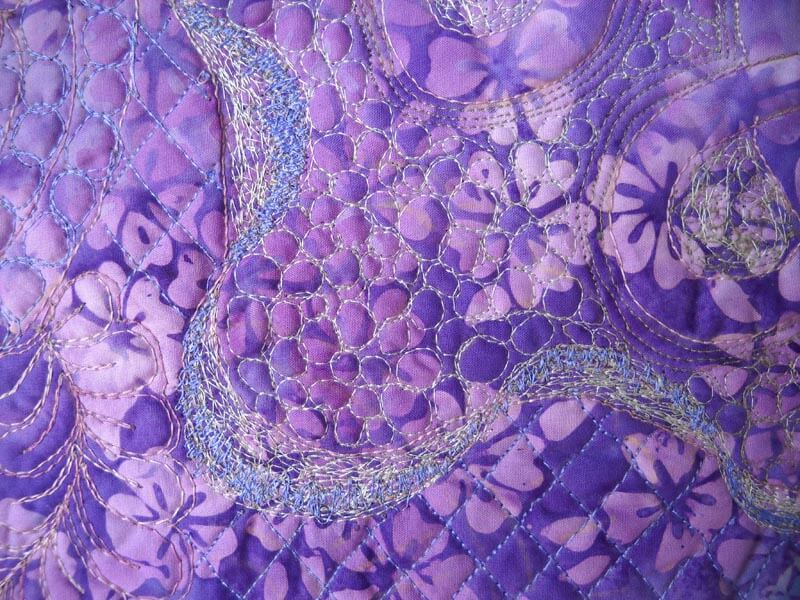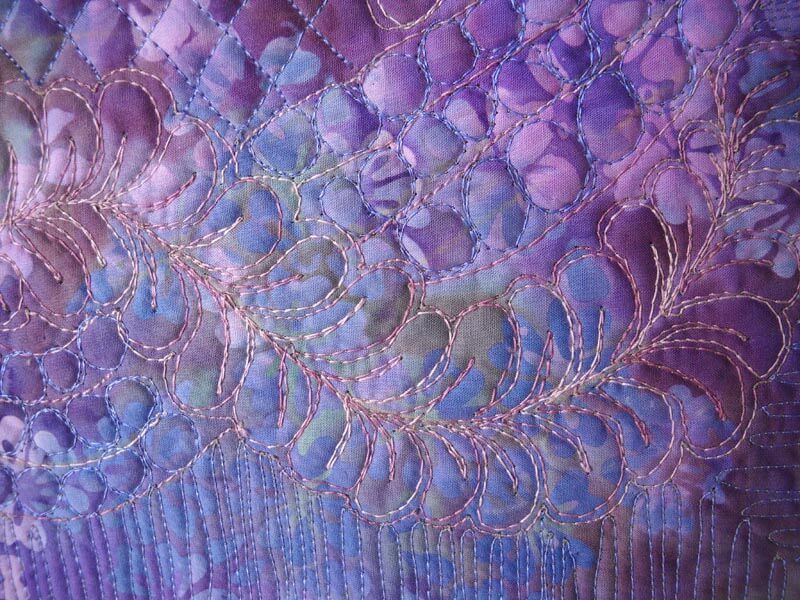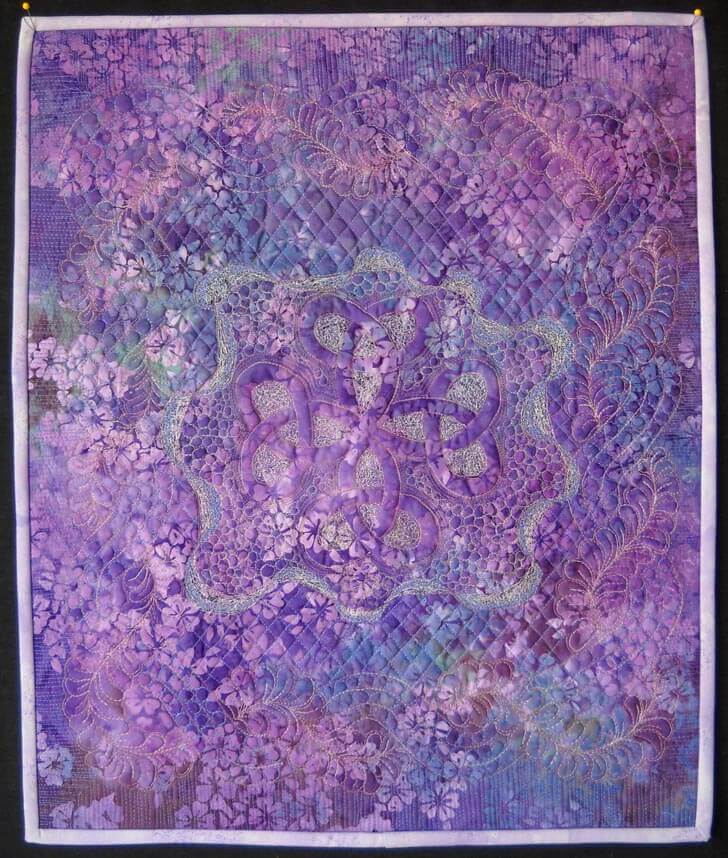 Here's a list from Bill Moyers of Ten Documentaries of Champions of Social Justice. I can see the next couple of weeks taken up with watching these. Also read the comments, because there are additional great films mentioned there.
Some cool examples of marbling for decorations from Alisa Burke, quite the talented lady.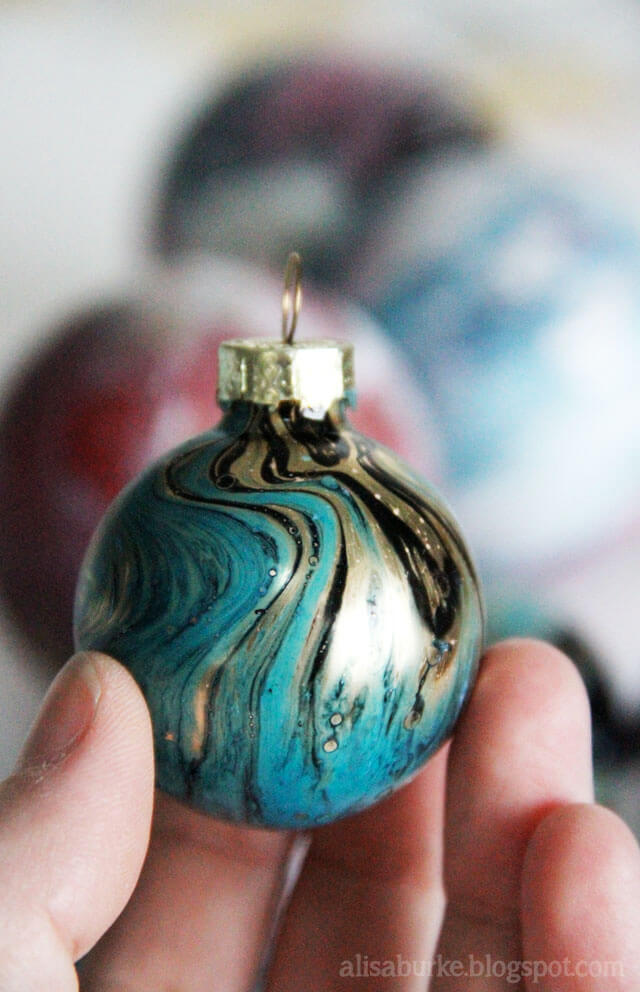 Here's a really interesting idea – while the plants wouldn't survive on their own, a vase like this would be so cool! From More Design Please: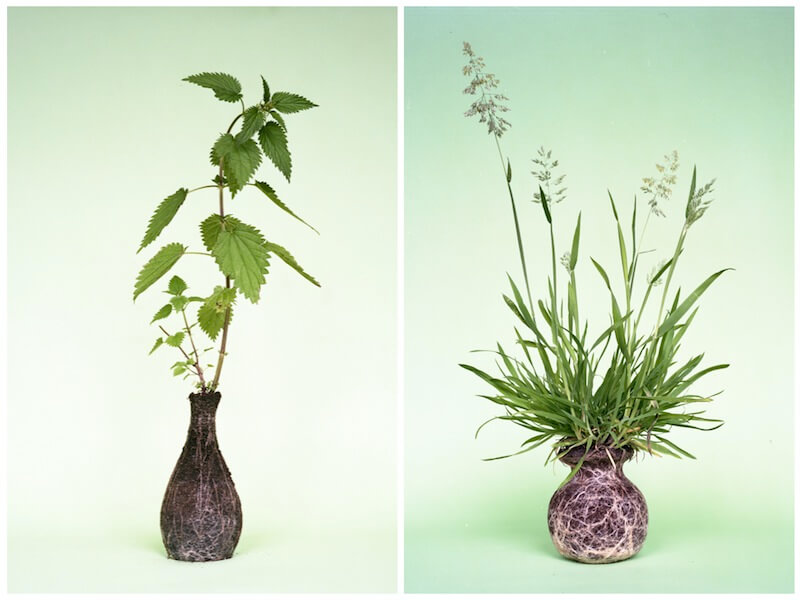 If you're not checking out Craft Gossip, you are missing some really cute ideas! Here's a food one –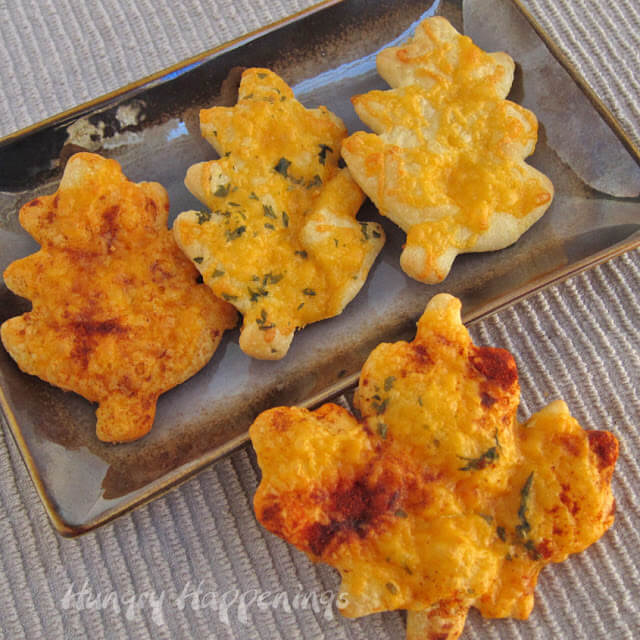 Wise words about our planet from a 12-year-old, who is still active at age 32.
There is a wealth of tutorials on free motion quilting on line, and some of the best are by Sharon Schambler, winner of best of show at Houston International Quilt Festival. Her videos are easy to follow. In fact, one of the patterns she shows got me finally breaking away from stippling and consequently ready for the Free Motion Quilting challenge this year. Enjoy this one on trapunto.

Become part of the new survey at Generation Q magazine: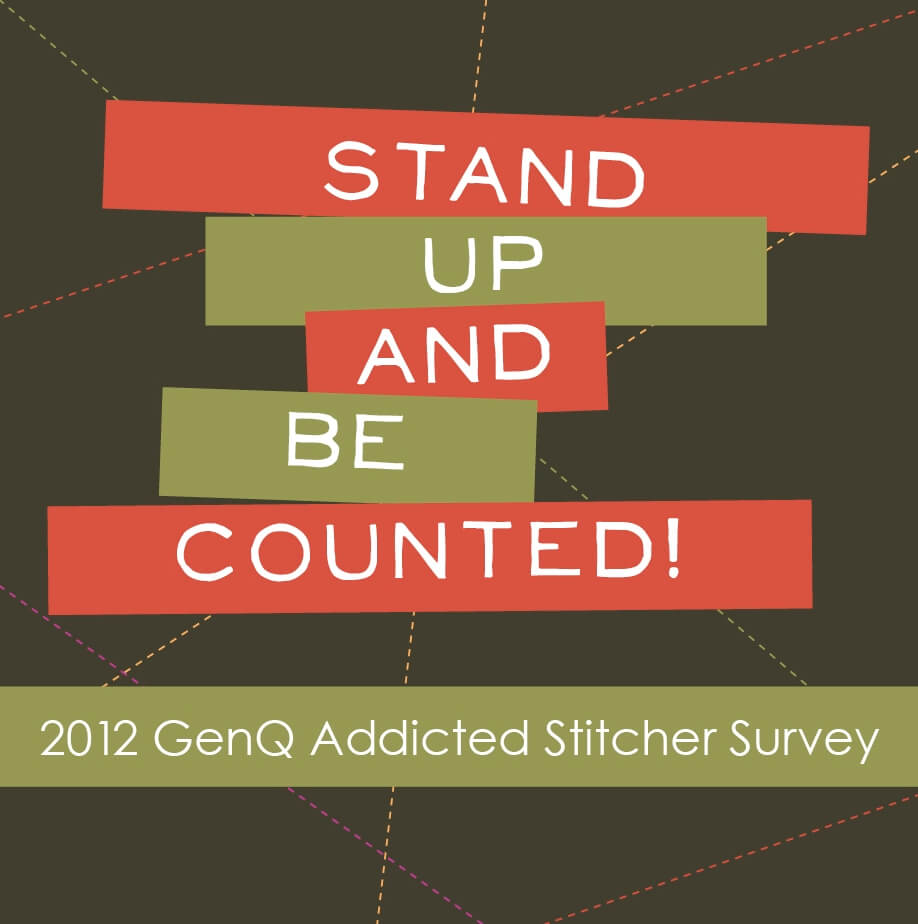 Free seminar coming from Open Kimono on The Open Kimono Webinar and Everything You Always Wanted to Know About Profit videos. Looks interesting.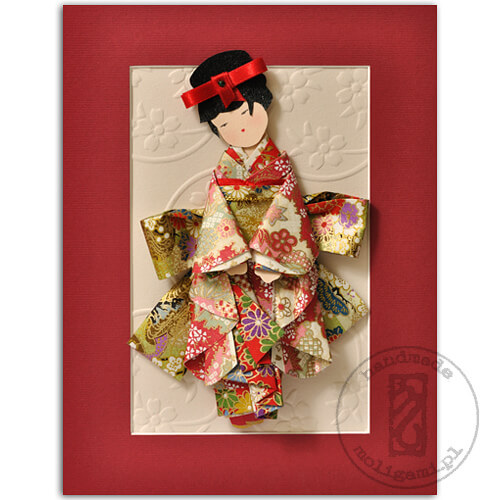 From Mamacita comes perfect quotes for Thanksgiving. These are great – there's something for everyone!

As we express our gratitude, we must never forget that the highest appreciation is not to utter words, but to live by them. –John Fitzgerald Kennedy
And finally, from Cool Hunting comes a look at the Aston Martin used in the latest James Bond movie – 3-D modeling (thankfully…).
Have a great week!

I keep getting behind in my surfing!
The 365 Project always has great photography, and here's another great set of examples.
And some more photography – this time taking pictures with smoke. The Art of Smoke Photography. Kinda cool – would like to try this.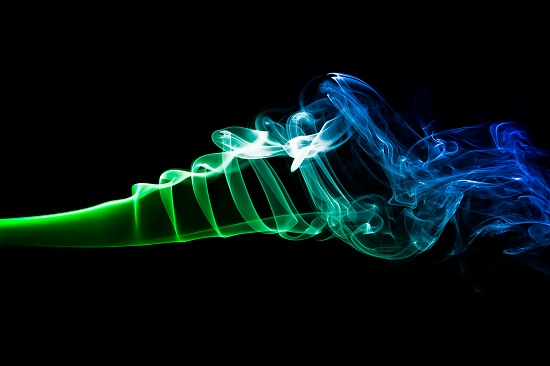 Here's a cool app for photography called DScan from Cool Hunting – let's you shift reality – methinks I need to get this for my iPad…….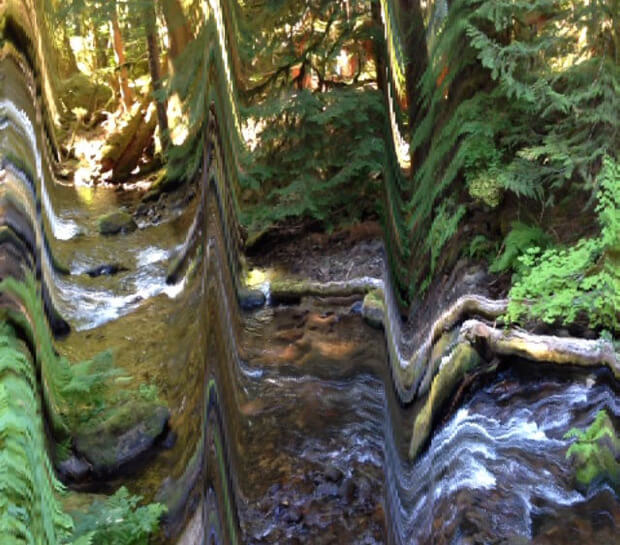 From The Best Article Every Day comes this wonderful graphic that puts another slant on a recent political controversy: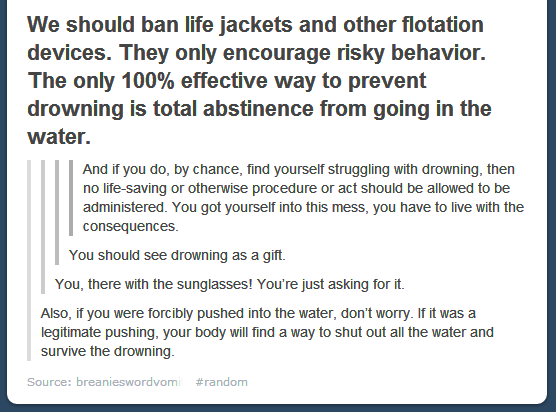 Here are some really cool ideas for around the house, again from The Best Article Every Day.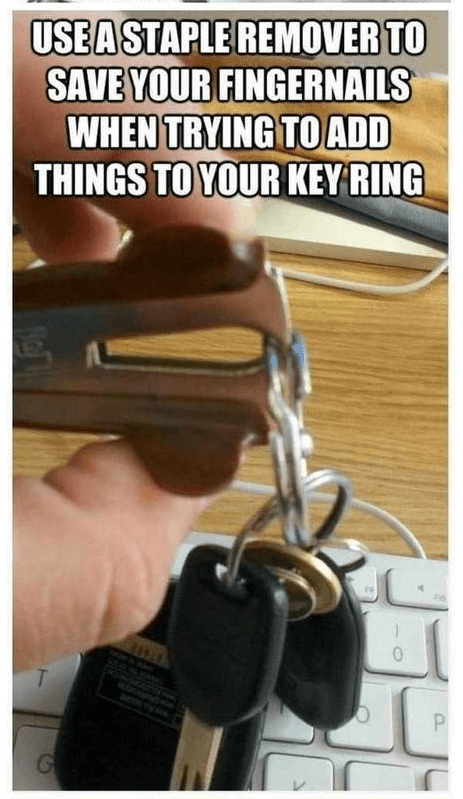 This next is just a feel-good video….

And…for those of you wishing we were still following Neil Armstrong to the moon, here's a great look at what it takes to get to Mars….amazing what we can do……

I very much admire Leah Day and everything she has done for the quilting community when it comes to free motion quilting. Her Sunday posts are un finishing UFOs – unfinished quilts and the like, and her photos of two pieces she completed are just spectacular, and they are motivating! Every time I look at something she has quilted, I am inspired. I too am finishing up projects – three in fact that just haven't made it on line, and it is certainly freeing. Take a look at her amazing work. You need to go to the link and see this stitching up close and personal.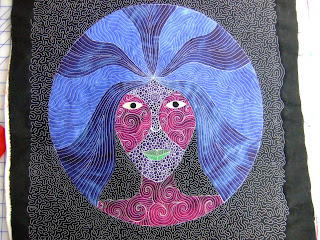 This next is a letter from a mother to her 16-year-old daughter on the day before her execution in Prague in 1950. It is incredibly moving, especially given the political circumstances. Letters of Note always has something of interest, and this is heart-wrenching.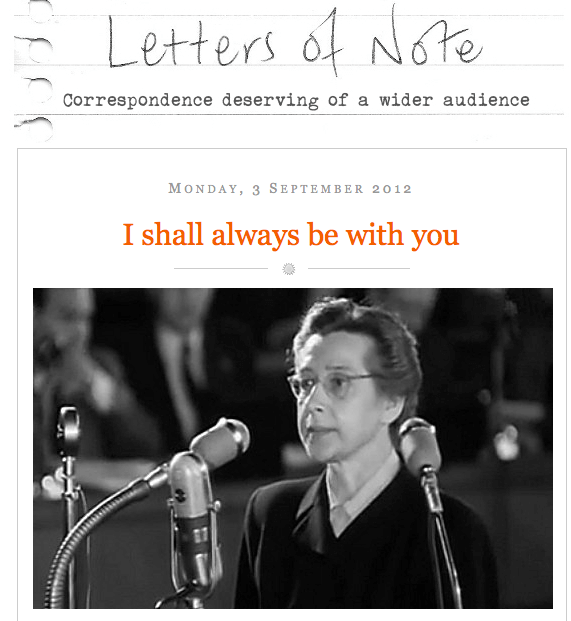 And finally, are you stuck creatively and can't seem to get moving? Lyric Kinard has a great series on her blog called Baby Steps, little things to do that can just get you started moving ahead. Try one or two and see what it does for you.

Have a great week – let me know what you find online that's cool, unique, weird, different……….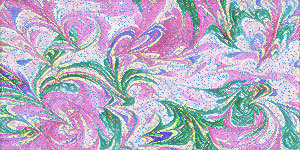 Oh my, have I learned some new stuff! The Free Motion Quilting challenge, hosted by SewCalGal, had a bonus tutorial by Susan Brubaker Knapp that piqued my interest. Basically you can create your own quilting design from your pictures. Well, I kinda figured you could, but once I read through this, I knew exactly how to do it. Bingo! I had loads of pictures that I would be able to use. I was having trouble with the drawing of the pattern for the August challenge; I planned to use that design on one of our bed stand runners. Now I had a new idea.
Concurrently, I am working on my Quilt University class, Inspired to Design, with Elizabeth Barton. I was looking at one of the photos I had morphed into a new design and suddenly realized I had a free motion quilting pattern right in front of me. Here's the original picture: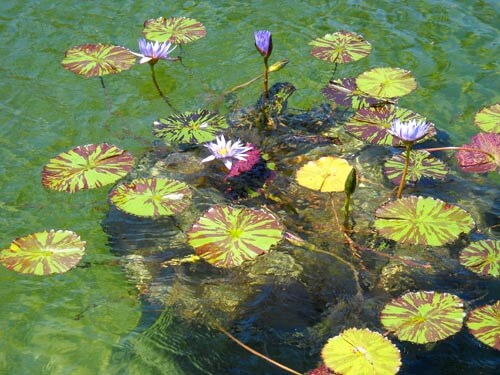 Here's the design element I developed a little further: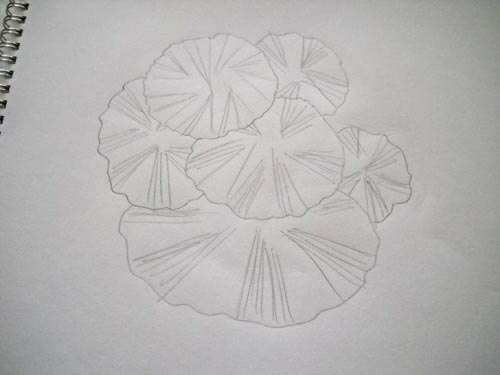 I added more pads to the design, made my pattern, and traced parts of it to the cotton. I realized, after my arms started to ache from tracing, that this was very free-flowing, so I really didn't need to trace any more. I went with a brighter green for the outlines of the pads. Sometime in July I watched The Quilt Show episode on Stupendous Stitches, and after that I took a serious look at the other stitches on my Bernina workhorse 1008. Not many to work with, but I had one that I thought would work to give the idea of a ragged edge to the lily pad. Then I used a variegated green to do the stitching in each pad. I used a monofilament to create water waves on the rest of the background. Here it is: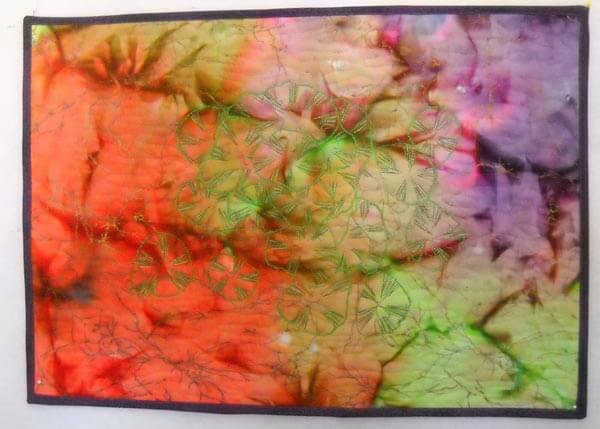 Lessons Learned:
The background fabric actually worked pretty well, as did the thread colors. I wouldn't stack the lily pads as much the next time. The most important lesson for me was going back and studying the original photo and realizing I could do much more with the interior lines. I became much more aware of that element in the original picture. I also did my binding a little differently, since I managed to cut it a half inch too thin. I used one of the stitches of a wave on the machine and made it very small. I tacked the binding down by maching, and you can't really tell unless you're looking at it close up.
And speaking of close-ups, here is one of the pads: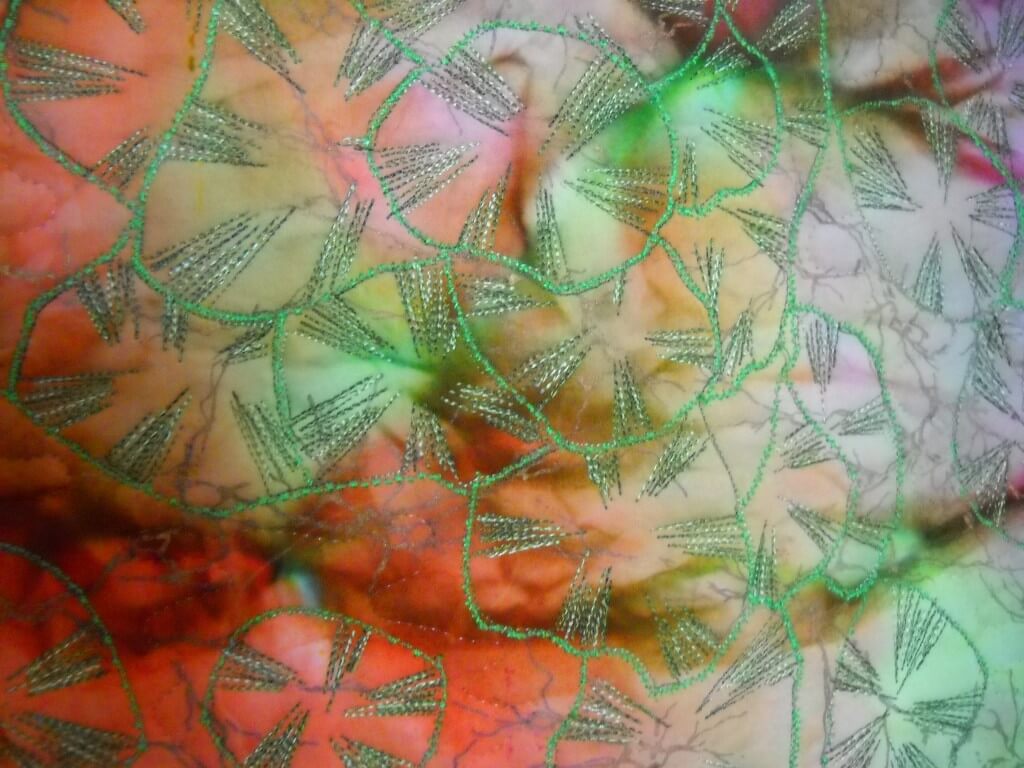 For the purposes of the table runner and the learning, I'm done. Next time I would use more color within the pads, spread the pads out more, and probably add stems. Overall, I love it! Thank you, Susan and SewCalGal!!

So I told myself I had to complete a couple of table runners for a pattern I am working on before I let myself get involved in the July Free Motion challenge. In one respect that was a good decision, because I got to see what other folks were doing, and it gave me some ideas. I really studied the swirl pattern from Angela Waters, and I think I started to get it, but as I think about it after the fact, there are a few things I would do differently. I noticed a couple of things: my stitch length is way more consistent, and I am getting better at moving back and forth across the quilt sandwich by doing the patterns upside down.
This is progress for me, because normally I read about something, try it out, and then feel satisfied. That's how I've always been, even though I know about muscle memory. This time I made myself stay with the one pattern, and it truly made a difference in completing the piece. Much more comfortable with the pattern, with the hum-purr (thanks, Cindy!) of the machine, and my stitch length.
That said, I used a cotton lame on the top, a cotton on the back, Bottom Line in the bobbin, and an Art Studio light purple from Superior Threads for the top. My batting was some left-over Quilter's Dream, low loft. I found the absolutely perfect binding in my stash. This will be a great table topper for some of my plants.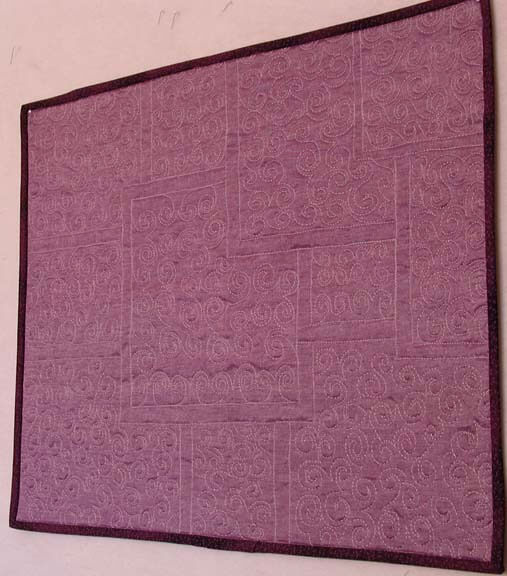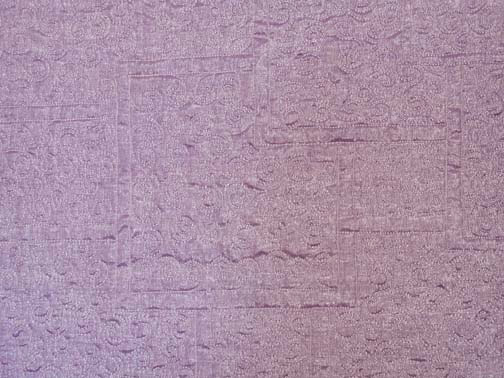 It looks so much better in person! The colors are truer – and it's really shiny!

So for this month's Free Motion Quilting Challenge, I set myself the task of remaking hubby's lap quilt. I made this quilt about 16 years ago, when I was just getting into some serious learning to quilt. Oh my, have I learned a lot since then! Three hours of taking out all the stitches…think back to just how old that invisible thread was…..and how bad really cheap batting was (which was all I could afford at the time….). Yup, I was pretty appalled at what I had. Here's the original – very square, emphasis on the squares. All stitch-in-the-ditch.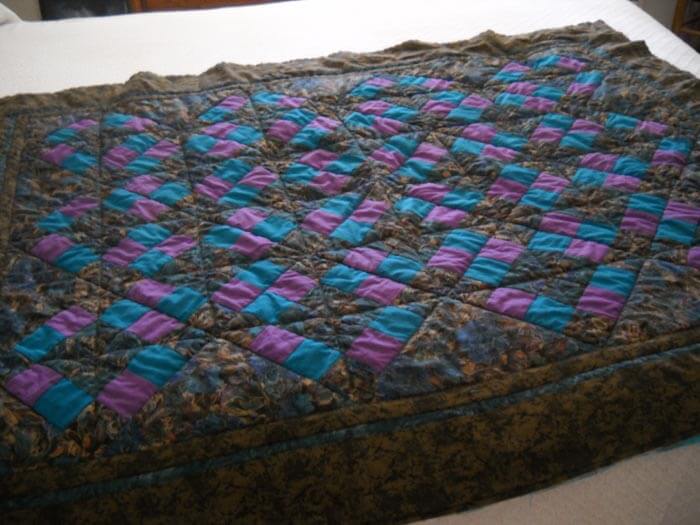 I used the pattern from this month – Leah Day's wavy stipple, which I really liked. I was using a variegated thread, but then I decided it was too obvious, so I changed to a blue that blended in with the fabric. Much happier.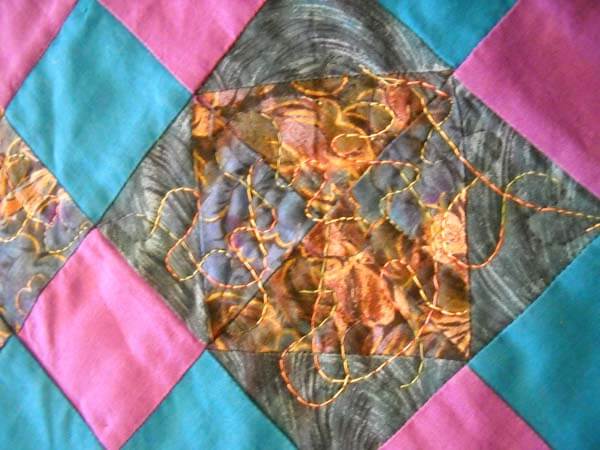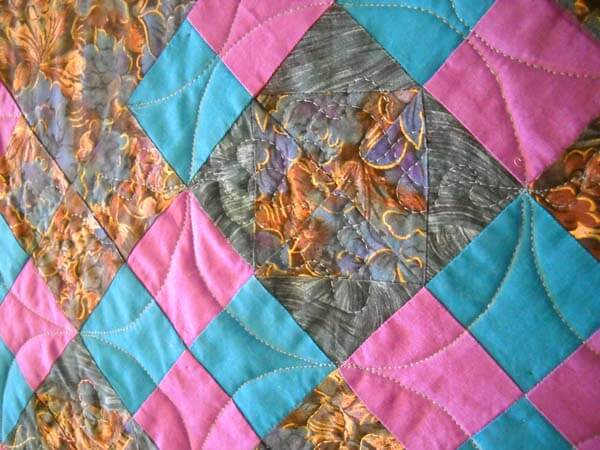 I'm really partial to what is happening with the backs with free motion. Here's a couple of shots of the back.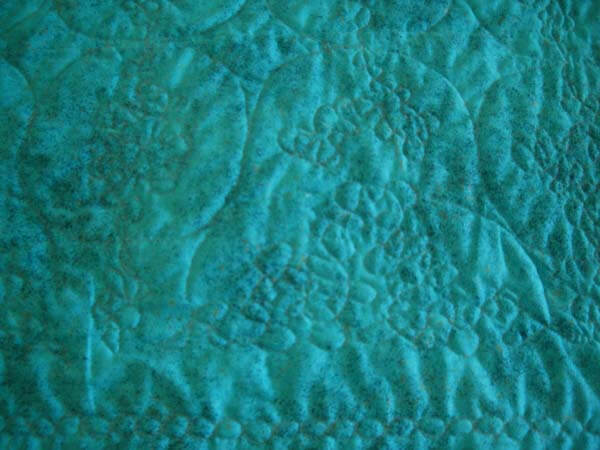 What's becoming obvious is how 16 years ago I used to "iron" as opposed to "press." had a lot of squaring off to do…..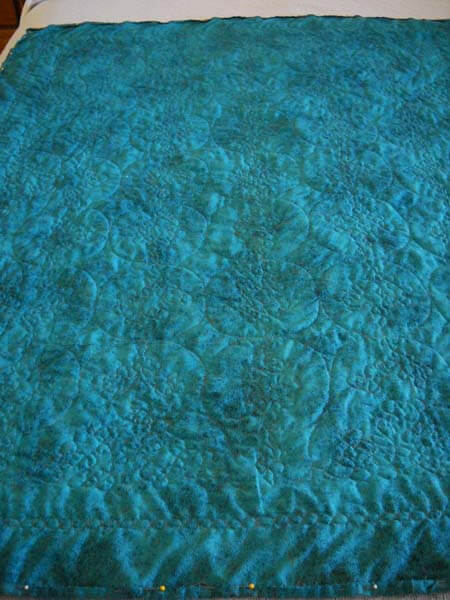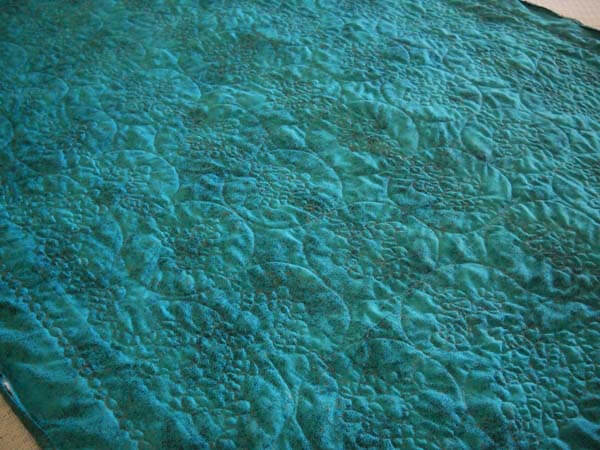 I really like what's happening on the back.
And now for the front…..for the first time I actually marked some of the quilt top. I wanted something in the purple/blue blocks to offset the square-ness, so I marked all the curves.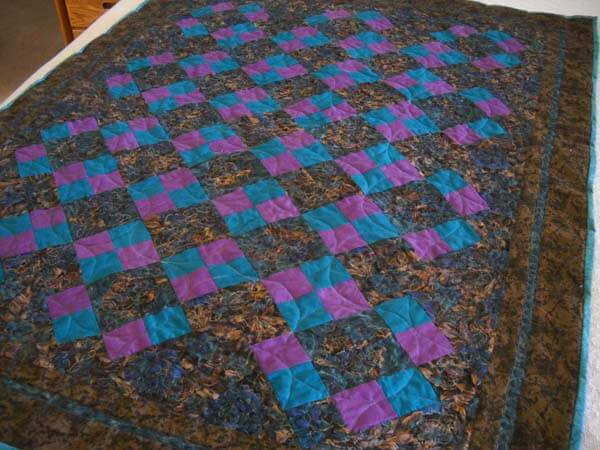 I am very pleased with more curves showing in this quilt.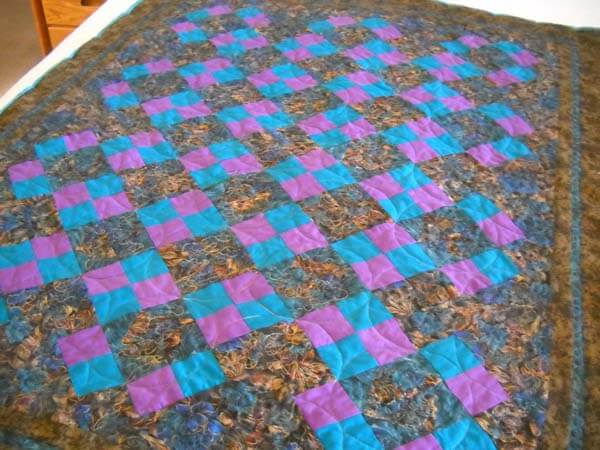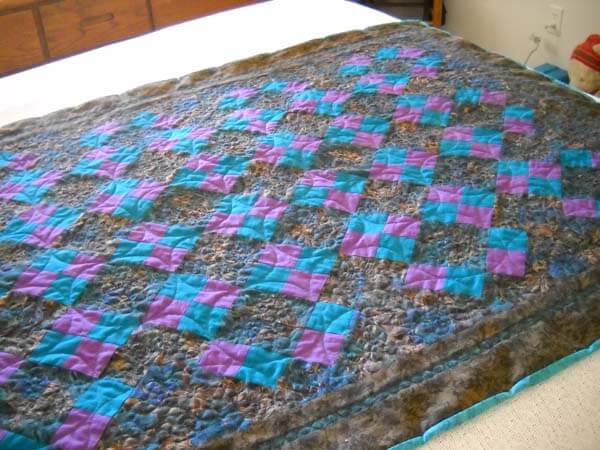 I did some pebbles in the first small blue border, which I like. I was going to quilt the leaves from January in the outside border, but I didn't like it. One of the things I found at Road 2 California was that it seemed like a lot of quilting was done just because the quilter could do it. I opted to leave the border as it was.
I ended up cutting off about 1.5 inches all around to square up the quilt, so I had extra binding, which was good…..but oh my, how I had bulky binding…..Now I just have hand stitching for S&B tonight with friends. And then it gets put away till next winter, when it's finally cool enough for lap quilts. I have enjoyed taking apart old quilts so that I can practice on them. Let's see what Cindy Needham brings us in June!

So I spent a good chunk of today working on some new machine quilting. As part of the Machine Quilting Challenge, I have been really exploring these new techniques. I have decided to take apart all my older quilts and requilt them, as a great way of practicing these new patterns. I truly thought I never would be able to do feathers without doing them by hand. Thanks to Diane Gaudynski's tutorial, I can now do them, and I am enjoying all the variations.
In preparation for StashFest in Seattle, we will be packing all our quilts that use marbled fabric. I have a couple of early block-of-the-month quilts, and I spent three hours last week taking all the original stitch-in-the-ditch stitching out, as it looked pretty lame – but at the time it was the best that I could do. Now as I'm working on this, I am really enjoying the process of decided what to do for the quilting. It used to be stitch-in-the-ditch or stipple. Way more choices now.
What is also really nice to see is that I can get a lot of quilting done in a lot less time than I had originally thought. With about two hours of quilting over the last three days, I have everything done except for the borders. And I have really quilted this little quilt.
Expect pictures on Work-in-Progress Wednesday, as I should have the borders finished. All that will be left is the binding (need to find some of that border fabric (from ten years ago…I still have some) and repair a few boo-boos from taking it apart, and then add the sleeve for hanging. My to-do list grew a lot this weekend, as I have a LOT of quilts to now requilt and practice on1MQ, free motion quilting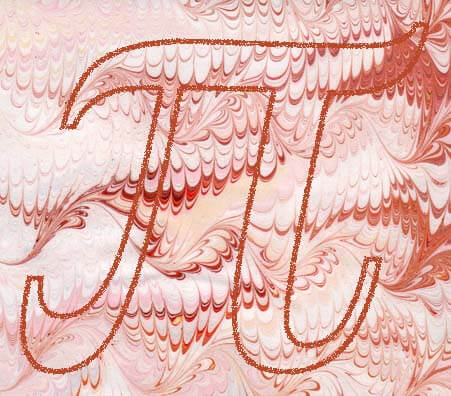 Happy Pi Day! It's the math nerd in me celebrating……no more having to plan special activities. Now back to regular blogging….(I started this on the iPad….)
Hmmmmm…..not sure if this is going to get any better….took me forever to log in, but I think I figured out what I was doing wrong…..now to get the pictures I want…..
That said, it has been pretty productive when it comes to fabric, even amidst the move. I finished my iPad cover with the feathers from the February free motion quilting challenge, and I'm really happy with it. In fact, at a birthday party last night, three of my friends want one and suggested I put them in my Etsy store. Something to consider idea when we return, as the Etsy store is disabled right now, as we are taking some of the product, with us to Seattle.
The front is a great big feather. I love the ideas people are posting, so I went with some Superior Rainbow and added some extra spines.
I added a small facing, and then added velcro to the inside in three different places to hold the cover closed.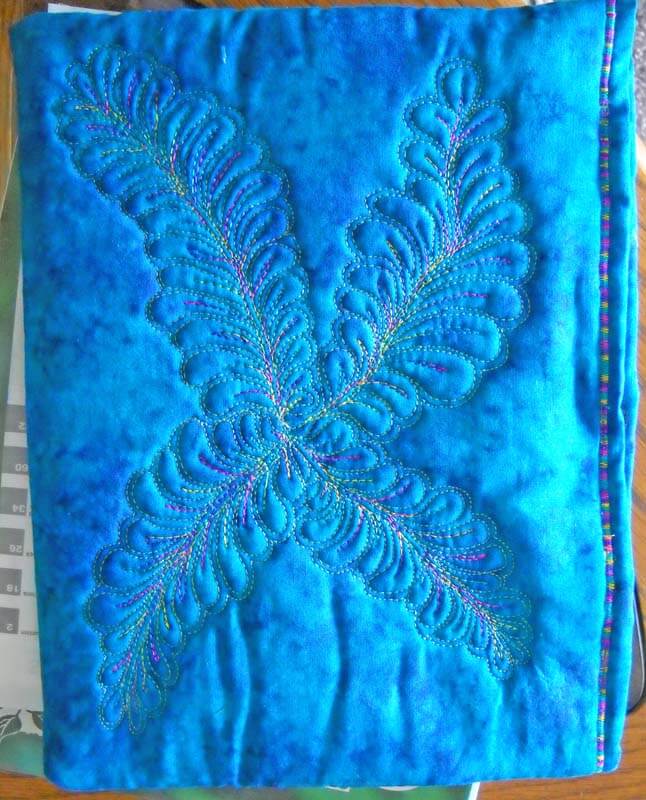 Some things i would definitely change next time around, but overall, I LOVE it….never thought I would be able to do machine feathers!
Now for an update on Visions……I didn't get in. Plain and simple. But….I'm okay with it, despite the fact that the very first show I ever got into was a fairly prestigious one. I know that the work is excellent; it's some of the best I've done. And I have more ideas just ready to go. It just seems like the only way you get validation for your work is to get it in to major shows. I will keep making work, because that's what I want to do.
If it weren't too old (2003), this is what I would have entered: my absolute, favorite piece ever. I won't sell this, because I'll never be able to make another one. It is now on the wall in our new home, as we actually have wall space for it. This is part of the Gaia series, where I do weavings with strips of marbled fabric. This is Gaia 2: Beginnings, affectionately know around here as my Pele quilt.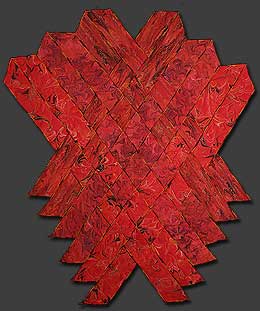 My machine quilting skills have come along tremendously since that piece. The fabric of "The Shallows" was created about the same time, but it has just been in a drawer, waiting for the right time, which I figured was now.
Here's the fabric at the beginning – it looks pretty bland.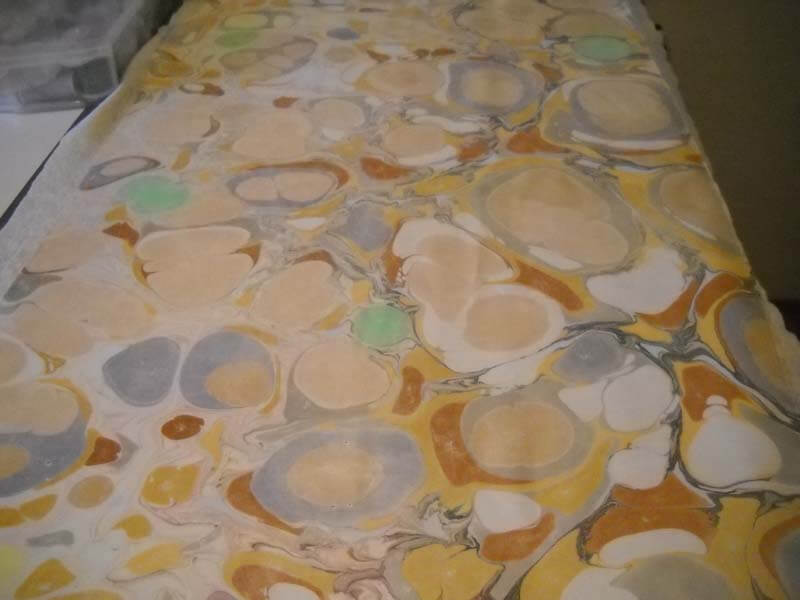 It's a pretty large piece of marbled fabric.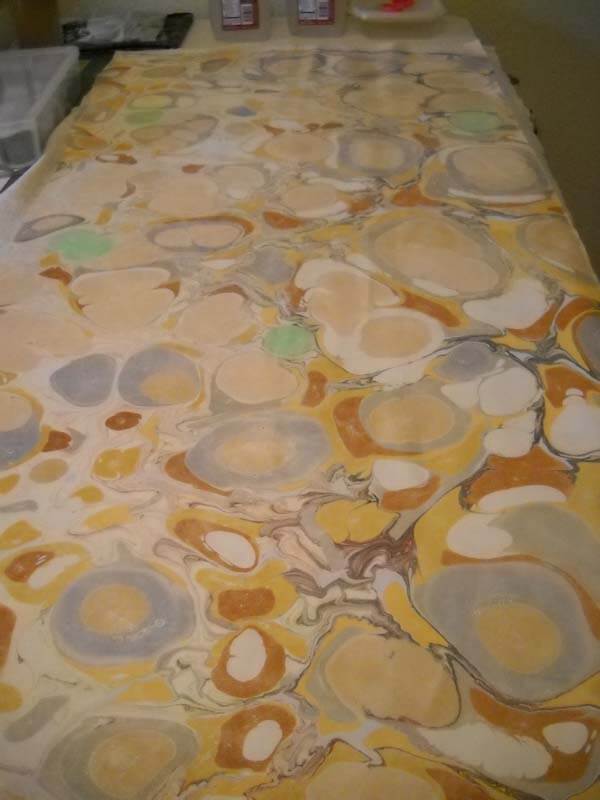 Making some early decisions on thread and backing. Everything was done with Superior Thread – Bottom Line in the bobbin, a mixture of King Tut and Rainbows and Art Studio for all the rocks and shading. (I never did take a pic of the back…..)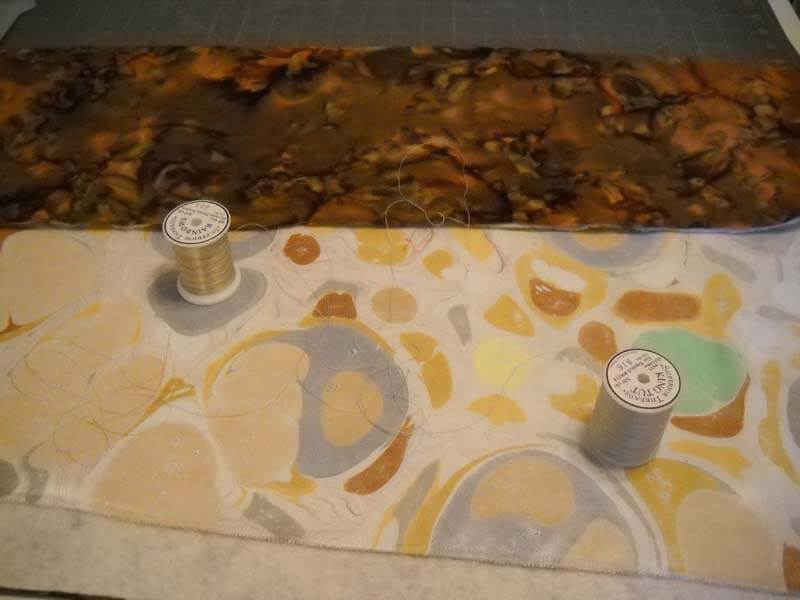 I knew how I wanted to start, but I wasn't thrilled with how the fabric looked, after not seeing it for so many years. I thought in my mind it looked far more interesting. But I started anyway.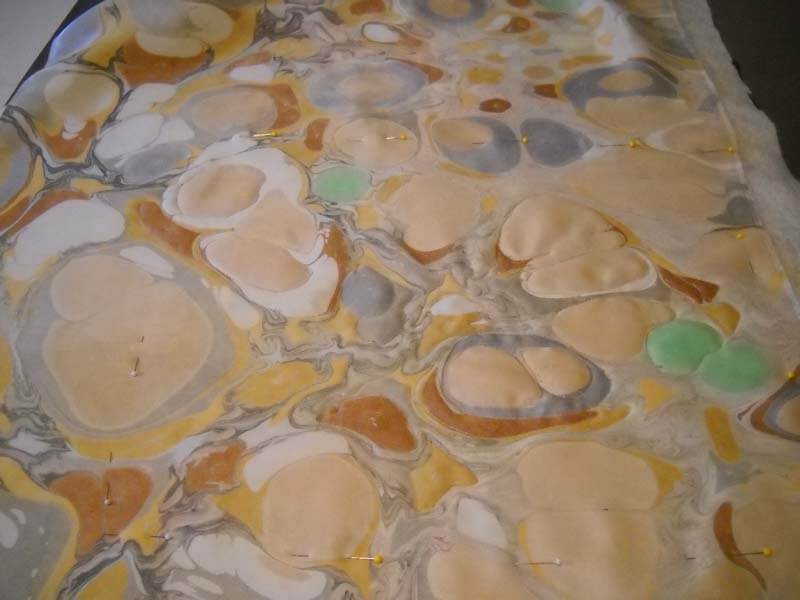 Already I could see improvement in texture, so I figured I would be okay. But I was worried about the green spots, which were originally designed to be some kind of leaf….now I was thinking lichen. I also wasn't happy with the amount of white showing…needed to do something with that.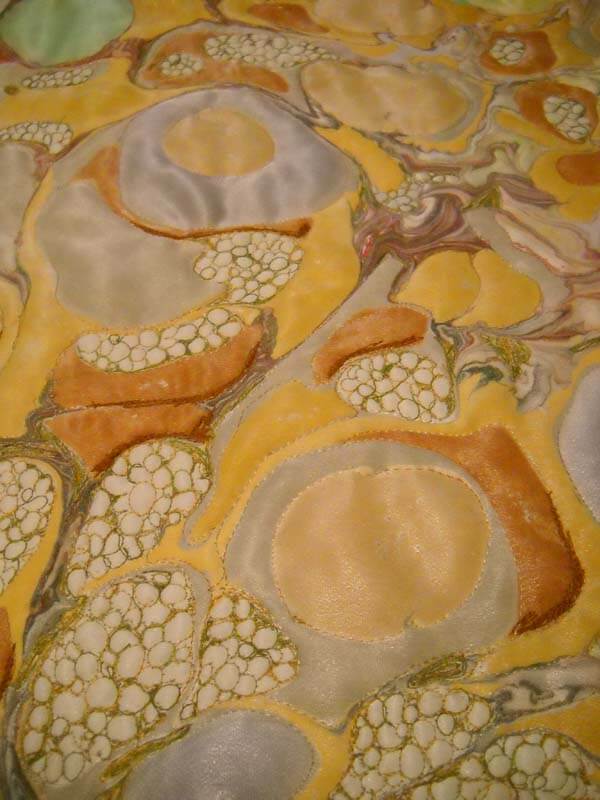 At this point I am becoming quite enthused with how things are shaping up…..but that's a LOT of pebbles, and it took most of December to get the pebbles where I wanted them, without affecting the "veining" left from the marbling.
I was also starting to think about shading, which I guess is more thread painting than free motion. I consulted with my art mom to get advice on scientific shading, in which the light source always comes from the northwest. So I needed to start thinking about shading all those rocks…..at this point I became very aware that there are a LOT of rocks. YOu can see some of the beginning shading here.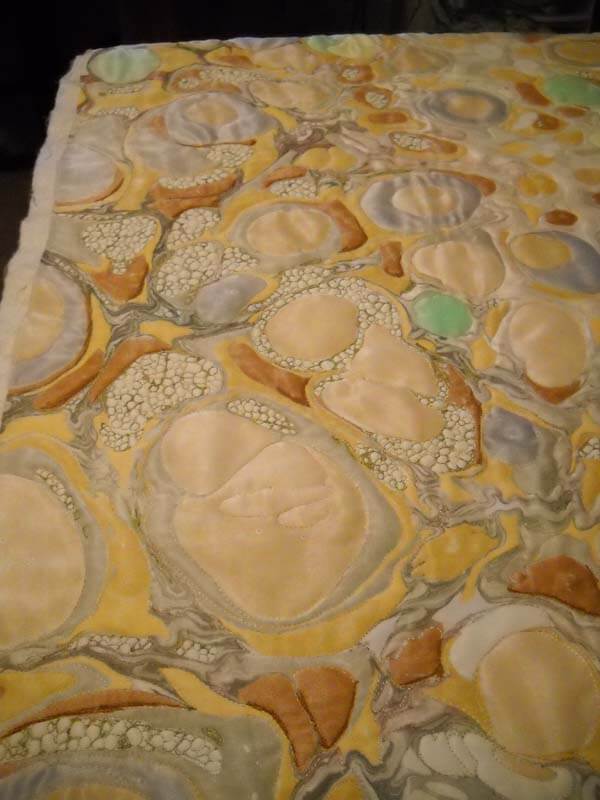 So January hits and I'm aware of my deadline, knowing I need to leave time for photography. I'm shading, and doing pebbles, and thinking about trimming. About one-fourth of the right side is cut off, as the proportions seemed much better without it – and a lot fewer pebbles that had to be completed…. I needed to think through the lichen, and if you look closely at the detail, it's shredded money – perfect texture!
And finally: The Shallows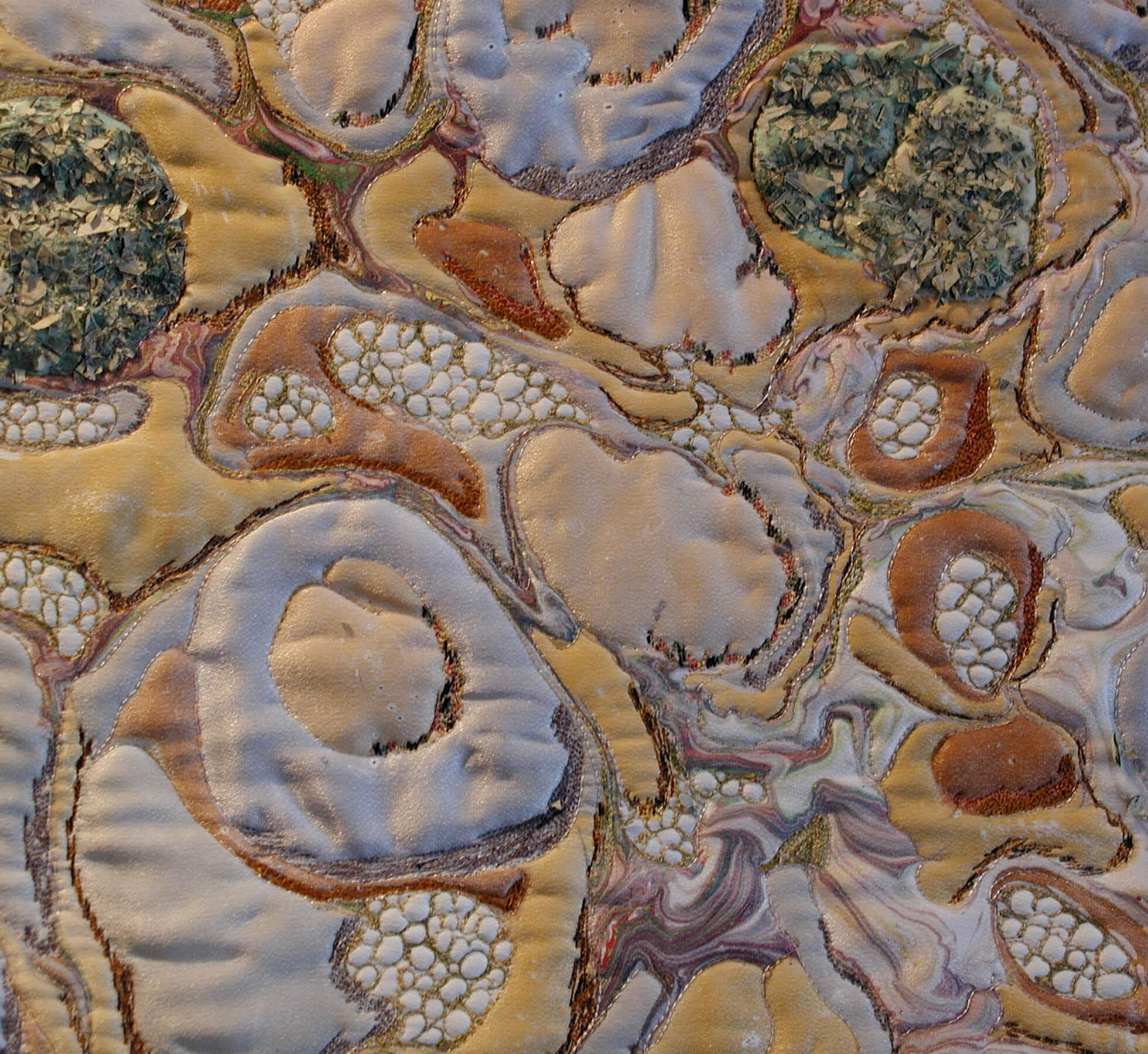 It's a far cry from the original fabric, and it is now proudly hanging in our new home.

Another Tuesday, and more goodies on the web – although it has been slower than normal, due to the holiday. Enjoy!
Here's a great list from The Best Article Every Day – places to learn on line – for anything!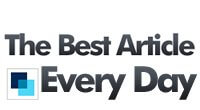 I found this interesting block design from Generation Q magazine, by way of Scott Hansen and Blue Nickel Studios. It celebrates Kwanzaa, and it's a striking block. Take a good look at the setting – lots of interesting design possibilities.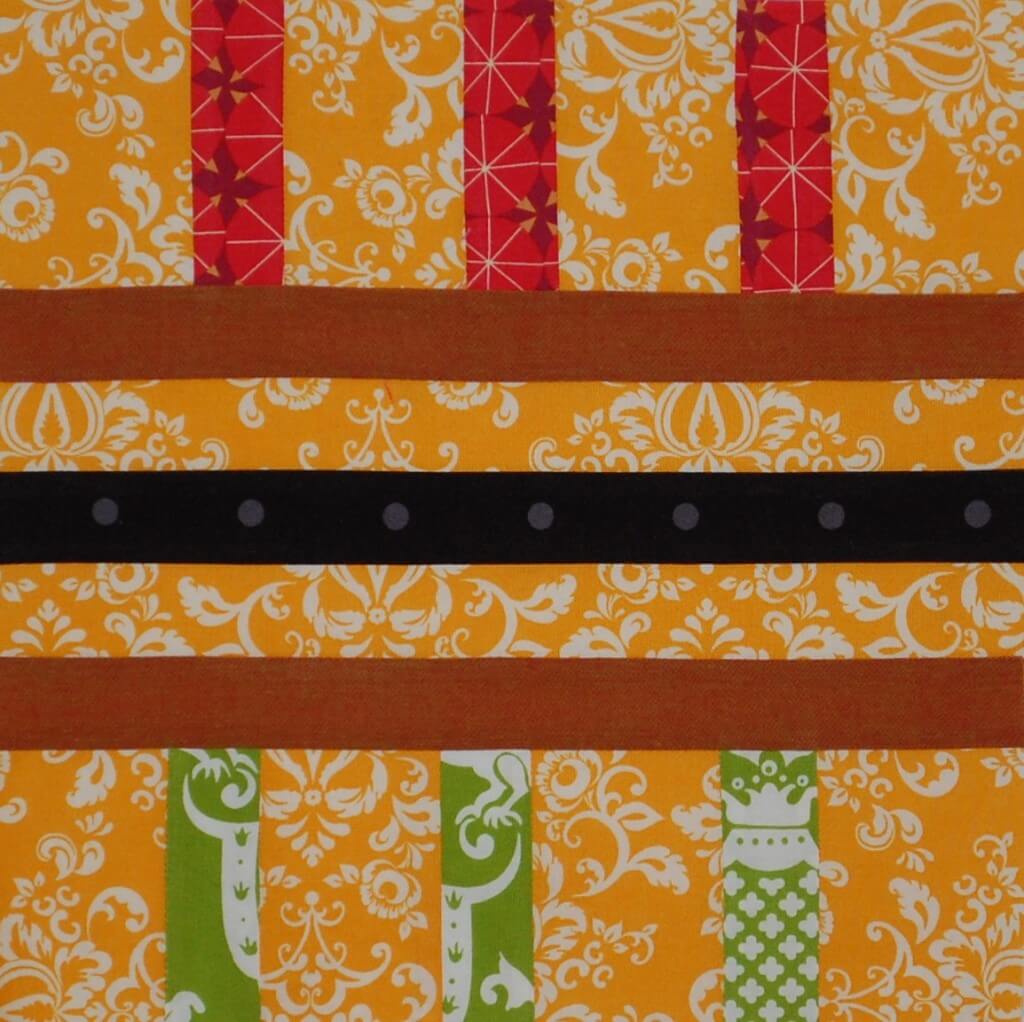 I'm taking part in the Free Motion Quilting Challenge this coming year – I really want to learn to do more with my machine. I want to learn how to do feathers….take a look at this example from Ivory Spring's Thread Talk. She gives step-by-step instructions – I can wish……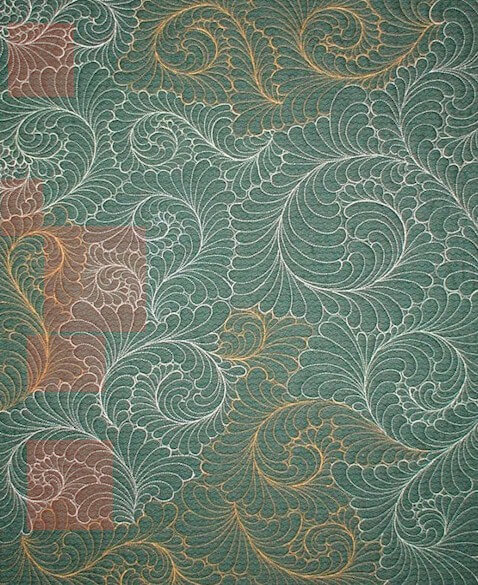 MAD Magazine rings in the New Year with its Top Ten posts…..
"The Disturbing Similarities Between New Al-Qaeda Leader Ayman Al-Zawahiri and New Today Host Ann Curry"
From SewCalGal comes insights on free motion quilting, with a year-long challenge coming up. She says in this blog post that after a year of practicing FMQ, she's much more capable of doing cool designs – and I concur…my FMQ has increased just from the practice. If you're interested, go ahead and sign up for the monthly challenge – should be fun!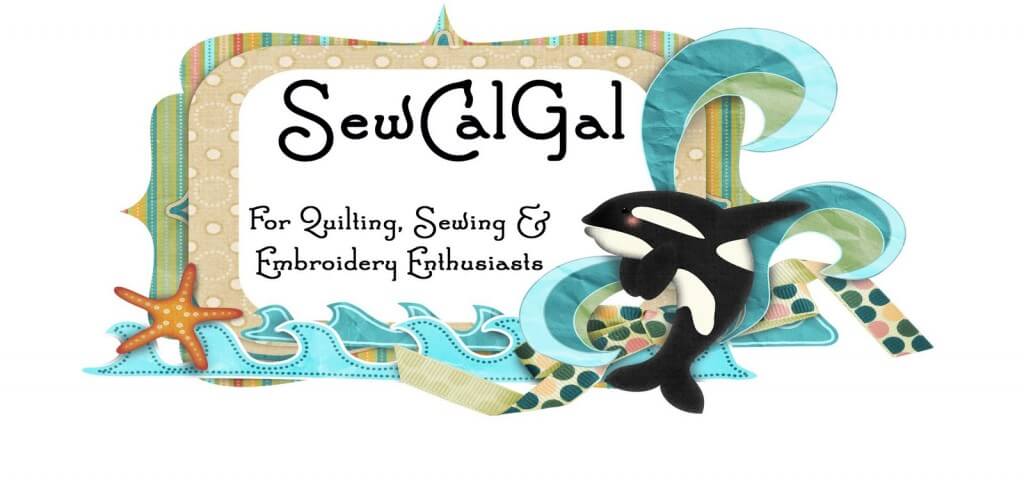 From Generation Q magazine comes some creative pushes for 2012, if you like to spend this time before the new year making plans and setting goals.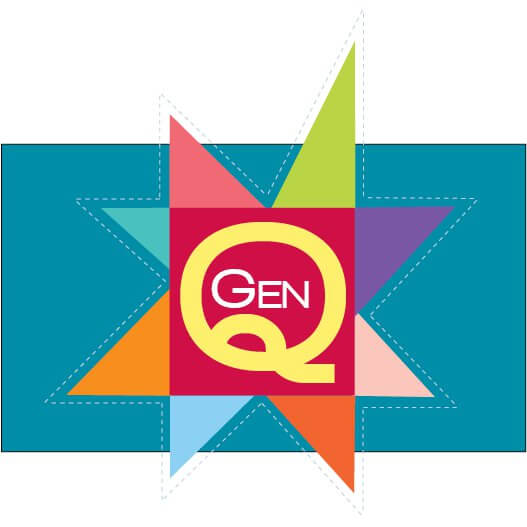 You know I love Cool Hunting – here's some of their year-end best, in conceptual design.
"From ICFF to Art Basel, 2011 delivered a flurry of design objects for the home that while highly creative and concept-driven, didn't compromise their utilitarian duties. From recycled plastic chairs to roman numeral inspired book shelves, the following are five of our favorite pieces of sculptural design that could just as easily pass as pure art objects."
from Art Biz Blog, a collection of top posts from the year for your marketing pleasure!
Most Commented On
You Promise Exposure, We Want to See Results
Artists' Day Jobs – What's Yours?
Is There a Downside to Teaching Your Art?
…and lots more!
From Fine Art Views, an interesting challenge: Add an Art Challenge to your New Year's Resolution List: for Smokers…..I'm thinking of adapting this for dieting….

I haven't posted anything lately on zentangles, but I keep looking at blogs. Here's one from The Rainbow Elephant that I think would translate really well into a quilting pattern, especially since I want to incorporate some snowflakes on a winter quilt.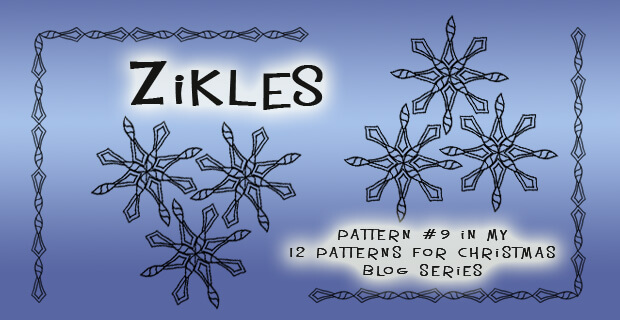 Have a great week – send me cool stuff you find!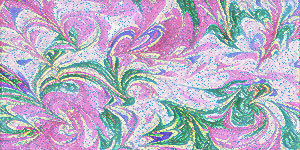 My machine quilting has improved tremendously over the last six months. It's amazing what quilting for a couple of hours every day will do. This current large piece is moving along nicely, and I'm taking the time to really think about how every element has to work perfectly together.
But…I still need quilting ideas and help. For the longest time I've heard about Continuous Quilting Designs, and I've looked at them, mentally followed them, and then wondered how on earth I could possibly do that. Now that I'm expanding my repertoire, I am still kind of confused about creating a whole motif in one section of a quilt.
I found the answer. Laura Lee Fritz has a series of books with C & T Publishing, and I just had a read-through of 250 New Continuous-Line Quilting Designs. In the words of my students, "OMG, I get it!" Within the first couple of pages I knew I could do this. Laura spells it out simply and completely – how to do EVERY single step. From setting up the book itself for easy use to the types of water-soluble stabilizer to transfer of design to actually doing the quilting – there is no question you will feel like you can create every single one of these designs.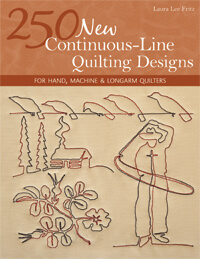 It never occurred to me to trace the design. Maybe that is an obvious step to a lot of people, but "free motion" to me means free-hand. Not so. Here's what Laura says:
"If you aren't ready to make the leap into free-motion quilting, there are simple steps to follow to transfer the designs onto your quilt top. 1. You can trace your designs onto water-soluble stabilizer with a permanent pen (Sharpie and Pilot are good choices) and quilt through it as the topmost layer of your quilt. Try the Solvy stabilizers made by Sulky, or Dissolve from Superior Threads, as they really do wash out of the cloth." (page 4).
There was such a moment of a-ha for me. So that's how you do it.
Here's a really important note that makes a lot of sense to me, given the work I've done with dyslexic students and my readings on brain research.
"Begin by tracing the designs with your fingertips or a pencil to practice the paths, and you will learn to stitch many of them free-hand. This tracing makes the pattern a physical memory and helps you quilt more smoothly." (page 8) Muscles have memory, and I need to practice moving the paper design as though it were cloth, to help train my fingers and eyes just where I need to go. This one sentence tells me Laura really understands this process.
As for the designs, Laura has the following sections: Globe Trotting, Scrolls and Angles, Wilderness, Oldtime Cowboys, Heroic Moments, Wetlands, Baseball, and Edge of Town. I'm looking at the headings, thinking "no way." Turns out there is at least one design in each section that I could incorporate without really even thinking about it.
This is an excellent resource for both beginning and intermediate quilters, on a domestic or long-arm machine. I would think, if I still did hand quilting, that this would really free up design for me. I strongly recommend this book for your library.

PS – in accordance with FTC guidelines, I need to tell you I received a free e-book of this title, with the condition that I would write  a review. Viewers of my blog know that I am honest and wouldn't do anything that would lead you astray in books or materials. My reviews are from the heart and meant to be helpful.