Archive for the 'textiles' Category

Someday I'll get to the Houston Festival again, but in the meantime, I can live vicariously through blogs! Here's some great eye candy, plus a few other goodies….and Jack Nicholson……
From Frieda Anderson comes a look at some spectacular quilts from The International Quilt Festival in Houston.
Gloria Hansen
– first place!!
From the folks at C&T Publishing comes a wrap of market with some vendors that look so wonderful!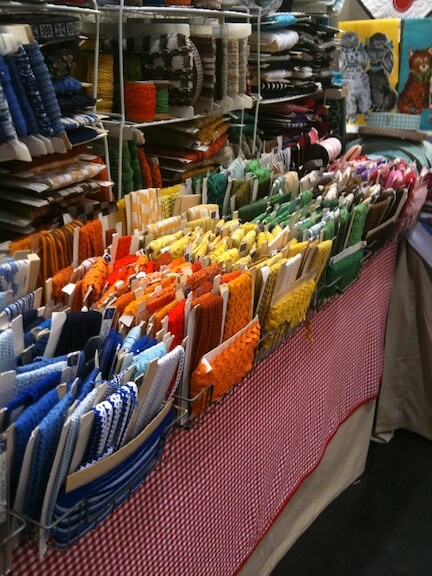 From Susan Brubaker Knapp comes another look at Houston Market.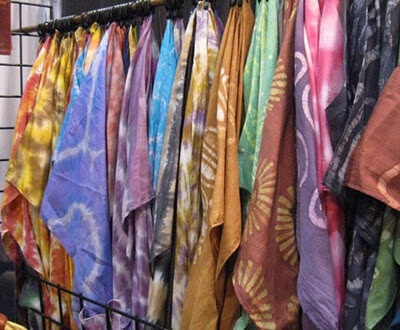 A cool discovery on YouTube…I'm not one for music videos, but this reminds me of something the kids on Glee would have done. From Panic At The Disco comes "Ready to Go."

From JPG Magazine comes pics from their latest – "Smokin'". As usual, great stuff!!
From Mad Magazine comes a very different offering – a look at a USO tour. From someone who ALWAYS watched Bob Hope, this article gives good insight to life overseas serving our country.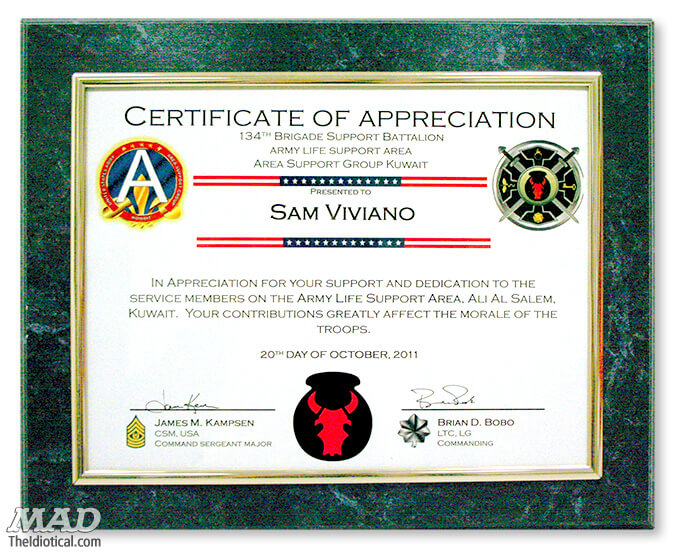 And also from Mad comes a send-up of the Family Circus….great cartoons by Bill Spleen…..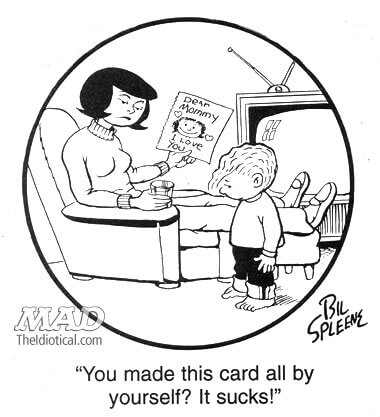 From The Best Article Every Day comes great ways to maintain your learning. As someone who will probably never stop taking classes, there's some great stuff here to explore.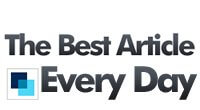 And now this….is really wrong – and oh so funny……suppose The Shining had been a romantic comedy…….someone with waaayyyy too much time on their hands……

Well, it has been at least 10 years since we did any kind of demonstration of marbling on fabric.  Full-time teaching and the need for two of us really limited our ability to get out and work with guilds. Thanks to a faithful reader (hi, Kay!!), we were booked to do a presentation to the Sunflower quilters guild on the northwest of Tucson. I was especially excited because….it's a school day and I was doing this DURING THE DAY….love it!
We've been planning for this for a couple of weeks. At one point we figured it was going to be at least two trips to the car, but with careful packing, it was only one for the trip across town.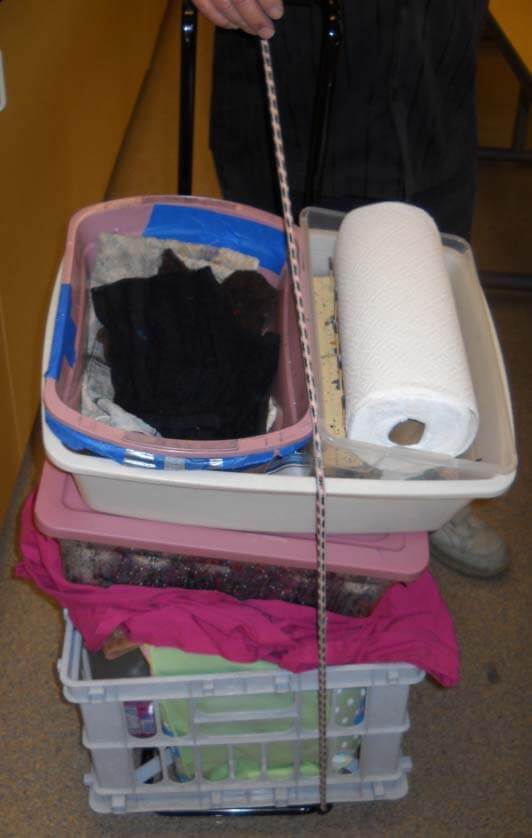 The only thing not on this stack is the crate of quilts and a green grocery bag with fabric. We pack really well.
Kay had samples of fat quarters to build interest for our demo, and the ladies were wonderful. Hubby and I work really well off each other, and his humor comes out. We spent two hours, showing the marbling process, letting people marble fabrics, and showing a progression of quilts. I've found, since we started marbling, that too often people say, "what will you use it for?" or "what will you do with it?" To answer those questions, I always pack lots of quilts (both art quilts and more traditional ones) so that folks can see so many uses for the fabrics. Plus, it's always fun for us to see where we've come as artists….and we love hearing all the "oooo's"!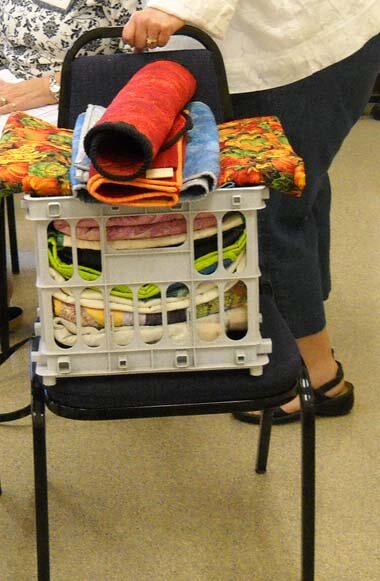 The crate of quilts, many of which are not available on the website or in the blog, because they are process quilts.
We had a great set-up in the recreation room.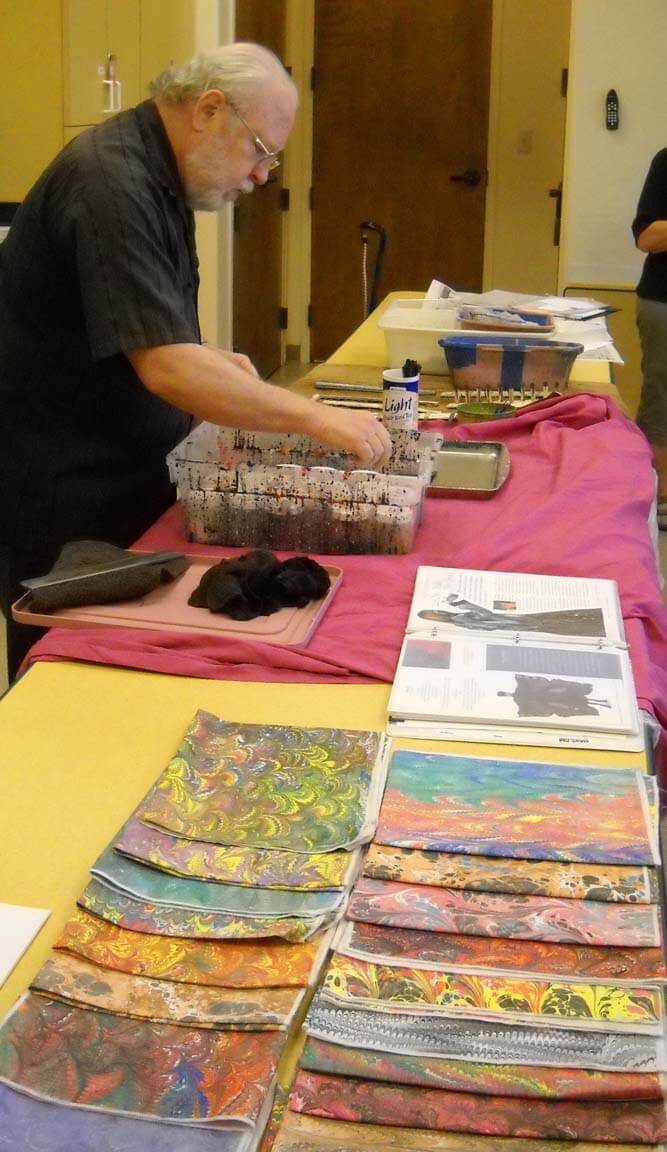 What I discovered with this layout is that as Dean demonstrated some of the patterns , I held up the fat quarter with the particular pattern on it, and that way people got a much better look at a larger example.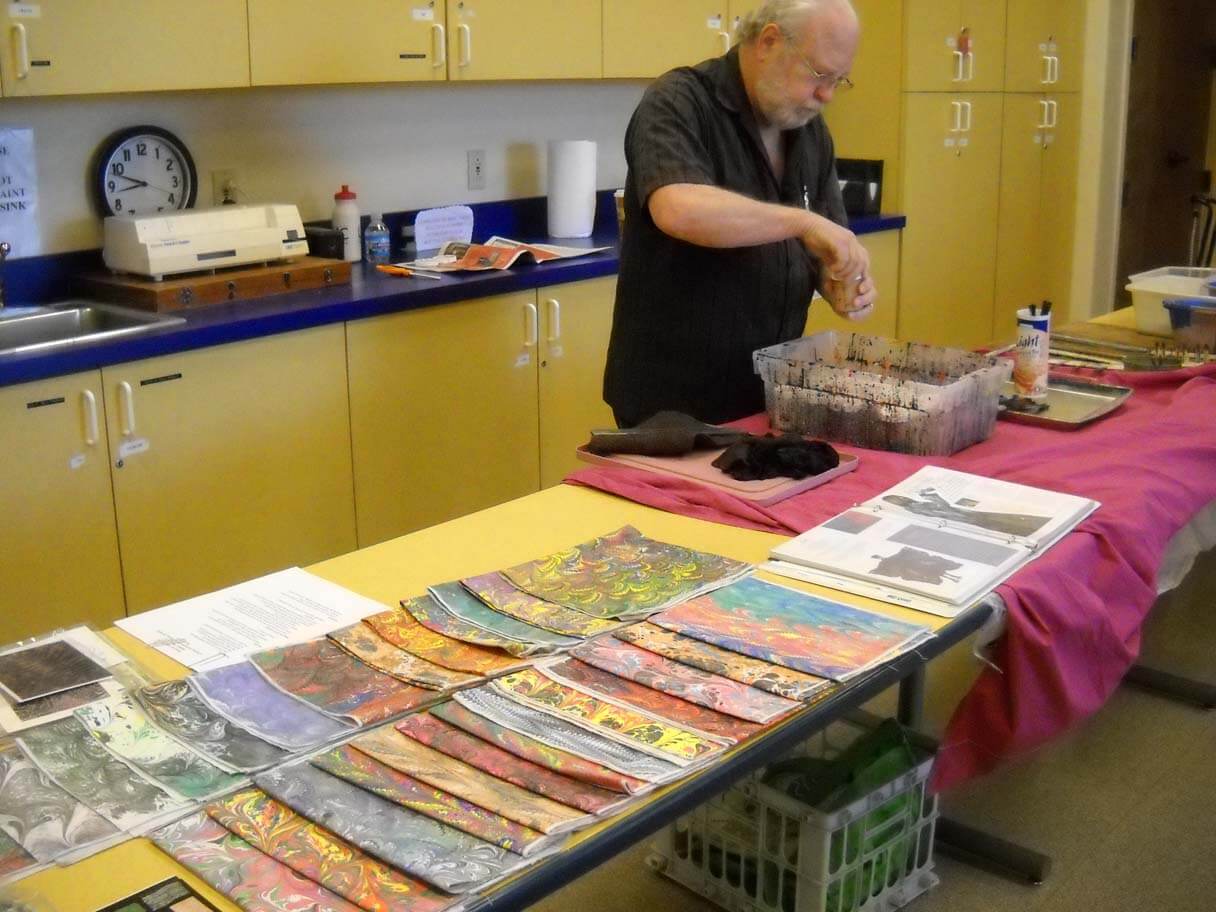 Having eye candy is always a great idea….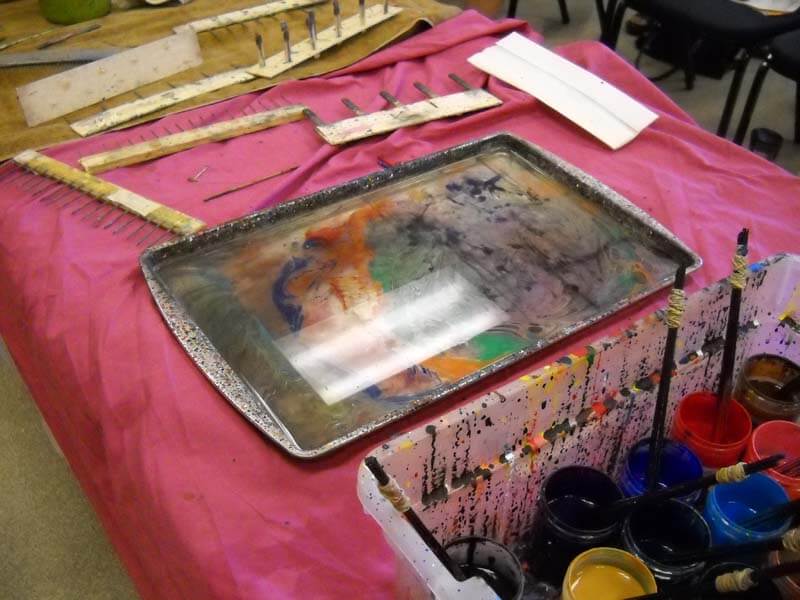 Works in progress.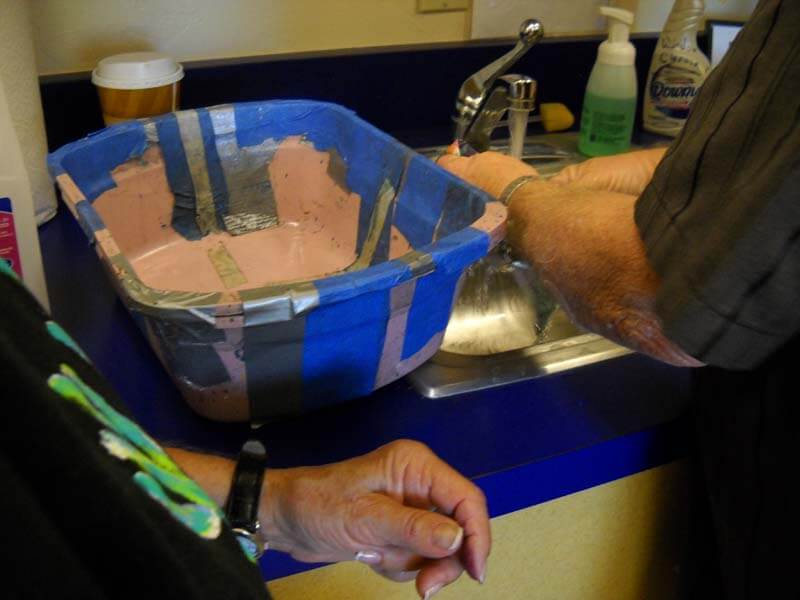 Some really high-tech supplies – left-over hospital pans for the rinse process.
What next? Well, we are going to start contacting local guilds in Arizona for demos, as we have all the handouts and  such prepared. At lunch we decided on a plan for a sampler so we can begin offering marbling classes at quilt shops. And…I'm going to start contacting friends around the country to see if we can "book" a couple of demos during the summer travel months. I'll get information up on the blog and website as I get it finalized. You can always email us for more information.
A great day was had by all!
Well, actually….they're fabric bowls, but somehow "introducing fabric bowls" doesn't have the same ring. So this has got all the goodies of a holiday basket, but it comes in a fabric bowl that you can use throughout the year, rather than trying to figure out what to do with another straw basket. Which I must admit I thought was waaayyyy better.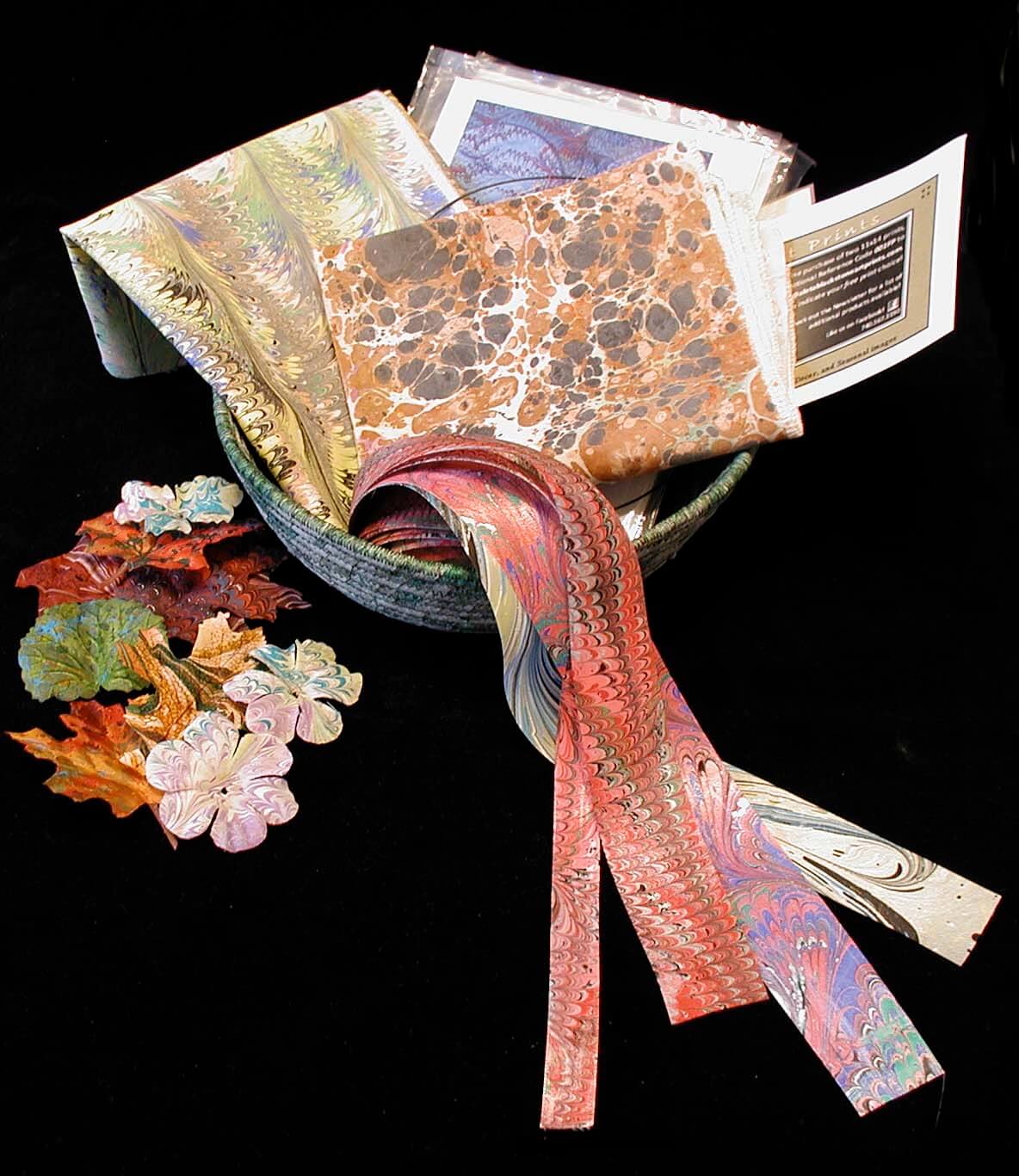 Here she is! This holiday treat starts with a hand-crafted fabric bowl, in a subdued color that makes the bowl perfect for year-round use. Then it's filled with goodies from the marbling tray: a fat quarter (18 by 22 inches) of 100% hand-marbled cotton; 4 pieces of hand-marbled Offray ribbon, in assorted sizes and width, all 18 inches in length; a 10% off coupon for our Etsy store (fabrics and small art quilts and table runners); coupons from other artists with offers for their websites; a Smapler Package of eight 6 by 9 inch hand-marbled pieces; a selection of hand-marbled silk leaves and flowers, perfect for embellishments; a set of four Digital Marbling (TN) note cards; and…a small mystery gift.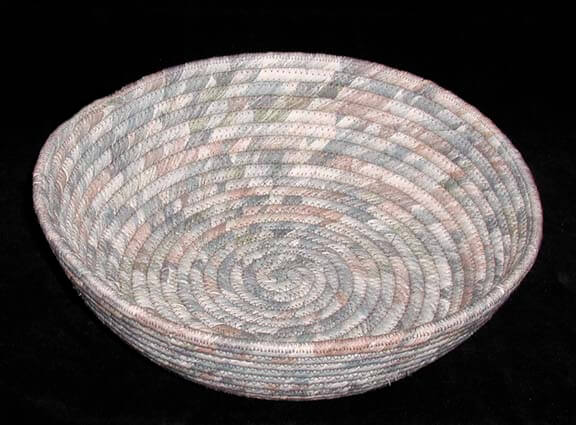 I want the fabric bowls to be in a rather subdued set of colors, as I want them to 1) fit just about any decor, and 2) be useful all year round. A "red" bowl tends to limit use. The actual bowl in this package is a nice mellow green.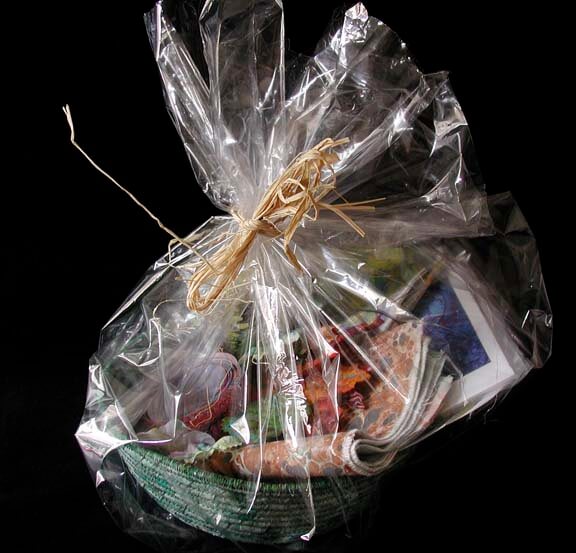 The "basket" comes wrapped in plastic and fits in a priority box, surrounded by shipping peanuts. You can have it sent to yourself, o4 let us know the address and we will ship it.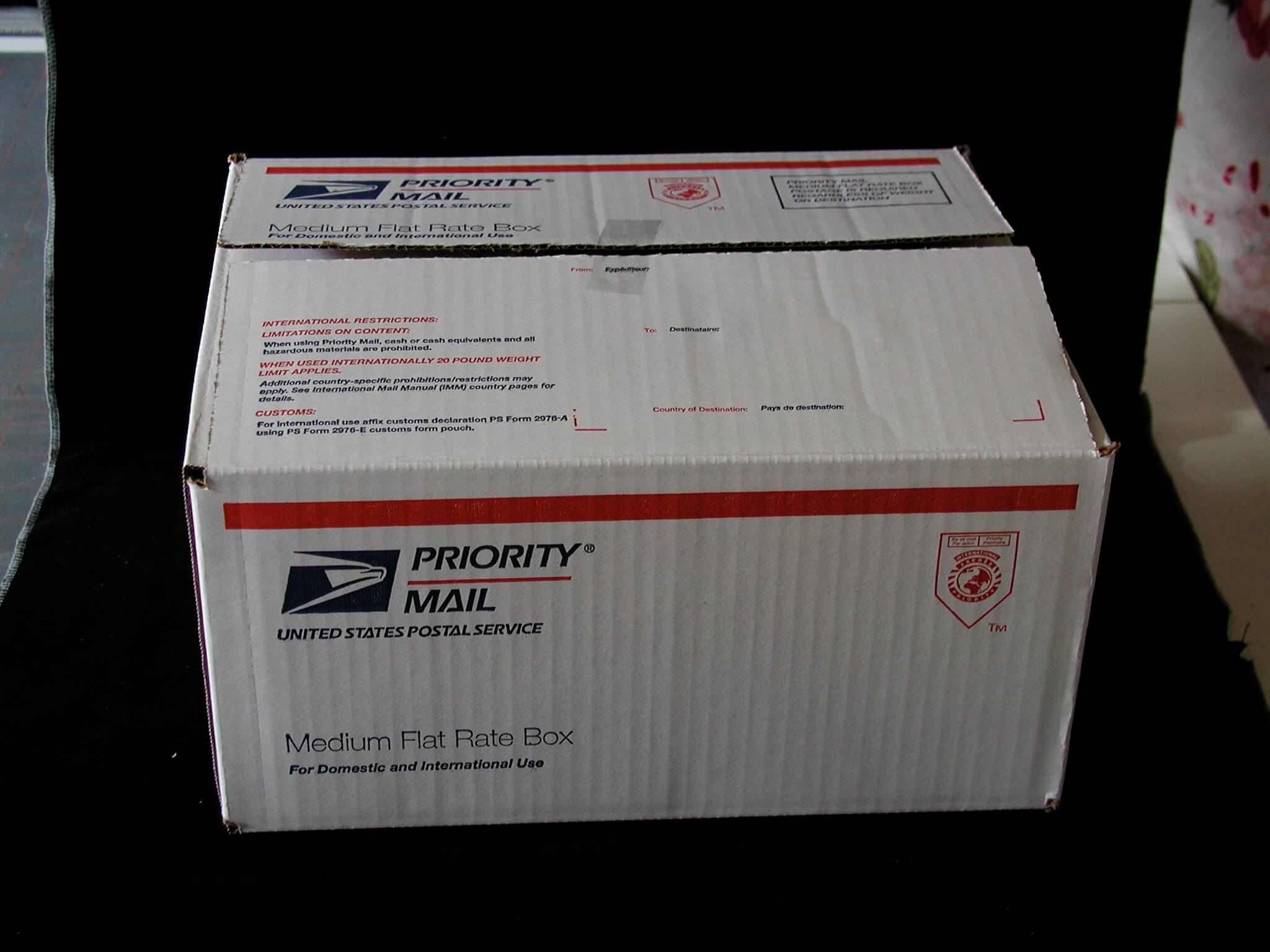 This is a $50 retail value, special available for the holidays for $35.00. Want one? Head to our Etsy store and buy the one there. We'll add additional ones as they sell, so you can see exactly what you will be getting for colors and fabrics.
These have been really fun to put together, especially choosing fabrics for the bowls. And if you haven't tried making these fabric bowls, they are incredibly soothing….wrapping fabric while you're watching television, or in the car, or waiting in the doctor's office…..There are a couple of good books available if your LQS doesn't offer a class:
We are affiliates for Amazon, so if you order through our blog, we do receive a commission (keeping the FTC happy….).
Oh my goodness. Today is the third amazing day in a row! It all started on May 1 when I began the first season of Cocreating Our Reality and practicing the Laws of Abundance and Attraction. I started with changing my thinking to always being positive. The first week was very tough, as I became aware of just how negative many of my thoughts were. Eyeopener, to say the least.
So when I retired the end of May, I knew I was going to become a full-time artist – something I have wanted to do for YEARS. Each time I wrote an abundance check with the New Moon, great things happened. So how does Monday Marketing and Top Ten come together? Well, if you've been following the blog, you know that on Mondays I have been looking seriously at marketing the business and our art. It's been all about organization and learning and getting out there. At times it seemed like I was just doing more things and not having anything to show for them.
The rationale part of me knew that I was laying groundwork, and I would have to be patient. Now here's the top ten for us since June 1 when I started the heavy work for marketing.
* I started with lynda.com and took some classes on Facebook and Twitter, making changes and setting up pages and addresses and plans.
* After getting them set up, I then started a class in Linked In, as I had an old profile from over a year ago. Again, I worked through a class on lynda.com to do all this. So the profile got set up.
* One of the things suggested in the Linked In course was to join some groups and become part of the conversations to develop our networks.
* I joined Art Business and Art Marketing, as well as a few others, and I heard about a call for work for a show in Tucson called Tikkun Olam. All work was 12 inches square and reflected on crises facing the earth.
* I offered to help and sent out information about the show throughout my various networks, plus I made a piece for the show.
* I attended the opening reception for Tikkun Olam (see the post here) and met and chatted with the organizers of the show, two artists from Tubac and Santa Fe, plus talked to a couple of people interested in the piece I created (you can see it here – it's the yellow piece). What was so cool was to get the positive feedback from the organizers; they loved the piece and (as I found out today) the hanging system.
* I sent thank you notes with offers of additional work to the organizers the next day.
* I got an invitation as a result of the reception to join a group of artists planning a show in October in Tubac (a major arts mecca in southern Arizona) and attended the organizational meeting today.
* This show will be October 22 in Tubac, called Anza Energy. We're putting about a dozen pieces in the show. And…..
*One of our marbled pieces, Ocean's Bounty, may be the piece on the main poster for the show, and…..several of the pieces – if they don't sell – will probably go into a spa resort as part of a water show in Tubac, and….one of the galleries whose owner is also participating, has a couple of our pieces now in his gallery as part of the publicity about the Anza Energy show.
So……get out there and do the work – your art and your marketing!!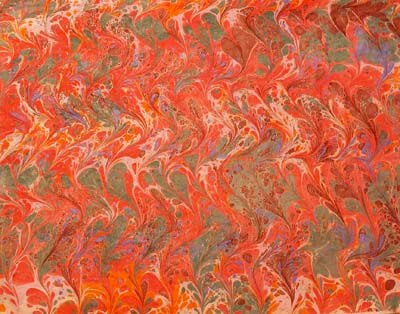 "Visions" is a major quilt art exhibit usually held in Oceanside, CA, every two years. It's like the Holy Grail for art quilters. The Visions Art Museum has now opened in San Diego, at the old Naval Training Center, and will now host its own show. Just to be able to finally get to the museum this last trip to San Diego was a delight. The docents were wonderful and took their time showing us quilts, as well as asking us about our work. It is SO NICE to be with other artists who GET your work! One of the disadvantages to being an artist in the Southwest is unless you're a painter or sculptor who "does" the southwest, no one is really interested in your work.
The major exhibit was Urban Landscapes and Soft City, with a special collection by Marilyn Henrion. Pictures were allowed in the outer area and in the gift Gallery. You can view a gallery of work by Marilyn here.
Here's one of the really intriguing quilts from Urban Landscapes by K. Vellis Turan: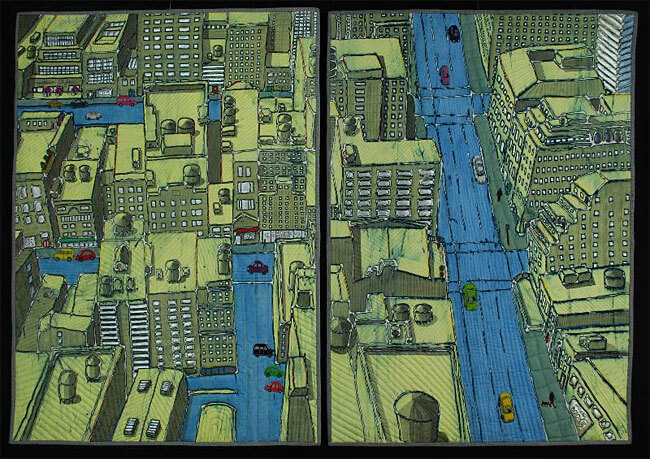 I purposely left this large so you could see details.
The challenge had some really interesting small quilts – 12 by 12 inches, which is a size I have just started to work with. These are all by members of the Visions Museum. Sorry I don't have names….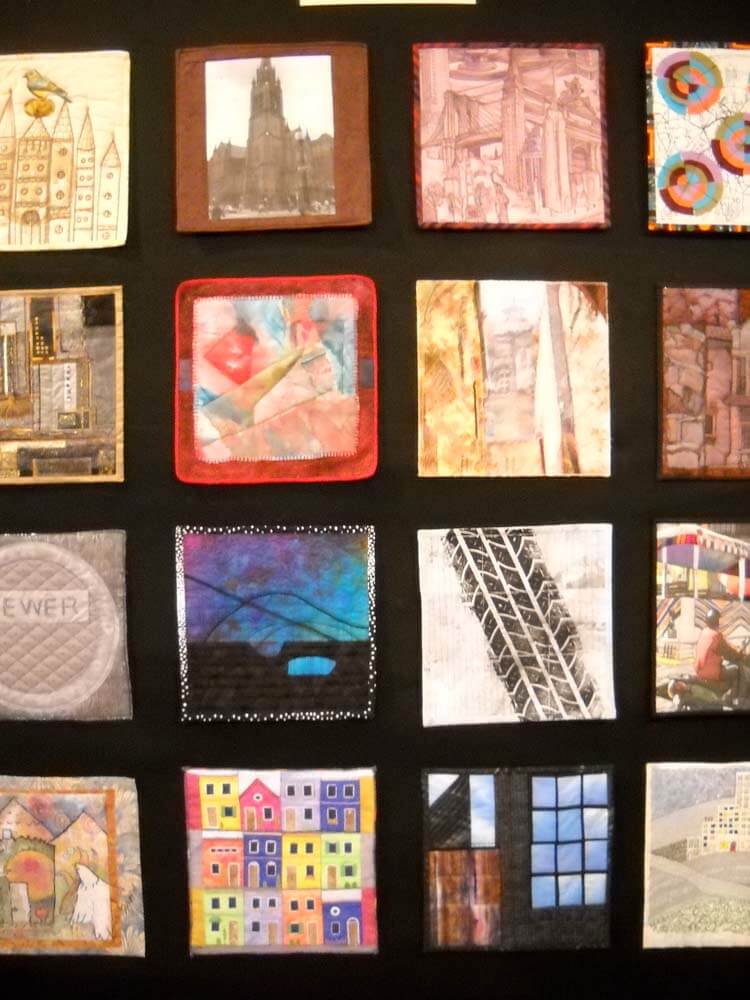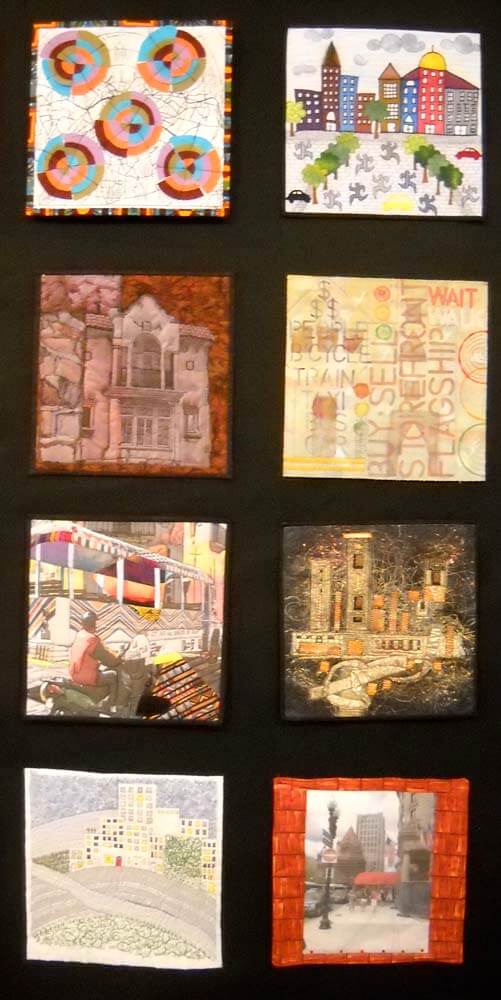 Here is an example of Marilyn's work. Her Photoshop skills are superb.

There were a couple of quilts by members in the gift Gallery – really superb work – and again, sorry for no names.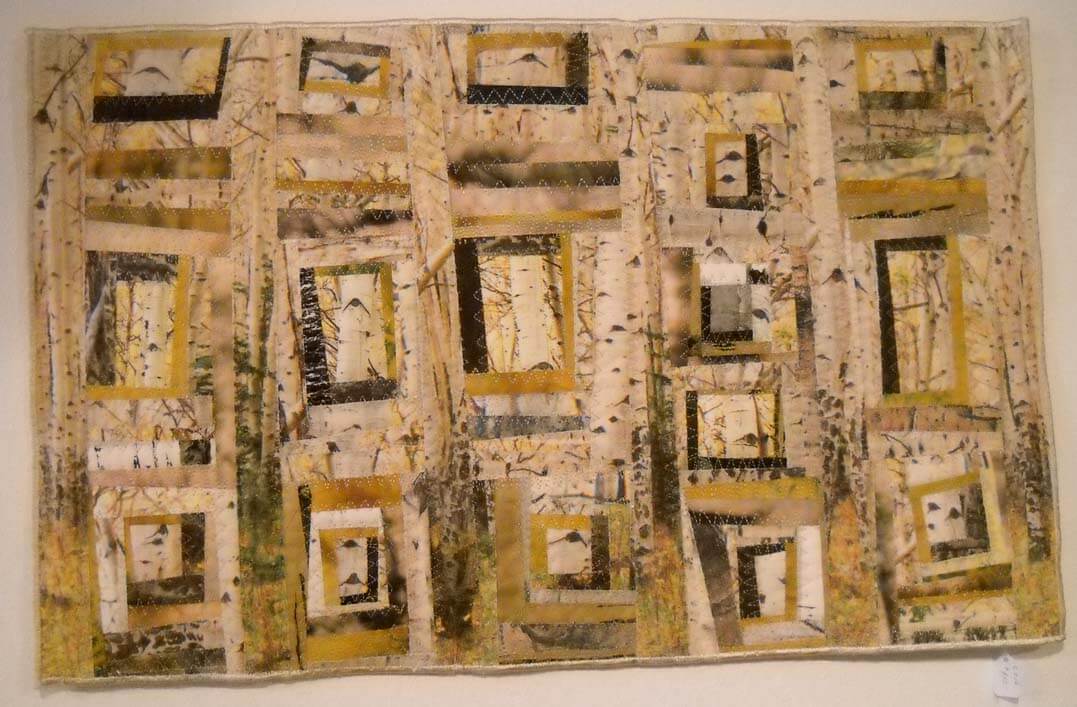 An interesting take on the "log cabin" traditional pattern, with lots of details.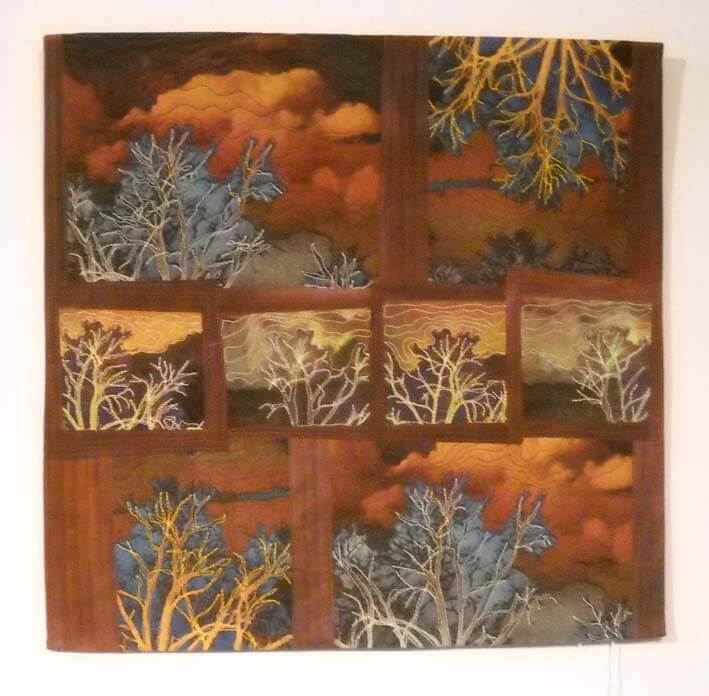 Love this one. Those are definitely my colors!
We bacame members, and I am looking forward to our November trip to see the new exhibit on "Interpretations." LOVE LOVE LOVE seeing fiber!!

Oy, sometimes ya just need to be hit with the proverbial two-by-four….For YEARS we have worked on product with our marbled fabrics, and we have also tried lots of different venues for arts and craft shows. Some product has worked, which has been good. The art and craft show circuit – not at all. We invariably lose money. We take framed work, digital work, fabrics, digital cards…..nothing sells because most people don't have a clue what to do with the fabric.
Now we're working on putting together our gift baskets for the holiday season. We know that we can keep these going year round by keeping the hand-crafted bowls a fairly neutral color, as well as adding in some seasonal items. It dawned on us, as we threw away the latest offer for a holiday craft show, that all we could really bring was the baskets.
Well, duh. The baskets all along could have been the seller. All in one place, items for that family member that can be hard to buy for. Shrink-wrapped. Lots of goodies. No worry or muss. No explaining how to use the fabrics.
And then….as we're talking about maybe choosing a couple of shows for next year, it occurs to us we could offer the gift baskets in two sizes, small and large.
Duh.
All these years, staring us in the face, and we never saw it.
Sometimes we work so hard and miss the obvious. Right now I'm pretty irritated with us for this having taken so long. But on the other hand, now we have a great new product that should work long-term and give us a lot to build on for more stuff in the baskets. Who knows what else we might have missed along the way?
Suggestions?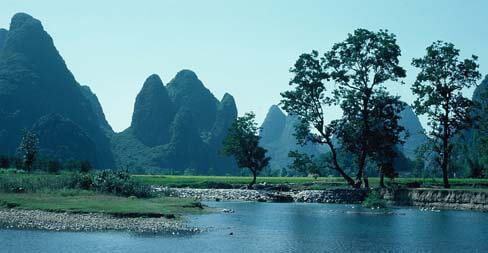 This photo is from one of my most favorite spots in the world – a small park somewhere on the Li River in Guilin, China. I've done some cropping, but this is the focus of the latest class I am taking from Quilt University: Artists Revisited. Technically I should have chosen a painting by one of the masters, but I have always wanted to translate some of my own photos to fabric, so I chose this. My colors aren't an exact match, as they should be for this exercise, but I am happy with what I have chosen. I worked on the background first and then came to the foreground, where I realized it was extremely busy. Here's what I've got: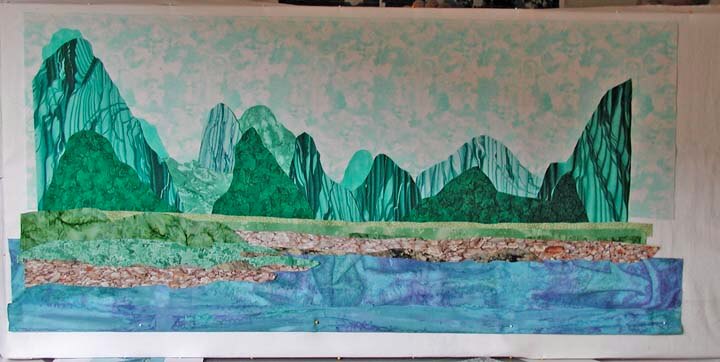 It's obviously rough, and the trees are missing. I am going to start the thread painting, and then I'll add the trees toward the end of that step. This is taking a much longer time for me, as I want to really think through each of the thread painting stages. The first step will be the horizon lines, and then I'm going to practice on the "crags" to see what I can do to accent and at the same time soften the mountains. I'd love suggestions for ideas to "paint" the sections.
Also, I've been making cloth baskets as a start for our Holiday offerings: we're doing a "basket, which is really a fabric bowl suitable for all year round, as I'm creating them with some fairly neutral fabrics. The thinking is that a bowl might be more useful around the house than a basket.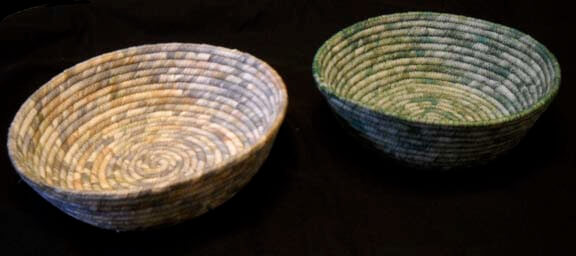 Once the bowls are done, they will then get filled with all kinds of goodies:
* A fat quarter of hand-marbled fabric on 100% cotton
* Four pieces of hand-marbled Offray ribbon, assorted sizes and widths
* A selection of coupons and discounts from a variety of Etsy sellers, good for use in their individual stores
* A Sampler Package of 6 by 9 inches swatches of hand-marbled fabrics
* A selection of hand-marbled leaves and flowers
* A set of note cards with Digital Marbling (TN) designs
* and…some type of mystery gift.
We totaled up costs, and the retail value of this offering is $75.00. We'll be selling the Holiday Bowl Packages for $50.00. Now each order will be different, as every piece of marbled fabric is unique in its creation. No two Bowl Packages will be the same.
Here's the deal – for the next week, you can order these Holiday Bowl Packages for 20% off. Email us with your order, and we'll do an invoice and arrange shipping. This offer ends on Wednesday, September 7.
Here's the start of one of the Holiday Bowls…..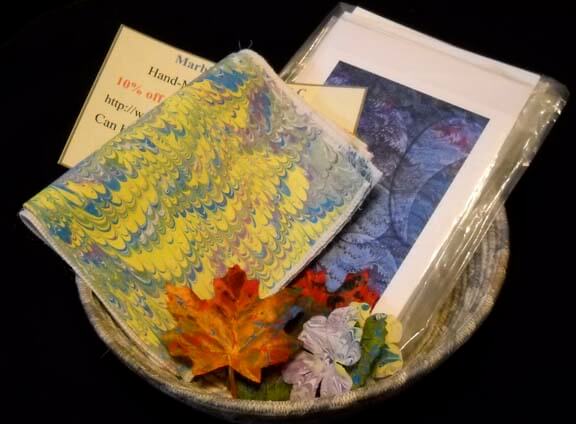 Think of all those family members who like fabric and are really hard to shop for – this will be totally unique!
This new piece has had an interesting origin…..we were in Cornville , AZ visiting friends, and our driver wanted to stop in the high desert and see about getting some yucca stalks for walking sticks. If you look at the picture, the stalks are what's left after the gorgeous blooms are done. They are evidently extremely strong and hold a lot of weight. So we have two collected stalks in the car, and I'm thinking, hmmmmm – these could make interesting wall hanging "hangers." Turns out we got as a gift two really strong, perfect-height-for-hiking sticks from another friend we were off to visit, so I decided to keep these two, one as a walking stick for me (I just need it for balance) and one for a potential hanger for a wall piece.
I was looking at it today, as I was kicking around another weaving piece. It would make a good "topper" for a new piece. I had in mind a set of seasons pieces, and then suddenly I got the thought to create the fabric and weave them all together for a year of seasons.
Here are two samples of some of the weavings I have done with marbled fabrics. The first is my very beginning one, Gaia 1: Interdependence. The second is  Gaia 3: Autumn.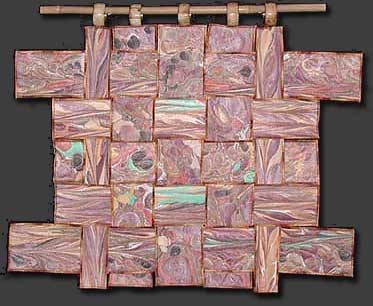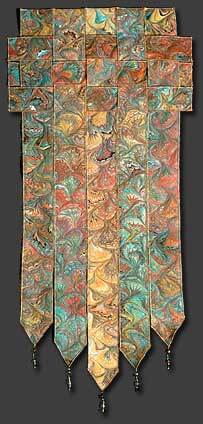 All of a sudden the design was in my head, and I sketched it out, something I don't normally do. Here it is: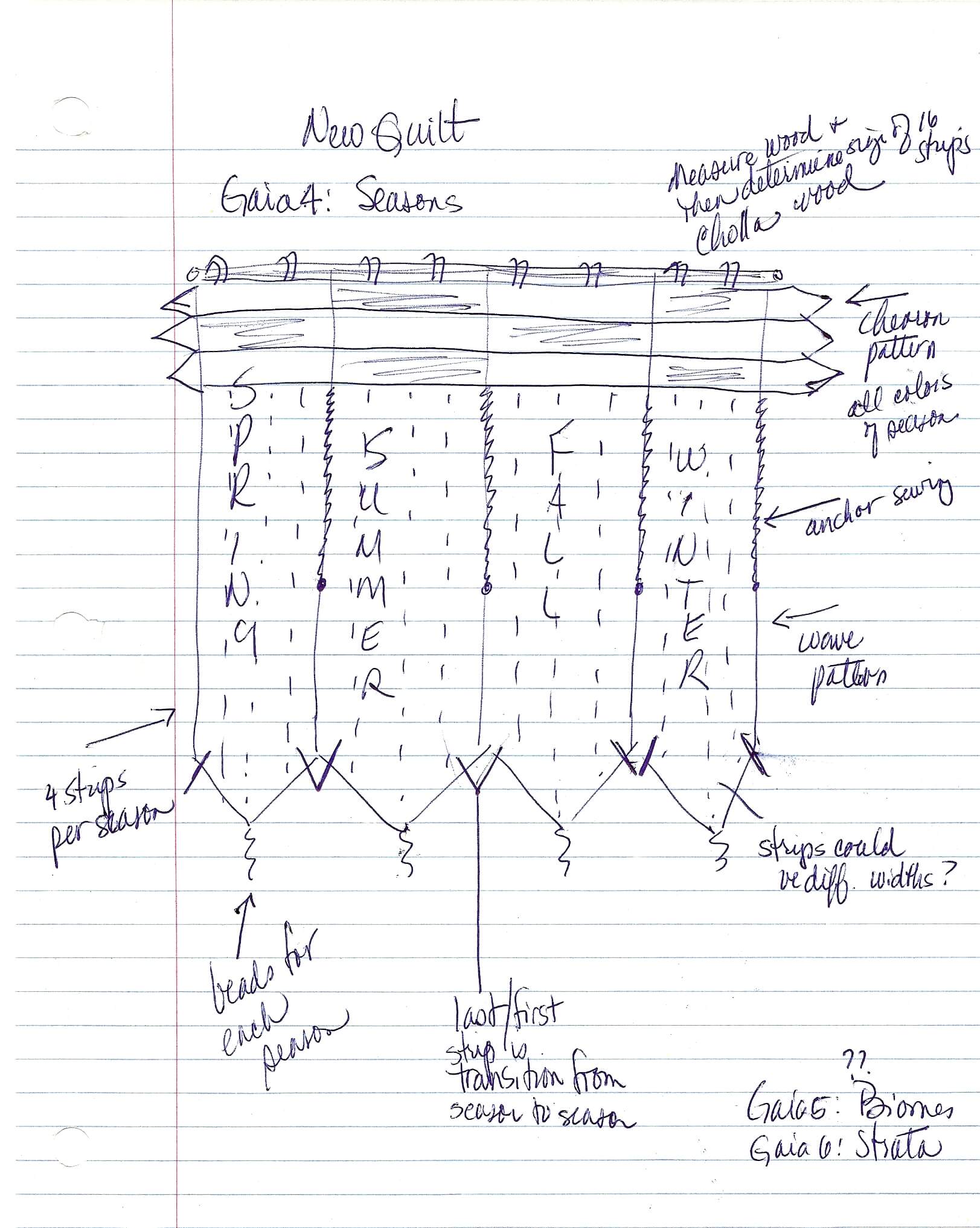 Creating the fabric will take some time, and I know with other projects in the pipeline, I won't get to this until mid-September. Hubby is the main marbler, so he will have his work cut out for him. I will need to also watch the proportions in this piece – ever mindful of Michael Kors and Nina Garcia from Project Runway…..
Stay tuned for progress. In the meantime, here's a few stories for past weavings in the Gaia series.

I've been practicing a lot of techniques with free motion quilting. With marbled fabrics, it's almost like your pattern is decided for you – and I love being able to work with that. I discovered a few new things with this piece of green silk. I knew I wanted to see if I could accent the movement that already existed with the marbled pattern, and I wanted to accent the water effect in the piece.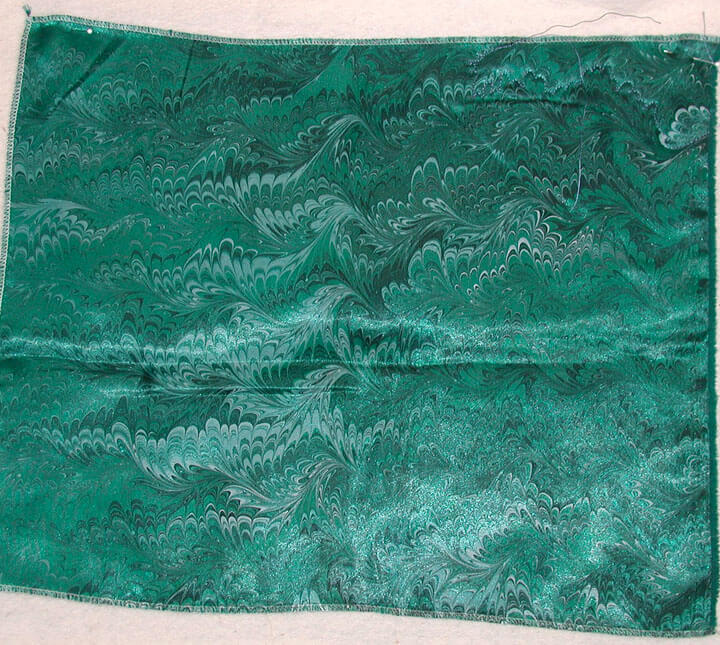 Here's the piece without anything done to it. I decided to flip the design, so the wave effect would be more prominent. Then it was a case of deciding threads. There are some very light areas in the pattern that I wanted to emphasize, so I figured a lighter thread. I pulled four threads (Superior, of course) and started with the lightest one – and I thought it was jarring – too bright.
I ended up going with a Rainbow multi-colored green thread that I think worked very well. I used that in the very light areas, and then I turned to a dark green silk for the background. The thought here was to heavily quilt the darker background to make the lighter areas come forward even more. So here's the piece…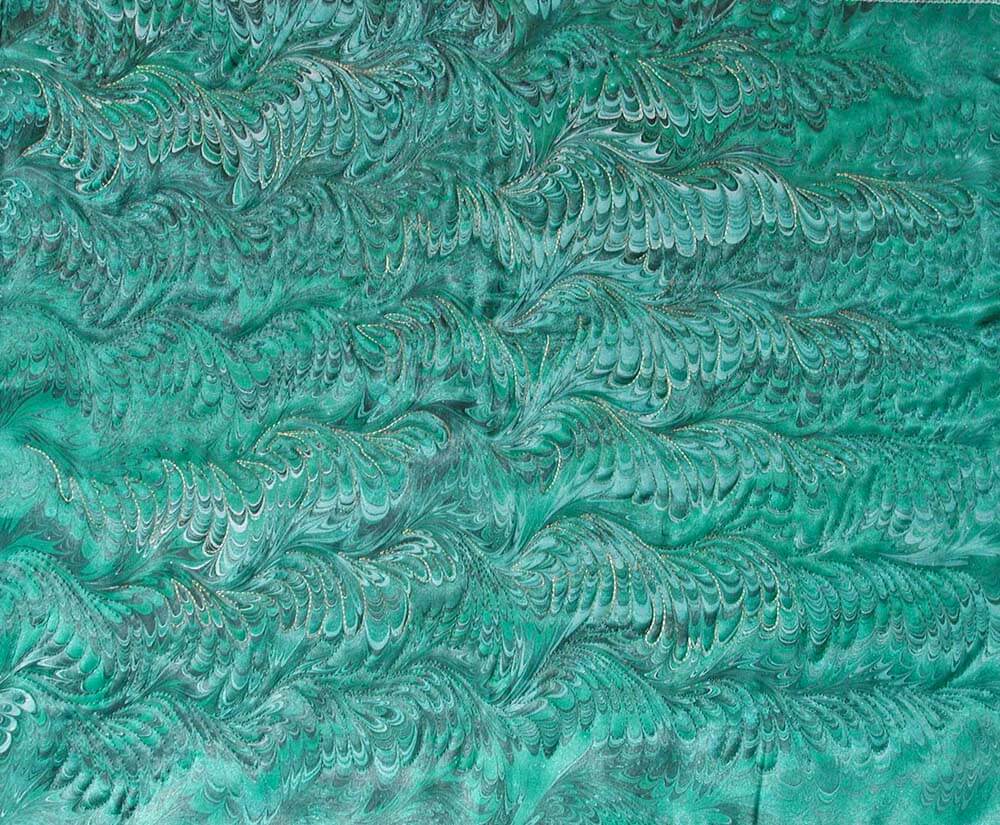 I do think the wave motion is more prominent. This was also a departure for me, in that normally I have quilted this pattern a great deal, but this time I didn't do every single swirl. I think you get more drawn into the pattern that way.
I am contemplating some beads, but that's just in the thinking stage at this point. I am open to suggestions, so please leave me a comment with what else I could do with the piece. The biggest success in this piece is a definite improvement in the machine quilting – the stitches are far more consistent, so that's a great goal for me.
Leave me some comments – what would you do with this piece if it were yours……

Wow, it has been an amazing week! So much of what I worked on in June and July is coming to fruition. Etsy is beginning to sell, and I have a marketing plan developed for just Etsy that seems like it is going to be easy to implement. The marbling is going very well; we purchased a metal tray just for doing fat quarters, and all we needed to do was waterproof it – which worked well. We'll use the new tray the end of the week. Along with this good vibe has been the studio remodeling – what a difference with everything in its place, and room for both of us to work at the same time and share ideas.
We've begun to brainstorm other products for the company, as ten years ago we had a lot more than we do now. We have started preparing the guidelines for our gift baskets. WE NEED COUPONS: if you have a business related to fiber and textiles and would like to put together a coupon that could lead to some added publicity, all we are asking is for you to make some coupons that we can include in our gift baskets. You can email us for more information. We did this about 10 years ago, and we had great participation from other businesses, so folks got a goodie basket with lots of other opportunities in it.
Ebay business is picking up, and we've had to raise our prices, due to the serious increase in the cost of cotton. Ebay will continue to be an outlet for smaller, cheaper pieces of marbled fabric, mostly remnants. We have a good, steady business here. Etsy looks to be the place to sell larger, more expensive pieces of fabric, which is good.
Facebook is also bringing in lots of comments, but the best thing I've done has been the Linked In profile and joining a few fiber and art groups: Art Business, Art Marketing, Manhattan Arts (check this one out), and a few other groups – lots of comments and interest, and all this should add to business down the road.
The biggest concern with all the work over the last two months was would I be able to actually continue making new artwork. I pleased to say the answer is a definite yes. I finished two small studies this past week, both of which will end up on Etsy in the next two weeks, and I started a large piece with my Quilt University class. I have two small pieces to do for two art shows coming up, and I should be able to take care of those within the next two weeks.
One of the classes I took from Laura Bray was on Multiple Sources of Income. She spent a lesson on getting organized and goal setting. A great part of this class was seeing how I could distinguish the actual marketing of the business with making art. As a result, yesterday I spent the day getting everything into a notebook, organized by sections, long-term goals and lists, places for business cards as I develop my contacts list – it feels SO good to have it 1) all in one place; 2) a section for everything I need; and 3) a way to see my progress in all aspects of the business.
I think one thing that will help me (and I don't know it it will work for others) is that I am going to include within my binder other projects I am working on outside of Marble-T Design, so I can easily keep track of deadlines and goals all around.
So it's taken me a couple of months to figure out a system that will work, and now I just have to "work it." I start each day with the notebook and make my list for the day, being sure I handle both marketing tasks and art tasks. What have you found that works for you?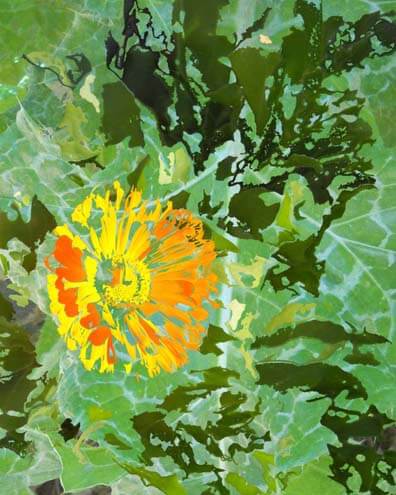 Before I get to the goodies available this week, I am almost at the end of my first season of 100 days in the Cocreating Our Reality challenge, where we look at practicing the Laws of Attraction. I have had an amazing nearly-100 days, both personally and business-wise. I love the feeling of always being positive and aware of the possibilities in our universe. I haven't done the daily journaling, but I have been very mindful of the Attraction practices. I've met most of my goals for these 100 days, and that's something new for me I usually think about goals, maybe write them down, and then kind of forget them. Not this time. Once I realized just how negative I normally was, I began to focus in on being positive all the time….and it does work!
Now on to what we have available this week, from Ebay, Etsy, and Cafe Press. First from Ebay, we have some very interesting art cloth, three pieces in different patterns and colors. These are all Kaufman cotton, lots of movement to the pieces. There are some minor flaws, but hey, for $4.50 you can do a lot of applique or piecing! The left is a traditional bouquet pattern, the center is a traditional nonpareil, and the one of the right is more of a contemporary freeform pattern (and the greens in this piece are brighter).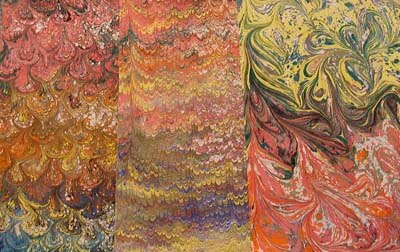 On Etsy this week is an unusual piece of hand-marbled unpolished satin, a perfect length for a table runner. The traditional chevron pattern is a joy to machine quilt to accent the lines of the piece. It's 12 by 59 inches, and I can't wait till we set the very large tray up again to do more large pieces like this.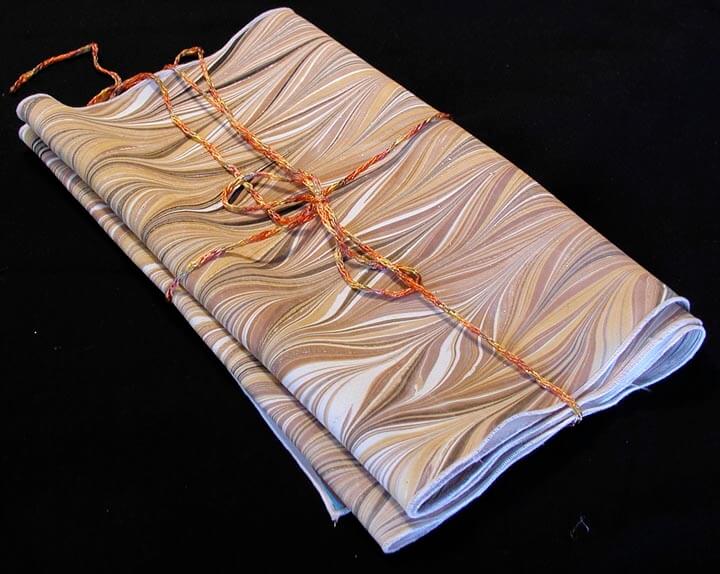 On Cafe Press this week is an example of some of our Digital Marbling (TN) of our "Fossil" piece. I love this piece, based on a traditional stone pattern in the marbled fabric, and it looks great on a mug.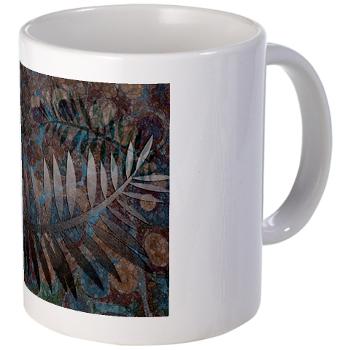 For so many years hubby and I would talk about how we wanted the time to do our artwork together, all the time, and now with retirement we can. The ideas are flowing rapidly, we're getting larger trays for bigger pieces of fabric, we're experimenting more and generally having a great time together. If you have some ideas you would like to see us try, please leave us a comment. We are always willing to try new things!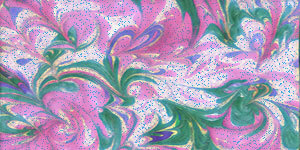 Linked In has been giving me lots of new connections and interesting articles and websites to follow. One of the articles was on ten online sites to sell your work. I'm planning on combing through each of them over the next month or so, but here is the list, with some preliminary thoughts. Also, cost is an issue – at this point almost everything we do is based on free stores, with commissions off sold pieces or listing fees.
Ebay – obviously. For many of us, it's the first place we started selling. You can see a sample of what we have for sale at the link. We've done very well selling remnants and some larger pieces of fabric – but definitely no larger fiber art pieces. I don't think Ebay is the place to sell fiber and textile artwork. That said, we do have a pretty good following of repeat customers. We've been selling since 2004 – the first time we listed two items it took us 2 hours…..there was a steep learning curve at the time, but once Paypal resolved its issues, and we figured out how to title the items, we began to build our base. It does take time.
Etsy – slow going here, but part of it is learning how to build up the shop. Three years ago I started a shop and it had maybe five things in it….and I did nothing to promote the shop. A year ago I revisited the shop, had ten things in it, and still had no idea what was going on. With still teaching full time, I wasn't able to get the marketing going to get it known. Along come the Textiles and Fiber Arts List with an emphasis on getting publicity for our Etsy shops. I started looking around, and besides art pieces, I am stocking more pieces of marbled art cloth, at a higher price than what goes on Ebay. That seems to be working, as our sales have started to pick up, and pieces from each week's marbling sessions are finding their way into the store.
TAFA – The Textiles and Fiber Arts List just completed their fund raising for a new marketplace site for all things fiber and textile. The goal is "markets for members," and the group is aiming to become a major hub on the web in this area. What I particularly like about TAFA is that all artists are juried in and pay  a membership fee (extremely reasonable). This keeps the quality high and the artwork definitely unusual. This site is also all about networking for artists, so there is definite community being built at this site. I joined nearly a year ago, and now that I have some time, I am becoming active in the site. If you are an artist working in fiber and/or some form of textiles, you need to be a member. Another plus – you don't lose anything in "commissions" – all dealings are between you and the buyer.
1000 Markets – looks like it has become Bonanza. Under the Art category was "art from the artist," which I should browse more. There are some possibilities under the Crafts section, but I don't like listing my work in a craft section (me, I guess….). Searching "fiber art" brought up mostly ATC's and fiber magazines…..at first glance doesn't look like something I will spend a lot of time on now.
Fine Art America – I have been really impressed with this site so far, even though it seems "too good to be true." I want a site to sell my digital work, and this looks to be it – print on demand, with framing and shipping included. I have been hearing some good things from folks in my increasing business network, so I will definitely pursue this one.
Three Sisters Marketplace – I've heard a couple of good things about this group, and it will be one I investigate further later this fall. It sounds much more like a community, and artists are juried into this site also. I think for me personally that is a plus to the sites I decide to join.
Artfire – I'm thinking this is in competition with Etsy, as it advertises "handmade," but for some reason I just can't get into the site – the home page just seems extremely jumbled, and it looks like a lot of work….
Made It Myself – looks like a lot of other sites, and this says it's geared to the hobbyist whose friends say "you can sell that." Don't think I'll pursue that further.
Cafe Press – slowly in the works – this is one where I need to have my artwork settled before I seriously work on marketing my (again) free store.
Now – let's hear from you as to your experiences. This is just a snapshot, I'm sure, of what's available to sell your work on line. But let's get some dialogue going with ideas, feedback, more sites – just leave a comment!

Since I updated my profile on Linked In, I have joined a couple of discussion groups through Linked In and have made some interesting contacts and done some very good networking.  As a result, here is a call for work that looks very intriguing, as well as meaningful. I'm planning to do a piece that looks at oil spills. Join in and become part of the group. Feel free to share this post – let's see if we can get a lot of artists involved. Let's get the fiber into this show.
TIKKUN OLAM: A Restoration Project
 Artists Respond to Earth's Crises Past & Present
Presented by Alta Contemporary Art, Tubac AZ in alliance with Industria Studios in Tucson.
The Jewish Community Center Tucson, Arizona
September 15 thru October 25, 2011
Opening Reception: Sunday, September 18th 1-4 PM
In the wake of recent natural and human-made crises artists often feel compelled to respond in a tangible and productive way. Here's your chance to be part of a group project raising money to replenish the earth. Alta Contemporary Art invites you to submit a 12 x 12 inch work of art for a collaborative grid presentation. All media welcome. Work must be exactly 12 x 12 inches, appropriate for the JCC venue and ready to hang on the wall.  Work must be received no later than September 10, 2011 (see art delivery details below). Participation is free, but artists must willingly donate 30% of sales to the non-profit charitable organization selected by the group as a whole.
TIKKUN OLAM Collaborative Grid Presentation
Entry Form
Name:
Address:
E-Mail:                                    Website:
Phone:
Title:                                       Price:
Media:
Artist's reflection on their submission and earth's crises past & present (250 words or less):
Nominate 1- 3 non-profit charitable organizations you would like TIKKUN OLAM to support.
E-mail completed entry form and a JPG of your work (1MB large) to mickeybond505@aol.com
Hand Deliver Your Work:
Tucson Artists: Deliver work to Marc Leviton at Industria Studios, Saturday, September 10, 2011 between 10 AM – 3 PM or contact Marc to make other arrangements 520- 235- 0797. INDUSTRIA STUDIOS, 1441 E. 17th Street Tucson, AZ 85719 industriastudios.org
Santa Fe Artists: Deliver work to Mickey Bond by Friday September 9, 2011.E-mail:
mickeybond505 or call 505-660-4085 to schedule delivery.
All Other Artists: Deliver  work to Rebecca O'Day at Alta Contemporary Art, Friday, September 9th between 3-8 PM  or contact Rebecca to make other arrangements 520-869-8626. Alta Contemporary Art, 8 Calle Inglesia (across from St. Anne's Church), Tubac, AZ.
Mail Your Work:
Mail work to Rebecca O'Day, PO Box 252, Tumacacori, AZ 85640
Work must arrive no later than September 10, 2011 to be included in the show.
Artwork shipped via mail carrier must be accompanied with a pre-paid return.
Unsold work will be available for pick up on October 29th &  30th.  in the location it was hand- delivered from 10 AM – 3 PM.  Shipped artwork will be returned if accompanied by a pre-paid return label.
Agreement of Entry & Liability:
Great care and respect will be given to all artwork submitted. The Tucson JCC, Alta Contemporary Art & Industria Studios and its agents do not assume liability for any loss or damage of any artwork submitted while in its possession. Your entry constitutes acceptance of all conditions and terms in this prospectus. Artists desiring coverage can do so privately through their agent or one offering short-term "show"  coverage such as Artists, Craftsman and Tradesmen Insurance Program: http://www.actinspro.com.

I've been lucky enough for nearly a year now to belong to what is rapidly becoming THE place to find textiles and fiber arts on line: TAFA, or the Textiles and Fiber Arts List. I joined last fall, and one immediate benefit was increased traffic to my blog, website, and Etsy store. Plus, lately I just go looking at the various designers – the artwork available through this site is absolutely amazing!
"TAFA's Mission:
TAFA: The Textile and Fiber Art List is a membership based organization that seeks to access larger markets for its members by using social media and other web based opportunities.  Members include working artists, textile businesses, galleries, suppliers and other fiber/textile people who have an established web presence. All artists are juried in to TAFA to maintain the quality of the work available.
Our common connection weaves us together: a love for textiles and fiber art. New and old, traditional and contemporary, TAFA embraces inclusiveness of the world market.  Members are selected based on quality of work, having a professional web presence and value added to the group.
It is a web site that brings together  fiber art and those interested in fiber art. The talent, the beautiful fiber art,  and the quality products of its members is quite extraordinary. Currently there is a  drive to raise money for a new web site, an improved site both for those browsing, shopping or connecting. Connect  those who work with handmade fiber arts and the artists and those who are selling handmade fiber art.  The  new site will provide  such an improved experience, convenient, easy to use and beautiful to look at. Want a mini preview?  Here's the link you'll want to read.
Also, now is the perfect time to join & become a TAFA member. The cost is minimal and benefits great. That info is also on TAFA's site. Beware – the cost of membership will go up once the new site is active.
Do this – you'll be glad you did!