Archive for the 'color' Category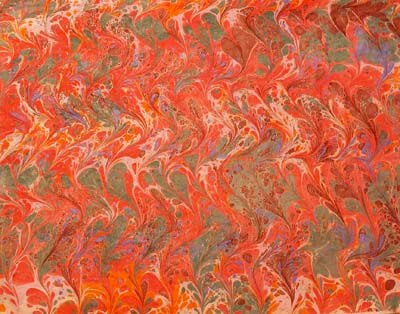 "Visions" is a major quilt art exhibit usually held in Oceanside, CA, every two years. It's like the Holy Grail for art quilters. The Visions Art Museum has now opened in San Diego, at the old Naval Training Center, and will now host its own show. Just to be able to finally get to the museum this last trip to San Diego was a delight. The docents were wonderful and took their time showing us quilts, as well as asking us about our work. It is SO NICE to be with other artists who GET your work! One of the disadvantages to being an artist in the Southwest is unless you're a painter or sculptor who "does" the southwest, no one is really interested in your work.
The major exhibit was Urban Landscapes and Soft City, with a special collection by Marilyn Henrion. Pictures were allowed in the outer area and in the gift Gallery. You can view a gallery of work by Marilyn here.
Here's one of the really intriguing quilts from Urban Landscapes by K. Vellis Turan: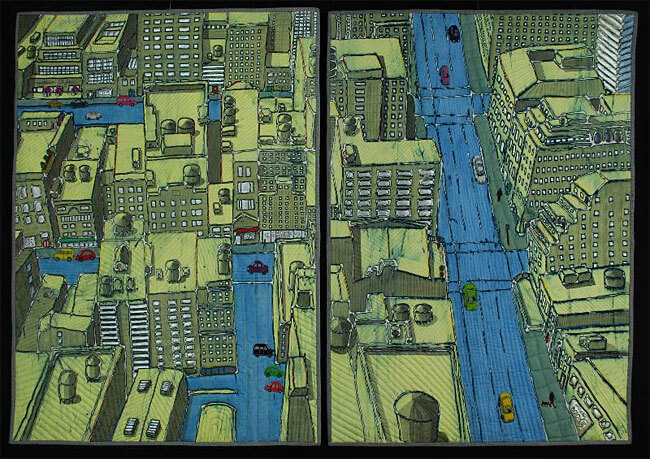 I purposely left this large so you could see details.
The challenge had some really interesting small quilts – 12 by 12 inches, which is a size I have just started to work with. These are all by members of the Visions Museum. Sorry I don't have names….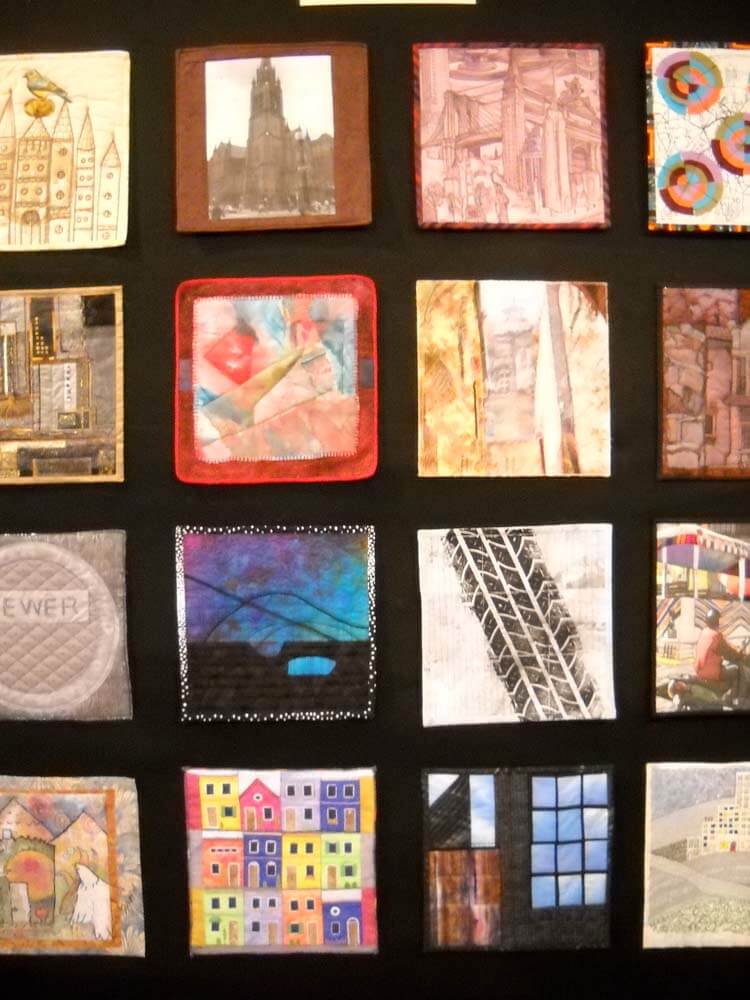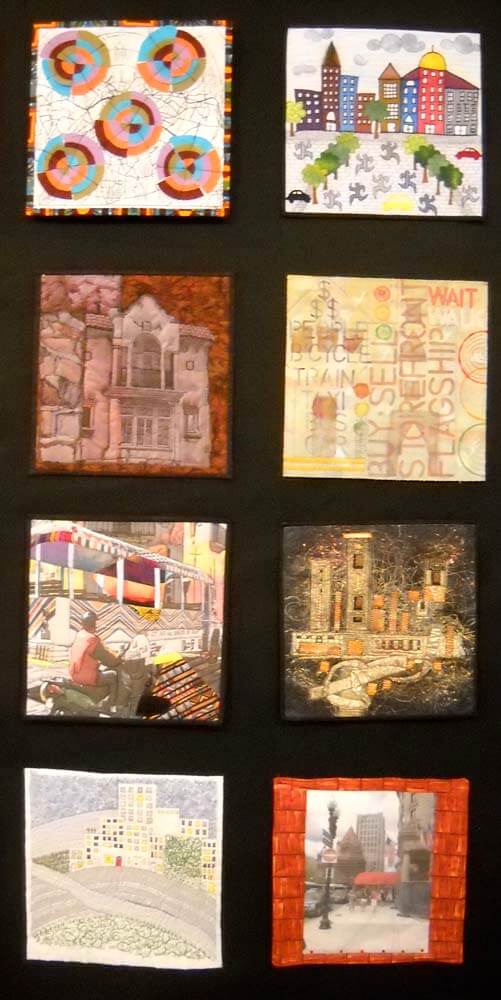 Here is an example of Marilyn's work. Her Photoshop skills are superb.

There were a couple of quilts by members in the gift Gallery – really superb work – and again, sorry for no names.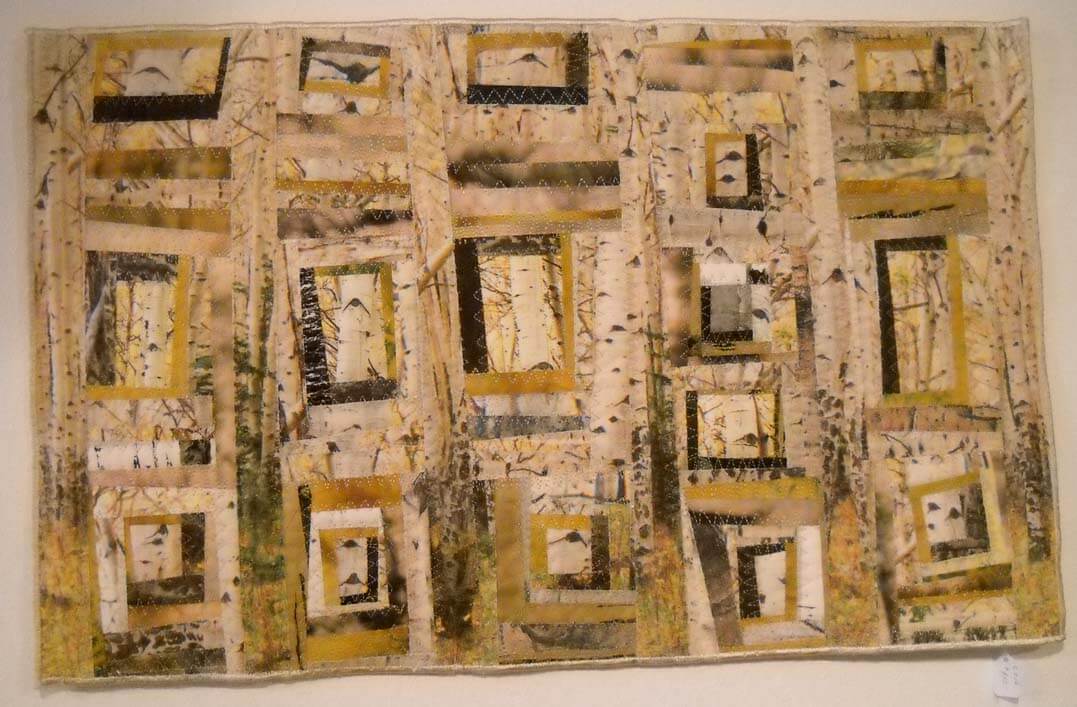 An interesting take on the "log cabin" traditional pattern, with lots of details.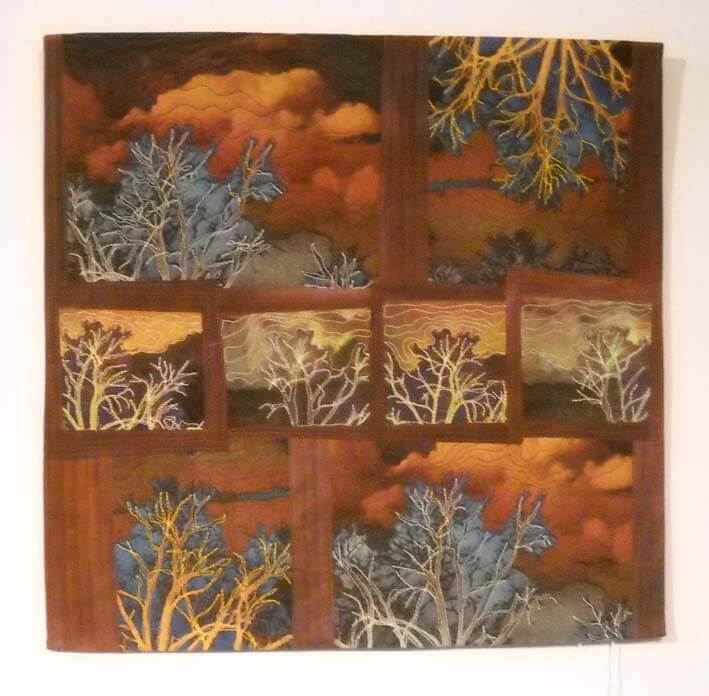 Love this one. Those are definitely my colors!
We bacame members, and I am looking forward to our November trip to see the new exhibit on "Interpretations." LOVE LOVE LOVE seeing fiber!!

Welcome to another edition of Top Ten Tuesday….never know what you're going to find! Plus I love reading about what people are doing. And blogs about history – but I'm staying away from current politics – makes me too angry and depressed, and I just don't need that! So here's just the cool stuff….
Speaking of politics (and this will be the last time, I promise), when I do look at headlines, I scan Al Jazeera in English. If you depended on just the US media, you wouldn't know nearly 75% of what is actually going on around the world. Forget your previous conceptions of Al Jazeera – this is good all-round news.

From Cool Hunting – a really interesting take on working with crystal – including rings and weapons….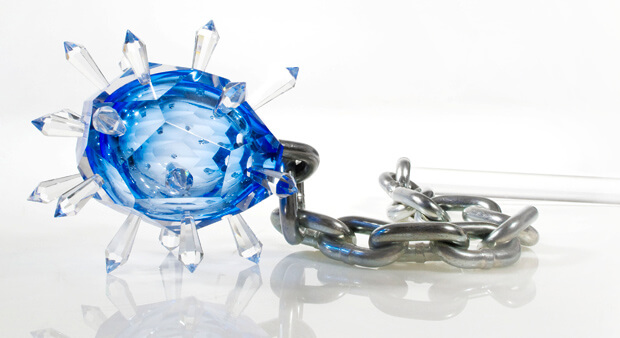 From Cool Hunting this week also comes where to play on Bora Bora. I REALLY want to go on vacation now!!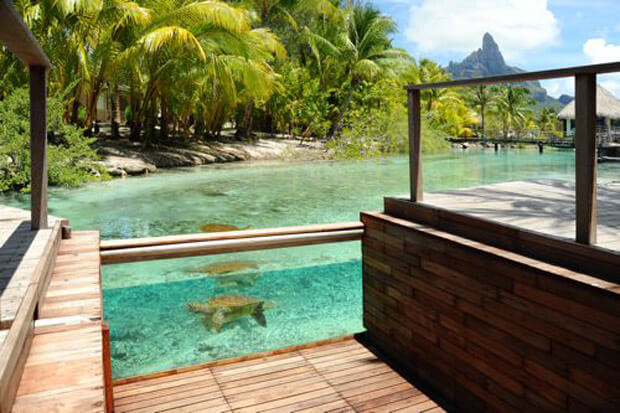 From the JPG Blog,  a new contest – photos are FABULOUS!!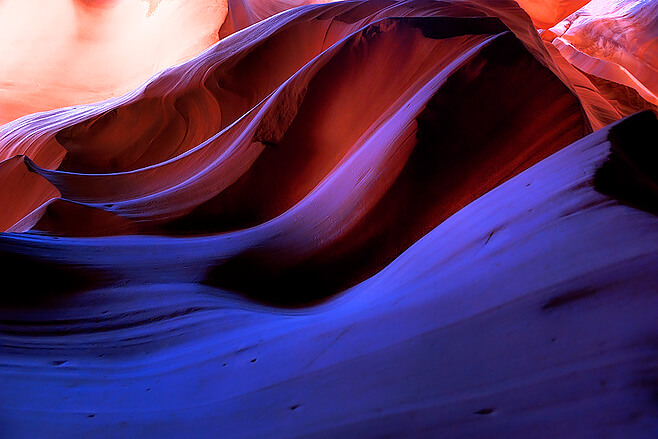 Antelope Canyon, Abstract #1 by Linda Clifford
Also from Cool Hunting, a short video of an art show in Mexico:
Cool Hunting Capsule Video: Liquid Sculptures from Cool Hunting on Vimeo.
From MAD Magazine, a look at the class of 2015 (hey, it's the teacher in me…..).
Seven Steps that May Dramatically Boost Your Happiness from Dumb Little Man – some good ideas here. One step? Follow your bliss.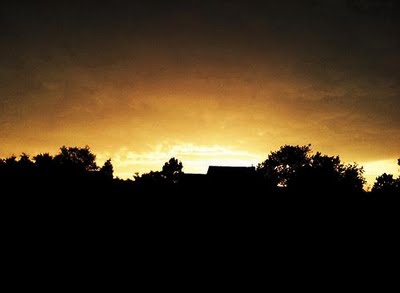 If you have not discovered fractals yet (and forget about all the math involved – just go for the beauty), you need to look at Fractal World. Here's their fractal of the week: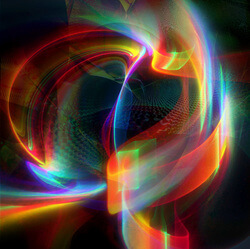 Shopping more at Farmer's Markets more? If you follow Summer Tomato, you will be able to tour farmers' markets around the world. Here's Shanghai….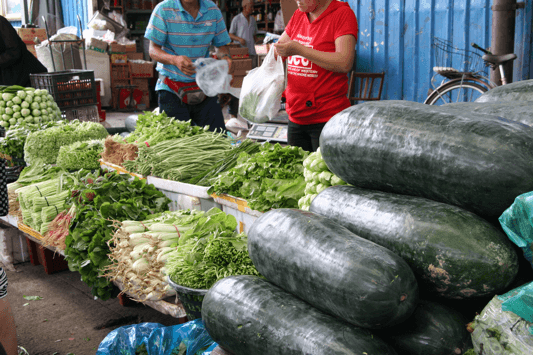 Mix zentangles, ATC's and color, and you get Enthusiastic Artist's  gorgeous work!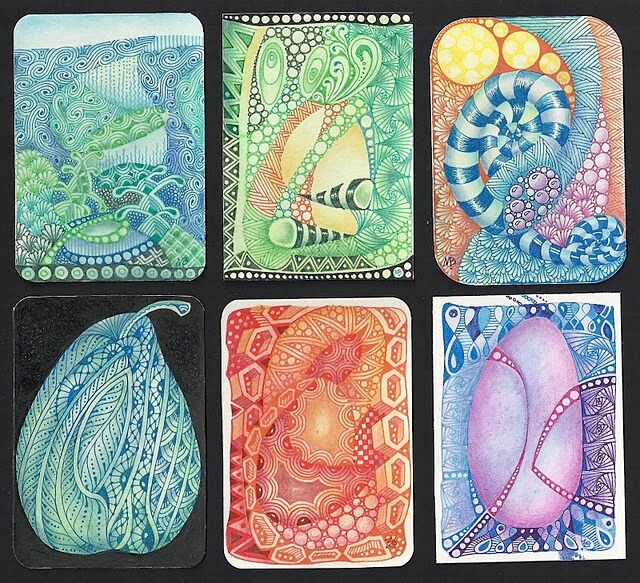 Have a great week – send me cool stuff you find online!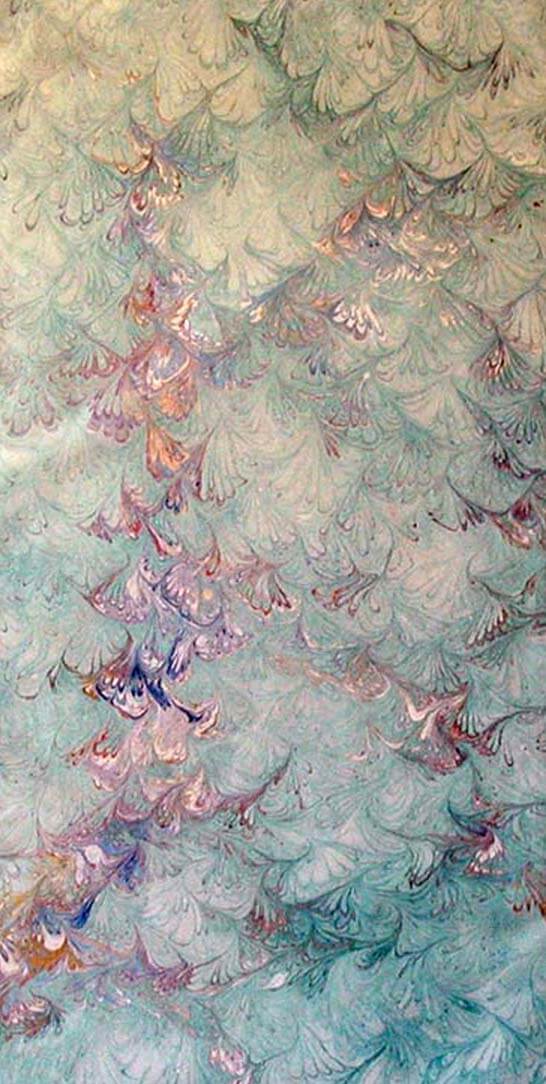 I was a history major in college (and yes, despite it all I ended up as a high school algebra teacher…), and I read LOADS of books on WWII. Still do – finished The Rising Tide by Jeff Shaara on the North African campaign, which is a great read (for some reason I have always admired Erwin Rommel, and now I know why…). I almost always read newspaper and magazine articles on anything about WWII. From Facebook comes a link to The Smithsonian Magazine with a wrenching and incredibly sad story – Lt. Minter Dial's Annapolis ring. When teaching American History, we don't have the time to get into these stories, which is what hiSTORY should be about.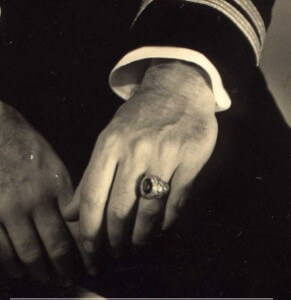 With the end of the space shuttle program and the decommissioning of Discovery comes a 360-degree virtual tour of the cockpit. If you have ever wondered about what the cockpit looks like, you can use your mouse to tour it. You can drag the cursor all over, but warning – you can very easily become disoriented….so many switches! Check out TheLastShuttle.com for great information.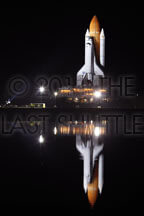 For my gluten-free readers comes this from Cool Hunting (they have the BEST STUFF!). Four gluten-free indulgences that look wonderfully yummy.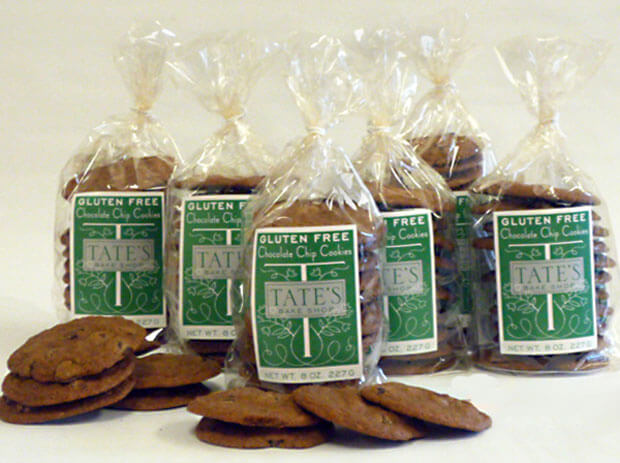 Here's an interesting Canadian artist who does a lot of embroidery and cross-stitch, Lindsay Joy. The link is to her "Anxiety Series," and I can certainly relate to many of them!
Joen Wolfrom is a master at color. Her new blog is looking at colors one at a time, and oh my, the photos she finds are amazing. This post is on using blue-green analagous colors,  and there is a photo there you HAVE to see.

Here's something I REALLY want to try – gelatin printing with Cynthia St. Charles from Montana. Her blog Living and Dyeing Under the Big Sky has some great ideas. Hey, I'm retired – I can try all sorts of things!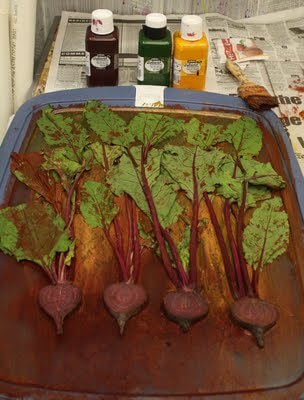 Goodness, how did MTV come to be 30? Seems like only yesterday we were saying it would never last…..so here's Mad Magazine's take on it – blast from the past!
If you're into zentangles, check out Rainbow Elephant – isn't that a great name for a blog? Not only directions for new and interesting tangles, but videos to accompany each of them. This is on zendoodle metal plates.



Designer Ann has a page of great videos, which has a couple of TED talks, and nighttime sewing, just to name a few. I could easily spend an hour watching them.
And finally, for your laughing enjoyment, 10 bizarre and obscure university courses from The Best Article Every Day, like the Simpsons and philosophy….and that's not the weirdest…..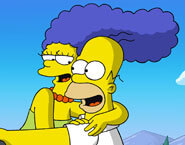 I so enjoy reading all my blogs in Google Reader – what a wide range of art that's out there, commentary, gorgeous eye candy….so much available through the net. Makes me glad I live at this time in history when I can sit at home and just explore. So enjoy this week's finds!
After years of dealing with No Child Left Behind comes Borowitz with this gem: No Politician Left Behind….seems only fair….
Talking about art fairs, this is an excellent post from Fine Art Studio Online about what NOT to do – and when I did the few shows, I was careful to not break any of these rules – because I HATE it when I'm ignored.

Joen Wolfrom is a major player in the art quilt world, and I own (and refer to) all her books. She has a blog, Playing with Color, and it's a treasure trove. Just recently it's all about blue – gorgeous! And to add to that, she gives us hmework to improve our own use of the color – and the pics are AMAZING!

Now here's an idea that reminds of work by Andy Goldsworthy: Sand Art by Jim Denevan. So fleeting….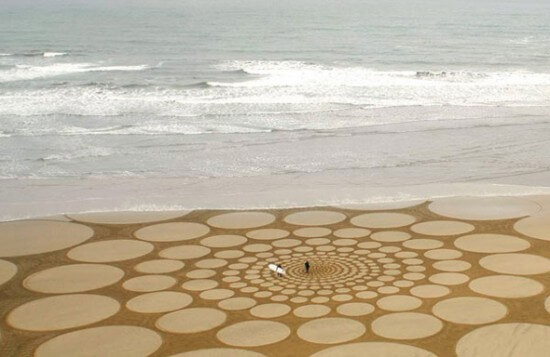 Speaking of Andy Goldsworthy, I was introduced to his work about 10 years ago, and I pine for a few of his books to own. I've been through everything the library has, and I've watched Rivers and Tides several times. The juxtaposition of art IN nature is beautiful. Google some images for him and you won't be disappointed. This is one of my favorites: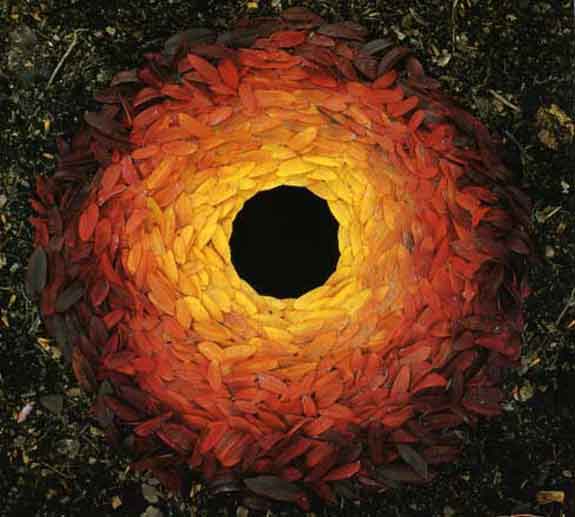 In case you are even more interested, here are some items from Amazon (and yes, in the interests of full disclosure, I make a couple of pennies if you follow the links…).
Since I've been working on improving my machine quilting, I loved finding this next site for P. Nosa – and you can see his solar-powered sewing machine….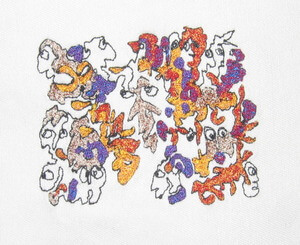 Now for somethng different – I'm looking for some good websites on the following:
* Basic yoga poses (needs to be for the overweight-can't-bend-down-person)…..
* Feedback from those of you who have used Fine Art America – how did you do and would you recommend it?
* A good water color class on line…..and
* Great places for sightseeing and food in Oregon – specifically the coast and Portland….
Any and all help greatly appreciated!
I am so hooked on abstract pieces from my Photoshop class. If you are at all interested in learning Photoshop, check out myJanee.com. She is wonderful!!
So this next piece is as a result of learning how to use the eye dropper to get the exact color replicated when I need it, rather than having to write down numbers. I had another row, but while it was pleasing, it was boring. I had to add some color, and I am amazed at just how different the same shade of red looks throughout the piece.
I know that one of the things I will do this week is read more about color from the links in our lesson. If I just didn't have to do lesson plans, I could play all night!!